Salesforce Financial Services Cloud Cashing In on Retail Banking
Salesforce Financial Services Cloud Cashing In on Retail Banking
Salesforce is preparing to expand its Financial Services Cloud into the retail banking space. When Salesforce launched its Financial Services Cloud two years ago, the company was looking to expand into different vertical markets to help grow its customer base for its CRM products. In this case, it was mainly wealth management.
As with all things Salesforce, Financial Services Cloud also got the full artificial intelligence makeover when the company added Einstein to the platform in 2016. (See Salesforce Updates Sales Cloud Einstein With Additional AI Features .)
Now, Salesforce is looking to take Financial Services Cloud deeper into the financial services industry by offering a new version, which also utilizes machine learning, but which is designed for retail banking. Essentially, Salesforce is coming to a teller near you soon.
As Salesforce sees it, retail banks are facing a crisis when it comes to customer loyalty and retention. Since many people now bank through their smartphone or interact only with an ATM, managers are missing out on opportunities to sell additional services -- think of mortgages or other financial services -- since the bank doesn't have a full picture of the customer and his or her needs.
Figure 1: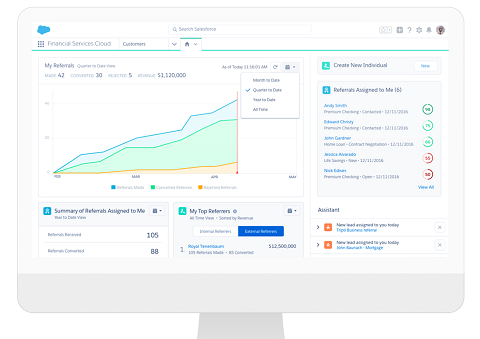 Salesforce Financial Services Cloud for Retail Banking
(Source: Salesforce)
"What we found by looking into that problem, is that customers are not just unhappy, but that customers are doing something about it in banking and the data is telling us that 33% of customers in retail banking are going to the competitor or the second or third product, and we call that the hidden defector," Rohit Mahna, senior vice president and general manager of Financial Services for Salesforce, told Enterprise Cloud News before Wednesday's announcement.
This likely means that while a checking account might be with a bank, a person is likely to go to a different company or broker for a mortgage or an investment account.
At the same time, bank customers are looking for an experience that is more akin to getting a ride from Uber, Mahna said. This is forcing commercial banks to rethink the customer experience and one way to improve it is to break down silos between apps.
The Salesforce Financial Cloud for Retail Banking platform attempts to offer a more unified experience, as well as some personalization. It is composed of three parts:
The first part is what Salesforce calls the data model and console, which includes all the customer data, including employment, education and accounts with the bank. This information can then be displayed to a banker or even a teller. The platform can be configured to display all the data or limit what an employee sees about the customer, depending on security concerns and other factors.

With Einstein, Salesforce offers what it calls "Intelligent Needs-Based Referrals." Essentially, by using machine learning, the platform can alert the bank about customers who might need services by picking up on different data, such as if the customer's monthly deposits increase or if they mention to another employee that they were interested in financial planning. The information is then routed to the right person at the bank and the platform can set priorities for reaching the customer.

Finally, Salesforce is including a set of APIs that can be used to create a unified look and display between the various banking systems, which helps to bring together all the customer data.
Keep up with the latest enterprise cloud news and insights. Sign up for the weekly Enterprise Cloud News newsletter.
"We want to help banks focus on the customer and give them the ability to cut across all the different lines of business," Mahna added.
While Salesforce is announcing its retail banking platform on October 4, the company does not expect to release it for general availability until the end of the fourth quarter.
Related posts:

— Scott Ferguson, Editor, Enterprise Cloud News. Follow him on Twitter @sferguson_LR.
Subscribe and receive the latest news from the industry.
Join 62,000+ members. Yes it's completely free.
You May Also Like
---