Salesforce Using AI, Natural Language to Search Databases
Salesforce Using AI, Natural Language to Search Databases
Salesforce's Seq2SQL will allow businesses to use natural language and AI to search relational databases such as SQL. Salesforce is proposing using artificial intelligence and natural language capabilities to allow almost anyone to search relational databases, such as SQL, making it easier for all workers, not only developers, to find the data they need.
On Tuesday, Salesforce introduced Seq2SQL, which allows anyone to search a database by typing a question into a search field or speaking a question into a device, without having to know much about relational database development and programming languages.
In addition to a blog post, Salesforce Research released a paper entitled "Seq2SQL: Generating Structured Queries from Natural Language using Reinforcement Learning," which details how researchers are using neural networks to translate questions into SQL queries.
In the August 29 blog post, Richard Socher, chief scientist at Salesforce, notes that by 2020, IDC found that the world of connected devices and software will produce some 44 zettabytes of data, and it'll be more important than ever to be able to search that data to find the answers that businesses need.
Figure 1: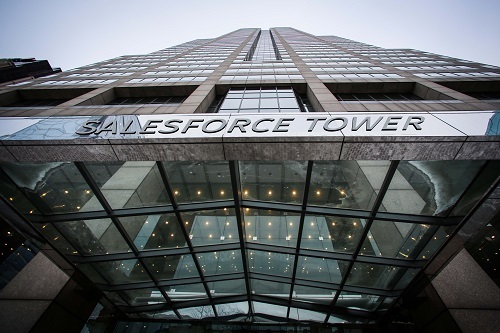 (Source: Salesforce)
The problem is that not everyone has a background in database management or development.
This is where Seq2SQL, when applied to a SQL database, comes in.
"The ability to quickly and easily communicate with relational databases allows business users to achieve new levels of productivity and a better understanding of their customers," Socher writes. "For example, with Seq2SQL, we take a first step towards a world in which service leaders can quickly access their most important key performance indicators (KPIs) in plain English versus manually selecting columns or inputting conditions."
In the example within the blog, researchers ask: "What place did Phil Mickelson finish with a total of 282?" within a standard search bar. The Seq2SQL then matches up the query with the appropriate database to provide the answer. (The answer, by the way, is tied for 16th place in 2005.)
Part of the ability to find accurate answers comes from the second part of the announcement.
Salesforce also detailed its work on WikiSQL, which is an open source dataset that researchers used to help train the model to work and to take advantage of the various machine learning capabilities. The wiki is a "dataset of 87,726 hand-annotated examples of questions and SQL queries distributed across 26,375 tables from Wikipedia. This dataset is required to train our model and is an order of magnitude larger than comparable datasets," according to the research paper.
Keep up with the latest enterprise cloud news and insights. Sign up for the weekly Enterprise Cloud News newsletter.
Taken together, Seq2SQL and WikiSQL look to pare down the amount of answers that a query could return and "learn" to return the most accurate answers possible.
In its blog post, Salesforce did not announce a specific commercial application for this new AI technology but Socher wrote that the "impact of this research does not stop at service, and can also benefit sales and marketing by unlocking valuable insights about incoming leads, opportunities and overall pipeline health."
That likely means that Salesforce is planning to incorporate this technology into its Einstein AI offering at some point, or create a whole new commercial offering. (See Salesforce Brings Einstein AI to Field Service Lightning.)
Related posts:

— Scott Ferguson, Editor, Enterprise Cloud News. Follow him on Twitter @sferguson_LR.
Subscribe and receive the latest news from the industry.
Join 62,000+ members. Yes it's completely free.
You May Also Like
---