Microsoft-Walgreens Partnership: Just What the Doctor Ordered
Microsoft-Walgreens Partnership: Just What the Doctor Ordered
The Microsoft-Walgreens tie-up will help Walgreens improve patient outcomes while Microsoft gains vertical penetration. And both companies fend off attacks from Amazon.

Microsoft's partnership with Walgreens Boots Alliance, announced this week, has the potential to transform healthcare, and help both companies compete with rival Amazon, according to analysts.
Microsoft Corp. (Nasdaq: MSFT) and the Walgreens Boots Alliance (WBA) said Tuesday they are partnering in a seven-year agreement to provide healthcare using Microsoft's cloud resource in the healthcare company's stores, as well as mobile applications. WGA also plans to move much of its IT infrastructure to the Microsoft Azure cloud for its 380,000 employees. (See Microsoft & Walgreens Fend Off Amazon With 7-Year Healthcare Partnership.)
The partnership has the potential to improve patient outcomes for Walgreens, Forrester analyst Arielle Trzcinski said in an email.
Figure 1: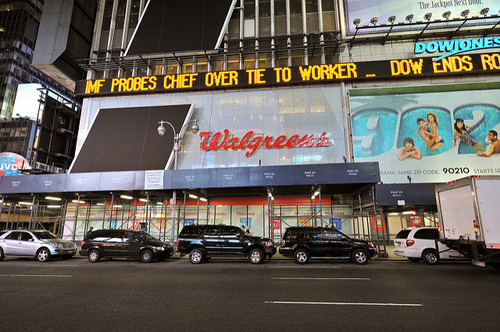 Times Square Walgreens, NY, 2008. Photo by Jazz Guy(CC BY 2.0)
"Retail pharmacies offer an opportunity to engage with the patient much more frequently than at an office visit," Trzcinski said. "Chronic care patients see their pharmacist frequently -- I've seen figures that indicate the average diabetic patient sees their provider once every six months. This gap creates an opportunity for the pharmacist to help monitor the patients' health and prompt the patient to receive preventative care in the retail clinic or through a virtual care visit. Using an enterprise health cloud, like Azure, you create a more connected ecosystem so that we can share that data with the patient's additional providers, track outcomes, and intervene earlier when an issue arises."
Trzcinski added, "Walgreens, like many other retail pharmacies, have made onsite clinical services available as well as supported the shift to virtual care though 'Find Care Now.' Forrester's data indicates that 74% of online consumers are interested or have already used virtual care. We expect to continue to see a big shift of volumes from outpatient care to virtual care."
Subscribe and receive the latest news from the industry.
Join 62,000+ members. Yes it's completely free.
You May Also Like
---