Cloud, Analytics Help HR Team Manage Employee Turnover
Cloud, Analytics Help HR Team Manage Employee Turnover
LCS manages some 23,000 employees across more than 33 states. The cloud and new analytics capabilities are helping the company get a handle on employee turnover and retention. LCS is based in Des Moines, Iowa, but its responsibilities stretch across 33 states.
As a developer and manager of retirement communities and senior living facilities, LCS has about 625 employees in its main corporate entities, about half of whom work at the headquarters. In addition, the company employs about 5,000 workers at its facilities across the US, as well as providing human resource, payroll and other services for another 18,000 people who work for those facilities.
That's a total of 23,000 full-time workers and others to keep track of over the course of the year. That's where the cloud comes in.
LCS is undergoing a years-long process to switch over its on-premises HR software to the cloud, which also includes upgrades to payroll, benefits and other employee management applications.
Figure 1: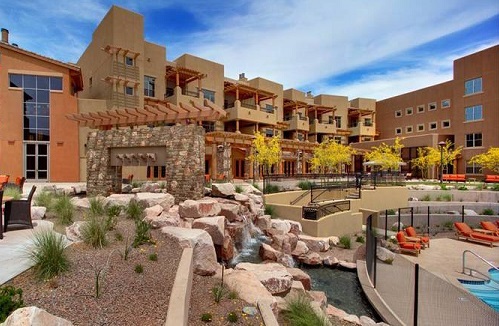 A LCS-managed senior facility (Source: LCS)
"Just to have everything integrated in one system was a big thing for us," said Mark Heston, senior vice president and chief human resource officer for LCS, in an interview with Enterprise Cloud News.
"I would say the second piece is getting something a little more contemporary," Heston added. "As we look at managing over 140 retirement communities, something that obviously being cloud-based is that there's a lot of advantages when you're that broad that can make your life a lot more efficient and effective."
A changing workforce
When Heston arrived at LCS in 2004, the company was in the middle of installing HR and other software for the first time and running most of the applications on-premises in traditional IT fashion. However, it became apparent right away that there were issues, including patching, as well as upgrading highly-customized software.
During this first installation process, the nature of technology was changing with mobile phones -- later smartphones -- changing the way LCS employee work. At the same time, a younger generation started demanding a seamless experience with the software they were using.
"So needing a system that is fully interactive and usable on a mobile device is critical," said Lisa Ryan, director of human resources at LCS, who is responsible for overseeing the HR technology. "That's not just from an employee experience, but also for us as an organization. Our supervisors are traveling a lot, they're going from community to community, they are not always somewhere where they can log in to a computer and they frequently forget how to get into VPN."
Using analytics
In addition to a modern, streamlined IT infrastructure which integrates and works across states, Ryan saw potential to get granular with all the data these systems collect. One issue Ryan wants to use the cloud for is employee retention and to anticipate when there might be turnover in certain areas of the business.
Specifically, Ryan explains there is high industry turnover with certified nursing aids, as well as registered nurses. With the new cloud-based HR system coming online, Ryan plans to use the analytics that comes with it to rework the company's recruiting process, as well as rethinking employee retention plans.
Figure 2:
Lisa Ryan, director of human resources at LCS (Source: LCS)
"What we're hoping is that once we have this system implemented, we can help our communities better understand who they should target, where they should target for recruitment to mitigate high turnover, but then also how to mitigate the actual turnover itself," Ryan said. "So, using those analytics to track people who take a lot of sick leave for example, and maybe aren't performing very well … taking all of that data to see where are we going to have turnover. That's a basic example, but that's one where we'll add a lot of value to our communities."
There are other benefits to streamlining the system, including how some workers are reimbursed, especially if LCS is providing some services while the employee works for a different company.
M&A activity is turning the cloud upside down. Find out what you need to know in our special report: Mergers, Acquisitions & IPOs Are Rocking the Cloud.
The decision to move the HR department to the cloud was not decided by the department alone.
Heston, who spearheaded the effort by the HR department, approached the top management, as well as the CIO, who also had opinions about what the cloud could do for the company. Ultimately, the company settled on Oracle Human Capital Management (HCM) platform and will use the software giant's cloud to support all this.
Cost savings
The core of this cloud rollout will happen at the company's Des Moines headquarters, and Heston and Ryan hope to offer these services out to the facilities that they oversee and the other companies they work with and provide services to.


At the same time, Heston said the project is expected to be cost neutral for the company, paying for itself in the long run. Even though some functions, such as payroll, will be more automated, he expects that the staffing levels will remain the same as the company grows and takes on management of more communities.
"We just basically looked at a system-to-system basis, and we were able to get it to very, very close to cost neutral from that standpoint," Heston said. "So, do we believe that there are going to be cost savings? Absolutely."
Related posts:
— Scott Ferguson, Editor, Enterprise Cloud News. Follow him on Twitter @sferguson_LR.
Subscribe and receive the latest news from the industry.
Join 62,000+ members. Yes it's completely free.
You May Also Like
---