Nexleaf Founder Applies Tech to Social Justice

Comment (1)
For Nithya Ramanathan, founding a non-profit but running it like a tech company was a means to do the most good possible and finding a little redemption along the way.
The Los Angeles-based co-founder and president of Nexleaf Analytics first saw the power of network connectivity and the Internet of Things (IoT) as a grad student at UCLA in 2002. She developed a project to use network sensors to understand arsenic poisoning in Bangladesh's ground water, which is a massive problem there. While she ended up forming meaningful relationships and making a difference, she completed her PHD work feeling frustrated that it was just a grad school project that might not be maintained after she left.
The experience ignited a passion in her and led her to form Nexleaf to see where network sensors could take her next. Now, Ramanathan works with network operators, including Vodafone Group plc (NYSE: VOD) in areas like India and Vodacom Pty. Ltd. in Mozambique, to bring sensors and data collection to solve global health challenges.
Crucial to her success was the funding she received from winning the Vodafone America Foundation's Wireless Innovation Project in 2013, partnerships with telcos and access to the data that sensors can provide. (See Vodafone Americas Foundation Launches 9th Wireless Innovation Project and Vodafone Americas Lays Foundation for Social Change.)
"One thing that sets Nexleaf apart is our obsession with finding out the questions people are trying to answer and getting them the data they need to answer the questions," she says. "We don't believe data will solve everything. Data is really hard to deal with, but in certain instances when the right person gets access to the right data, it's amazing what's possible."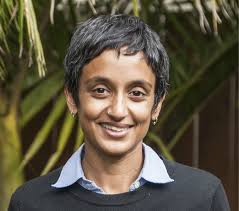 ---
Women in Comms is gearing up for a bigger, better 2017. Join us in our cause to redress the gender imbalance in the comms industry! Visit WiC Online and get in touch to learn more.
---
Women in Comms: Tell us a little about your personal and professional background.
Nithya Ramanathan: I was an engineer at HP and Intel and doing hardware chip design, and I realized that I just wanted something more. I ended up doing a PHD in computer science with no real specific direction in mind other than I wanted to bring together technology and social justice. During grad school I met an amazing advisor, and she believed in me and was working in networks and sensors and wireless communications, which I found so fascinating. I ended up, with her support, designing a project in Bangladesh, bringing network sensors to understand arsenic poisoning in ground water. It's a massive issue, affecting 10 million people a year. There was uncertainty around why there was a high level of arsenic in the water. There was more data needed to understand and map out the problem.
It was a fantastic intellectual experience. I created connections with the communities. We were working in the poorest farming communities there and people were so grateful to me, this lowly grad student trying to solve a big problem for them. Every day I would see children, and it was really difficult. I entered in with lofty great intentions and toward the end felt really frustrated. I knew I was just doing a grad program. Then on top of it, I raised $3,000 to build a well in the village. I saw and knew that well would not be maintained over time. I was really frustrated when I finished grad school even though I got to have this amazing experience. I became faculty and got a grant, and then an opportunity emerged where I saw more challenges in global health that could be addressed with better data collection and use. I saw a real opportunity to redeem myself and tackle things in a really different way.
When my co-founder and I started Nexleaf, it was with that drive. We got PHDs together and were early to work on the Internet of Things. We brought a lot of experience, knowledge and passion to figure out how we can bring sensors and technology to solve global health challenges but also make sure there is always a mechanism built in to create sustainable systems, and the data goes toward solving that.
WiC: How did you get acquainted with Vodafone America Foundation's Innovation Project, and what did you pitch to win the funding?
NR: One thing that was amazing was the Innovation Prize -- June [Sugiyama, Vodafone Americas Foundation director] has this insane track record for finding innovations early on, giving them far more money than anyone else has to date and seeing them succeed. She's so awesome. We got $300,000, three times more than we got from the Gates Foundation to date. June, after an intensive vetting process and an on-site pitch, she seems to be able to find innovations that can scale. Once we got that prize, it opened up doors. We could do more than we could to date which led to larger funding from the Gates Foundation and now quite a big scale where we are on the path to reach 20 countries in the next couple of years.
When we won the Vodafone Prize, we were taking low-cost phones, and we had figured out this way to even take a feature phone, a $15 flip phone, and connect a $2 thermistor to the phone over the headphones jack. It meant we could tap into this massive infrastructure, communications as well as hardware with the cellphones, then take really cheap sensors and connect them to the phone and get an immediate, automatic, DIY IoT platform... No one used them as phones but as a hardware platform that was easily programmable. We could power the phone over the USB port. They could sit in the box for years. There are still boxes, about 90 in Mozambique, that have had the phones in there for three years.
The data has been crucial... The sensor sits in remote clinics across the world and monitors the temperature of fridges to find out when vaccines may be at risk if the fridge stops working or it's running too much and gets too cold. Freezing is a far greater risk for vaccines and can damage them almost immediately. When there is a temperature problem or failure, a nurse gets the alert right away and takes action. That is how we started with partners like Village Reach and the Ministry of Health. We figured out the nurse wasn't the only line of defense and had limited things she could do, so we got data to nurses and supervisors at the district. Soon that data was needed by maintenance technicians.
In a follow-up project with Village Reach and the government, we gave technicians access to the dashboard and had an expert go with and document what was needed. We built up inventory of common failures, what people could do about them, and what the tech and expert realized was these type of failures look the same on the dashboard, so we don't have to do an expensive trip out every time to the remote clinic. We could just call them. It's amazing to see what was possible when people had a specific problem to solve and had access to the data in front of them. They could figure out what was possible.
WiC: Have you had any unique challenges or opportunities as a female in the tech and startup space?
NR: I haven't thought about that question in a while. It's funny -- it's really amazing now to be a woman in tech. I say that from a space of a lot of privilege. I have absolutely weathered lots and lots of challenges, but there is something awesome on the other side of the challenges where the women who make it through -- there is this really lovely bond. I've been able to forge some really special, fantastic relationships with some mentors -- some women and some men, who inherently can see what I've been through and there's mutual respect and all of that. The challenges early on, and even now, I'm sure are there are really around credibility -- being able to walk into a room and be taken seriously. To boil down the challenges from the last however long I've been a founder, I'd say it's that. It's a hard one to solve. It takes time, numbers, education, individual one-on-one connections. All the fantastic men and women in my network are far more supportive than they would've been ten years ago in the industry.
WiC: What has been the biggest lesson you've learned or advice you'd pass along to other female founders?
NR: The importance of persistence. It is not specific to women, of course. Women in tech may tend to be more persistent than most just to get here, so there is self-selection that happens. We have a leg up, maybe. I can't communicate the number of times we've been on the brink or had some really big setback and just thought, "OK, if this doesn't work out, it won't be tenable." Just persistence and getting through those things. Despite the challenges we see as founders and people running companies -- there are so many people out there that also want us to succeed, and it's sometimes hard to see those people. The persistence to get through challenges allows us to be in touch with those on the other side of it. Now when I see a challenge, I know if I can just get through it, there is good stuff waiting on the other side.
— Sarah Thomas,

, Director, Women in Comms