Spotlight turns to ARPU in US broadband battle
Spotlight turns to ARPU in US broadband battle
As the pace of fiber overbuilding and overall broadband subscriber growth slow, the revenue story for the sector 'will be much more ARPU-dependent going forward,' according to MoffettNathanson.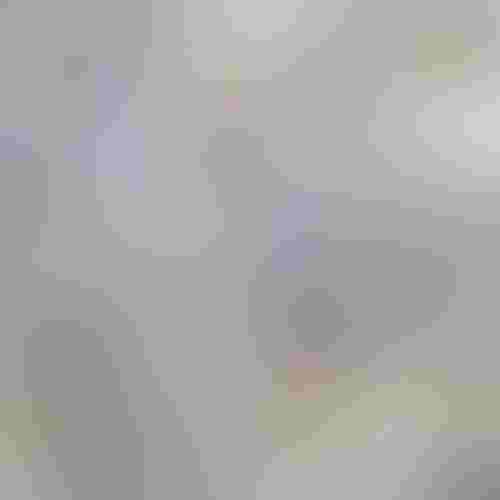 Faced with flattening broadband subscriber growth, cable operators such as Comcast are trying to alter the narrative for broadband. Rather than focusing on sheer broadband subscriber growth and avoiding the temptation to chase after subs with steep discounts and promos, they now view ARPU (average revenue per user) growth as the metric that should carry the most weight.
While many analysts and other industry-watchers undoubtedly will continue to focus on subscriber growth metrics, it does appear that some are starting to buy into that argument, giving the ARPU story more attention and credibility.
"As expectations for broadband unit growth have fallen, the spotlight has shifted to broadband ARPU. Overall revenue growth for the category will be much more ARPU-dependent going forward," Craig Moffett, analyst with MoffettNathanson (a unit of SVB Securities), argued in a new report (registration required) sizing up broadband trends following the release of Q4 2022 financial results. Broadband ARPU, he added, "is almost certainly the most important [metric] for long-term value creation."
Aided by voluntary speed upgrades combined with the occasional price increase on service or modem lease fees, the ARPU trends for cable are positive, growing faster than fiber ARPU, Moffett points out. However, the rate of telco ARPU growth is rising faster than cable's.
Figure 1: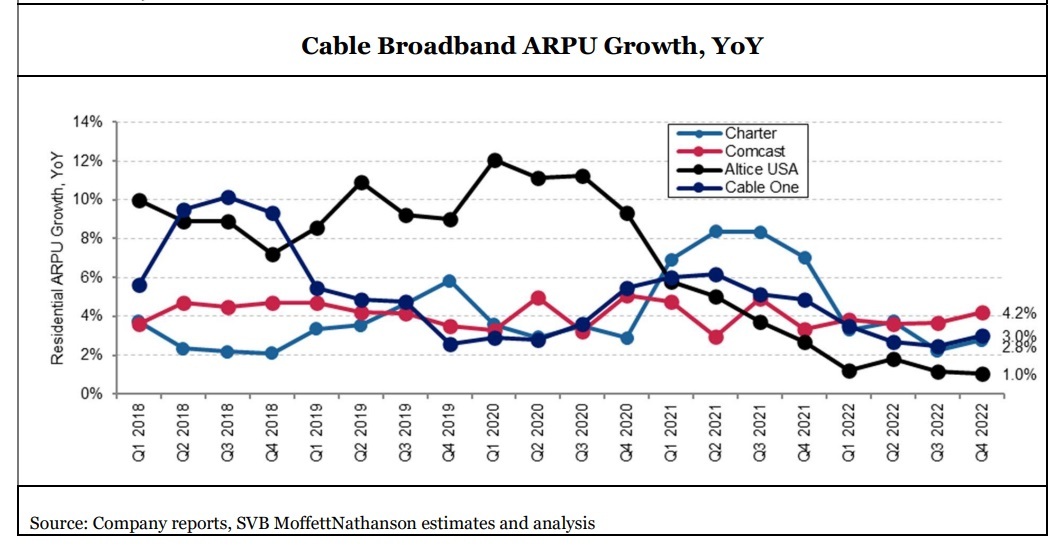 Click here for a larger version of this image.
(Used with permission)
The ARPU story could be a boon for companies focused on it. One example is Actifai, a company that's built a set of AI-powered tools designed to help service provider partners drive up ARPU using personalized offers.
Cable broadband sector grows... barely
Turning to broadband subscriber growth, Comcast and Charter Communications beat expectations in Q4 2022, but the rate of growth slowed dramatically. Moffett noted that US cable broadband sub growth dipped to +0.7%, the first time it's gone below +1%. Moving forward, Moffett expects a "steady state at these minimalist (but still positive) numbers."
That's come about as the broadband market becomes increasingly saturated (80.9% of all occupied households) alongside growth from fixed wireless access (FWA) and fiber competition.
Bigger picture, the market of wireline plus FWA (Verizon and T-Mobile) and satellite broadband rose 2.8% in Q4. By comparison, the wireline piece of the broadband sector grew just +0.2% in the period.
Fiber buildout pace slows, with little relief in sight
The report also took a closer look at a slowdown in the pace of fiber expansions and buildouts due to a mélange of inflationary pressures for labor and equipment alongside the higher cost of capital.
On the telco side, excluding Altice USA, Moffett found that incremental fiber passings in 2022 was about 500,000, roughly 8% below year-ago expectations. Meanwhile, combined guidance for 2023 has dipped by 3.1 million, or 40%, he added, noting that this picture doesn't include the build activities of private companies such as Windstream, Brightspeed, Ziply Fiber and Cincinnati Bell (altafiber).
Among the telco group, AT&T has reduced the pace of future builds to 2 million to 2.5 million per year, down from the prior suggested run-rate of 3.5 million to 4 million. That doesn't include the AT&T-BlackRock joint venture initially targeting the buildout of 1.5 million fiber locations outside AT&T's current footprint.
Lumen's build also dropped about 33% from its year-ago guidance amid a broader company "reset". Frontier Communications' expected 2023 build has been cut back by about 300,000 passings, though its target to build fiber to 10 million locations by 2025 hasn't changed.
Altice USA has also dialed down its original fiber upgrade plans, putting more emphasis on DOCSIS upgrades in rural footprint.
Moffett doesn't see any near-term relief as more government funds are released to support rural builds.
"We expect labor cost pressures, in particular, to worsen," he wrote. "We are inching ever closer to the allocation of rural subsidy BEAD [Broadband Equity, Access, and Deployment] funds to states, and then to individual grantees. Those projects will introduce an enormous new source of demand for labor (and for crews from contract builders such as Dycom)."
Related posts:

— Jeff Baumgartner, Senior Editor, Light Reading
Subscribe and receive the latest news from the industry.
Join 62,000+ members. Yes it's completely free.
You May Also Like
---