Boredom at 151 kbit/s
If I get a nastygram from
Comcast Corp.
(Nasdaq: CMCSA, CMCSK) because I exceeded its
invisible cap
, I'm going to throw the
Federal Communications Commission (FCC)
right under the bus.
That's because I tuned in Tuesday to cover the agency's "open agenda meeting," which, among other things, was to include an important vote that could impose dual must-carry requirements on U.S. cable operators following the February 2009 digital transition. (See
Must-Carry Madness
and
Cable's All-Upset Over All-Digital
.)
The meeting was scheduled to begin at 9:30 a.m. ET. As of 6:33 p.m. ET Tuesday, the meeting had yet to get underway,
delayed
because officials were negotiating throughout the day, reportedly mulling compromises and exemption requests from cable lobbying arms such as the
National Cable & Telecommunications Association (NCTA)
and
American Cable Association (ACA)
.
Those of us who tuned in for the Web-delivered video feed (free to the first 200 to link in, or $65 for guaranteed access) saw a whole bunch of this Tuesday, accompanied by the FCC's jazzy hold music: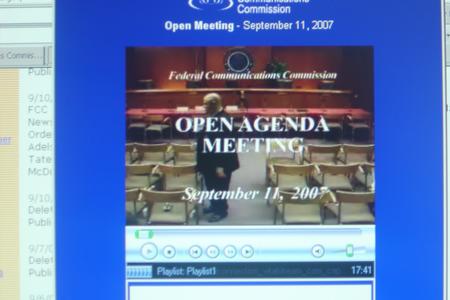 That's about nine hours of video running at 151 kbit/s. Good thing the meeting isn't being streamed in high-def.
Update
: Following frequent checks of my PC screen, I noticed that the meeting had gotten underway by 8:30 p.m. ET. So they are doing this thing today, after all. Stay tuned. We'll have the results of the meeting up shortly.
— Jeff Baumgartner, Site Editor,
Cable Digital News