As critical junctures go, the one facing the global communications industry right now looks an order of magnitude greater than anything that has come before.
The confluence of developments in cloud/virtualization, automation, OTT service development, broadband speeds and availability, artificial intelligence and cybersecurity -- coupled with intense competition and business model upheaval -- will impact the strategic direction and future viability of network operators/service providers, their suppliers and their customers in the coming few years. The communications industry landscape is going to look a lot different in 2025.
That's why Light Reading is hosting BCE 2018 – to make sense of the near chaos in the industry and figure out what is happening, why it's happening and what the various players (individuals as well as companies) in the ecosystem need to consider as they plan their next moves. It's time for some critical thinking that can help provide answers and solutions.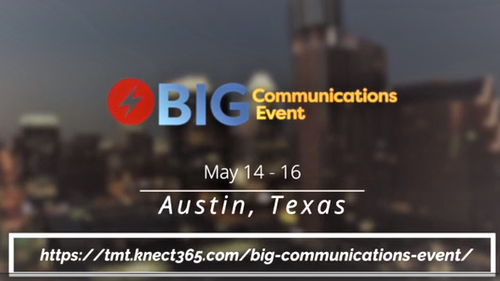 BCE 2018, which takes place in Austin, Texas, over three days (May 14-16), provides a melting pot of expertise that will help shed light on some of the key challenges and opportunities in the industry, covering key topics such as process automation, SD-WAN, AI/machine learning, intent-based networking, advanced network security, distributed cloud/edge computing and cloud-native software.
That's why we have a broad mix of information channels, including:
Keynote speakers will provide insights into the direction being taken by major players such as AT&T, Intel, Reliance Jio, Spectrum Enterprise and Sprint.
Keynote debates will dig into the impact of open source and emerging business/procurement models on strategic thinking; focused tracks will bring more intimate debating opportunities with industry leaders and Heavy Reading analysts.
Workshops on Monday May 14 will delve into the latest developments at the Linux Foundation, the Open Compute Project, Women in Comms, and the ONF's CORD group (including a session on how AT&T has customized and is deploying CORD).
Showfloor demonstrations of the latest telco cloud developments from key sponsors and event supporters.
Colocation with the 5G North America event.
Add in the networking opportunities, where attendees get to discuss their needs and interests with industry experts and their peers, plus the annual Leading Lights awards gala dinner and the BCE Kickoff party at Austin's famous Container Bar, and you've got three days that could help shape your future (for the better of course!). And you'll have fun! We might even have some decent coffee (or at least know where to get some…).
You can find out all you need about event at the BCE show site.
That's why I want you to join me, my Light Reading and Heavy Reading colleagues, our speakers, exhibitors, supporters and other attendees in Austin in mid-May. I'm booked and raring to go and I really look forward to seeing you there.
— Ray Le Maistre, Editor-in-Chief, Light Reading