Huawei Dwarfs Ericsson, Nokia on R&D Spend in 2017
Huawei's recently published results for 2017 show the scale of the challenge for Ericsson and Nokia, with the Chinese vendor investing more than two and a half times as much in research and development (R&D) as each of its major Western rivals.
Having promised earlier this year to invest between $10 billion and $20 billion annually in R&D, Huawei Technologies Co. Ltd. revealed at the end of March that R&D expenses rose to $13.8 billion in 2017 from about $11.8 billion the year before. (See Huawei Commits Up to $20B for Annual R&D, Fleshes Out AI Pitch.)
Despite broader cost cutting at Ericsson AB (Nasdaq: ERIC), the Swedish kit vendor also made a sharp 18.4% increase to R&D spending last year, but this boosted the figure to just $4.5 billion, a mere fraction of the investments Huawei is making.
Nokia Corp. (NYSE: NOK) spent the higher sum of $5.2 billion across its entire business after making a very slight reduction to R&D spending between 2016 and 2017.
Following several rounds of consolidation, and the emergence of the Chinese as a serious force in the telecom industry, the three giant equipment makers now dominate today's global market for network products and services.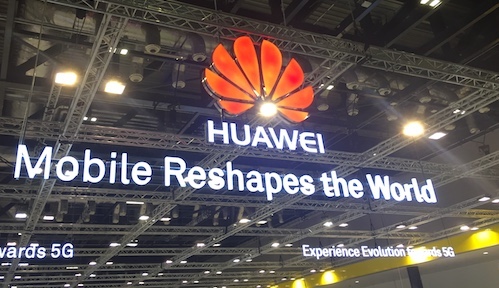 Yet each company faces its own challenges in early 2017 as well as a slump in customer spending: After several years of heavy investment in 4G and fiber-optic networks, some of the world's biggest operators have recently been able to cut expenditure on network deployment.
Sales at Huawei's carrier business group, which accounts for about half of its overall revenues, edged up just 2.5% in 2017, to around 298 billion Chinese yuan ($47.4 billion), after growing nearly 24% in 2016.
Thanks to a much stronger performance at its enterprise and device-selling consumer business, Huawei was able to report a 16% rise in overall sales, to about RMB604 billion ($96 billion), while its net profit was up 28%, to roughly RMB47 billion ($7.5 billion).
But the company's non-carrier business appears to be under growing threat from protectionist measures in the US, where government authorities say they are worried that equipment from Chinese companies like Huawei and ZTE poses a risk to national security.
Major US operators have already been warned off buying gear and services from the Chinese vendors. Earlier this year, a smartphone deal between AT&T Inc. (NYSE: T) and Huawei fell apart under pressure from US authorities, according to mainstream press reports. Best Buy, Huawei's biggest retail outlet in the US, is now planning to stop selling phones and other devices from the Chinese vendor, say reports. (See Best Buy to Drop Huawei in Another Blow to US Ambitions – Report.)
That move comes after President Donald Trump unveiled plans to impose tariffs on Chinese imports worth about $60 billion each year. (See Trade Warmonger Trump May Slap Tariffs on Chinese Tech – Reuters.)
The US concerns stem partly from fear that China is now poised to race ahead of the US in technology areas like 5G and artificial intelligence (AI), both of which could become integral to products and services across numerous industries.
Huawei has indicated that it will spend about $800 million this year on 5G, a next-generation mobile technology that promises faster connection speeds and reduced "latency," the delay that occurs when sending signals over data networks. (See Huawei's $800M 5G Budget Piles Pressure on Ericsson, Nokia.)
It is also ramping up investments in AI. The Chinese vendor is due to unveil an AI-enabled compute platform called Atlas this year and has also developed a system called Wireless Intelligence for automating processes in 5G radio networks.
"Over the next 10 years, Huawei will continue to increase investment in technological innovation, investing more than $10 billion back into R&D every year," said Ken Hu, Huawei's rotating chairman, in a statement accompanying the recent results. "As we look to 2018, emerging technologies like the Internet of Things, cloud computing, artificial intelligence and 5G will soon see large-scale application."
Next page: 5G hopes
EDUCATIONAL RESOURCES

PARTNER PERSPECTIVES
- content from our sponsors