 Here's a modern fable for the virtualized communications era: Virgil and Phineas are chief technology officers for rival operators of similar size. An extreme sports addict and virtualization enthusiast, Virgil is sick of his traditional suppliers and the prices they charge. He picks an exciting young startup to virtualize his radio access network (RAN). Cricket-playing, conservative Phineas, by contrast, runs with his usual RAN vendors.
Both projects go horribly wrong. But only Virgil gets fired.
In illustrating why Virgil is a rarity in the real world, this fictional scenario highlights one of the biggest impediments to RAN virtualization, says Franck Spinelli, the CEO of Amarisoft, one of the startups battling the old guard. "The decision has to come from the CEO or the CFO fed up with paying too much money. Then the CTO is covered if something goes wrong," he says. "Until that is done, nothing will happen." (See Startup Could Replace Ericsson, Says Orange.)
Operators are drawn to virtual RAN (or vRAN) technology and nervous about it in roughly equal measure. In a traditional RAN, baseband processing generally happens at the cell site on specialized equipment. With virtualization, an operator could "software-ize" digital processing functions and run them off generic hardware stored in more centralized facilities. Like virtualization in other parts of the telco network, the overhaul could lead to cost savings, efficiency gains and an end to the dreaded "vendor lock-in" -- if the challenges can be overcome.
Want to know more about 5G? Check out our dedicated 5G content channel here on
Light Reading.
Problematically, there is no single blueprint for a vRAN project. The different approaches involve trade-offs, and some look extraordinarily complex. Moreover, in trying to batter open the RAN gates, operators may hit resistance from the vendor giants worried they will lose out in a vRAN future. And with a multivendor network, there is concern suppliers will deny they are to blame if problems emerge. "When components belong to different people and you don't have an integrator taking responsibility, then you are in trouble," acknowledges Spinelli.
For some operators plotting the rollout of 5G networks, the cost savings of using vRAN technology are paramount. According to Bruno Jacobfeuerborn, the CEO of Deutsche Telekom AG (NYSE: DT)'s towers business, a traditional RAN would account for about 70% of overall spending to build a 5G network. His goal, he says, is to cut those RAN costs by half, partly through virtualization. In a fully virtualized RAN, operators would be able to reduce expenditure on hardware, software and services by around a quarter, says Spinelli. Another Tier 1 operator that spoke with Light Reading also sees RAN virtualization as a way to lower the equipment bill.
Figure 1: Feeling Recharged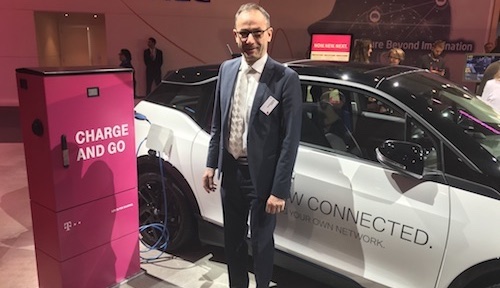 Deutsche Telekom's Bruno Jacobfeuerborn shows off some of the German operator's latest tech at the recent Mobile World Congress.
But those cost savings may never materialize if operators cannot smash open the market and introduce more competition. With that objective in mind, several of the world's most powerful telcos recently joined forces in what they call the Open RAN Alliance (or ORAN Alliance). "They want to have open interfaces between the functional components in the RAN," says Gabriel Brown, a principal analyst with Light Reading's analyst group, Heavy Reading . "For instance, there is an LTE interface called X2 that has been standardized but is not very interoperable, and in 5G there are the newly specified F1 interfaces. The ORAN Alliance wants to make these more open." (See Major Telcos Pool Efforts to Slash 5G RAN Costs.)
Perhaps the most high profile of these various interfaces is the common public radio interface (CPRI). Not a 3GPP-specified interface, CPRI is used in the fiber-based "fronthaul" connections between radio units and baseband equipment. Just as countries that include the word "democratic" in their official names are usually the opposite, so "common" is quite the misnomer here, according to Rethink Research, another analyst firm. "The CPRI interface … has been controlled by a small group of vendors, which implement it in semi-proprietary ways," said the company in a recent note about its vRAN research. "This raises high barriers to entry for alternative equipment providers."
While the big suppliers may have little incentive to open these interfaces, they are not necessarily being deliberately obstructive. In other parts of the technology industry, open technologies have been tweaked to improve performance and resilience, and not always to shut out rivals. "It's too simplistic to say CPRI is closed only due to incumbent vendors' blocking tactics," says Brown. "There are good reasons for tightly integrated, highly optimized systems." The consequence, though, is to make those architectures somewhat less open. On the hardware side, too, South Korea's SK Telecom (Nasdaq: SKM) doubts whether more generic equipment would cope with the high-performance needs of a 5G network.
Amarisoft's Spinelli, unsurprisingly, is unsympathetic. "All of this is the last resistance of the hardware vendors," he says. "They are trying to keep their dedicated components."
Next page: How would you like your vRAN?
How would you like your vRAN?
The more open the interfaces, the easier it may be for operators to build an entirely virtualized RAN and reap the benefits. In the meantime, a menu of vRAN alternatives, ranging from almost no virtualization to the full shebang, has been floating around.
Broadly speaking, there are three network layers that an operator must consider with RAN baseband virtualization: The physical layer (or PHY); the linking layer (MAC); and the uppermost, coordinating layer based on the packet data convergence protocol (PDCP).
Virtualizing the PHY layer is difficult, says Brown. "Because you need super high performance, the top four or five vendors have specialist silicon, like ASICs [application-specific integrated circuits] to do that PHY processing, or they use specialist DSPs and FPGAs [board support packages] from providers like Freescale, Cavium, Xilinx and Altera/Intel," he explains. "It is hard to virtualize that part and maintain the performance density operators need."
The MAC layer is also not easy to virtualize, says Brown, although more doable than PHY. Even so, when companies refer to vRAN, they are often talking about the relatively straightforward virtualization of the upper PDCP layer. "That is easier to do," says the Heavy Reading analyst.
After weighing the menu of options, the 3GPP standards group has settled on two "functional splits" in the RAN. The less extreme vision is a higher layer split at the PDCP layer, known as "Option 2" in 3GPP jargon, and a lower layer split at the PHY layer, known as "Option 7." In principle, this functional split is independent of virtualization, although in practice they are often linked, notes Brown.
Each option has its pros and cons. The more extreme approach would give an operator more "coordination gain," says Brown. "You can coordinate which resource blocks are allocated to which user at which point in time at a microsecond level, and you can reduce interference and improve performance and efficiency." On the downside, this option would drive up the complexity and cost of an operator's fronthaul network, where the CPRI interface is used to ferry information between remote radio units and centralized baseband equipment.
By contrast, in limiting itself to an upper layer split, an operator would get less coordination gain but also have far less to worry about on the fronthaul side. "It is a trade-off," says Brown. "That is basically what this is all about."
White box upheaval
Less convinced than others that RAN virtualization would lead to substantial cost savings, France's Orange (NYSE: FTE) thinks it could potentially bring greater automation and programmability. Its broader virtualization concern is about working with a multitude of suppliers in an open, multivendor network. SKT, similarly, frets that its own operations department could be left mopping up any mess, as suppliers dodge responsibility for problems or integration challenges. (See Orange: Still No Clear Business Case for vRAN and vRAN Tech Hits Resistance at SK Telecom.)
But if vendors are not prepared to be supportive, then other players will ultimately step into the void, predicts Spinelli. Those could include systems integrators such as Capgemini . "They could take the whole project and supply everything and become the next Ericsson or Nokia, but making sure operators are paying the right price," says Amarisoft's CEO.
The emergence of new players could also help the ORAN Alliance to realize even bolder, "white box" ambitions. In today's world, an operator with an Ericsson AB (Nasdaq: ERIC) system is forced to use both an Ericsson baseband and radio. But what if a service provider could buy a radio unit off the shelf and deploy it with any vendor's baseband technology? The industry would essentially have created a market for "white box" radios.
The aspiration is "not insane or unreasonable," says Brown. Even so, he does not expect a white box market to develop quickly. For starters, a white box radio is at first unlikely to measure up in terms of performance compared with an integrated, optimized system. What also seems improbable is that an operator would buy white box radios from makers in Taiwan and then install the equipment itself.
For more NFV-related coverage and insights, check out our dedicated NFV content channel here on Light Reading.
But in shouldering that installation burden, a systems integrator like Capgemini, Tech Mahindra Ltd. or Radisys Corp. (Nasdaq: RSYS) could help to cultivate this white box market. There might even be a white box upside for the traditional vendors, too. "There is a lot of innovation in the radio area that doesn't get into networks because the innovators don't control the full RAN," says Brown. "If there is a baseline specification, then Ericsson and Nokia could work with partners on certifying white box radios for their systems."
By teaming up on white box radios with antenna suppliers such as CommScope Inc. or Blue Danube Systems , a big RAN vendor could theoretically speed up the development cycle. Products could be more rapidly designed for specific geographical markets or usage scenarios. Indeed, Brown thinks white box radios and RAN virtualization could hold particular appeal for new deployment cases, such as factory automation or smart agriculture. "These aren't well served by macro RAN products and have different requirements," he says. "And that is where vRAN and programmable systems have a good early fit."
With operators facing zero growth in sales, the virtualization of the RAN ultimately seems as inevitable as the spread of software in other parts of the telecom and technology industry. And while the average CTO might not yet have the confidence or cover to back a major vRAN deployment, virtualization is increasingly in the lexicon of senior managers.
At Orange, that already seems to have made a difference. Yves Bellego, the operator's director of spectrum strategy and planning, says Orange Spain is ahead of other Orange subsidiaries on virtualization partly because Laurent Paillassot, its CEO, is an advocate. Paillassot recently became deputy CEO of the Orange group. With more such individuals in the hot seat, Virgil might become less of a rarity in future. (See Is Orange's New Deputy CEO the NFV Champion It Needs?.)
— Iain Morris, News Editor, Light Reading
Subscribe and receive the latest news from the industry.
Join 62,000+ members. Yes it's completely free.
You May Also Like
---