Humans Beware: Ericsson Readies Machines to Run the Network
Humans Beware: Ericsson Readies Machines to Run the Network
Swedish vendor is set to launch a handful of 'machine intelligence' products at this week's MWC and says 15 major operators are interested in its AI goodies.

Enthusiastically boarding the artificial intelligence bandwagon, Ericsson will unveil a handful of "machine intelligence" products at this week's Mobile World Congress as it tries to close the gap with Chinese rival Huawei.
Forthcoming products will include a chatbot designed to support mobile network technicians as well as a "self-learning" tool that shifts network resources between basestations to suit traffic levels and user needs.
The basestation technology is already in trials with Vodafone Spain, which plans to use it in commercial networks this year.
Pioneered by US tech giants like Google (Nasdaq: GOOG) and IBM Corp. (NYSE: IBM), artificial intelligence and machine learning are attracting growing interest from telecom network vendors hunting for new sales opportunities.
Huawei Technologies Co. Ltd. plans to launch an AI-enabled computing platform called Atlas this year and has also developed a system it calls Wireless Intelligence for the automation in 5G networks of the "beamforming" process, which focuses signals on end-user devices. (See Huawei Set for 'Intensive' AI Investment.)
Ericsson AB (Nasdaq: ERIC), which is exploring similar applications, has lost ground to Huawei in the last few years and recently reported its fifth straight quarter of operating losses as major customers slashed spending on network equipment. (See Ericsson Stuck in Loss-Making Rut, Offloads Majority Stake in Media Unit.)
Figure 1: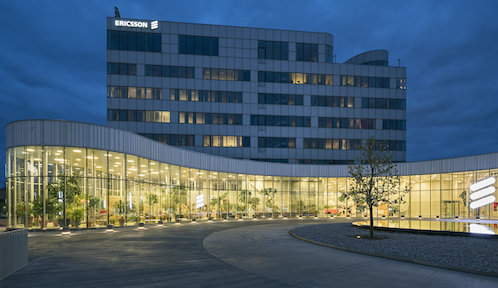 Ericsson's headquarters in Kista, Sweden.
Ulrika Jägare, the director of its analytics and machine learning activities, says Ericsson has recently been in talks with 15 major operators about its forthcoming AI products. All of those companies are interested in carrying out trials, she tells Light Reading, although Ericsson has yet to announce any prospective customers other than Vodafone Spain.
Using the term "machine intelligence" to describe the latest innovations, Jägare says that some of the new products will support Ericsson's managed services business and aim to make network operations and service delivery "more machine- and less man-driven."
The chatbot tool, she explains, should help to reduce the costs incurred in sending highly skilled engineers to mobile sites to fix basestations. "You can dispatch a junior technician instead and he can use the chatbot to get support on troubleshooting and access a product information library that contains more than 14,000 documents," says Jägare.
Besides supporting Ericsson's managed services customers, the chatbot will also be sold to operators that do not have a managed services relationship with the vendor.
Ericsson hopes to integrate some of its machine intelligence with basestations and core network technologies to improve performance. The load-balancing system that Vodafone Spain is testing can calculate which frequencies and cell sites are optimal for particular users and make rapid adjustments.
"It is better to have a self-learning and self-optimizing tool that adapts to each site than to have one model that is the same across the entire network," says Jägare.
In the core network domain, Ericsson has also been exploring the use of machine intelligence with the virtual MME (mobility management entity) network function. "Compared with using a predefined product based on best assumptions, this is performing 25% better," says Jägare. "You can easily reuse [the AI] for another product and we are looking at using it for the IMS [Internet Protcol multimedia subsystem] function and in a virtual RAN [radio access network]."
Next page: Rise of the machines
Rise of the machines
While plenty of hype swirls around AI, the technology has recently been developing at a much faster pace than was previously thought possible. The emergence of the 5G next-generation mobile standard is also fueling interest in AI: Earlier this month, Huawei indicated that 5G networks will have 50 times as many configurable parameters as 4G systems -- far more than a telco could handle manually. (See Automation's Advocates in Downsizing Denial.)
Open source has also provided a spur to AI development, says Jägare, noting that Ericsson used readily available code to build its chatbot, rather than starting from scratch.
In the past, she adds, it was difficult to run complex algorithms outside centralized data centers. "The small hardware footprint now needed for complex algorithms means you can push them further out and orchestrate the network with machine intelligence," she says.
The move into AI could put Ericsson in competition with US tech giants for telco business, but Jägare reckons the Swedish company's networks expertise gives it an important advantage. "A lot can be managed further upstream but there are few that can work across the telco network," she says. "If you look at what IBM is offering, there is extra work you have to do. You have to teach the system."
Will the operators bite, though? Many service providers are recruiting data scientists and developing their own AI capabilities. They may see little need to rely on traditional suppliers for machine learning tools.
Jägare thinks that is unlikely because operators' AI investments have usually had a different focus. "They are spending on churn analysis and marketing campaigns and that sort of thing," she says. "When it comes to AI from a network perspective, they are asking us what to do."
Even so, as operators virtualize their operations and try to become less dependent on specific suppliers, concern has arisen about the use of AI technology in networks served by multiple vendors. Huawei recently acknowledged this could prove "challenging." Is there a need for standardization in this area?
"I think so and I think very little is being addressed at the moment in this space," says Jägare. "We need to come together. Right now most of us are still in an exploratory phase. We need to see more standardization happening."
Standardized practices could help to address some anxiety about AI from an ethical perspective, too. Problems could potentially arise when machine intelligence comes up with solutions that customers do not expect or understand. New rules or regulations might help AI developers to generate trust and provide explanations, says Jägare.
For all the latest news from the wireless networking and services sector, check out our dedicated mobile content channel here on Light Reading.
The chief worry is that AI will destroy jobs, however, and Jägare offers little comfort to employees in the telecom sector who feel nervous about their work prospects. "I see a significant impact in terms of reduced size [of telco organizations] and reskilling," she says. "Engineers at Ericsson have a good foundation to become data scientists and work more with self-learning algorithms, but there are long-skilled employees we won't have that much use for."
That transition could prove painful for Ericson and its workforce, but the biggest AI threat to the Swedish business probably comes from China and the R&D might of Huawei.
Last year, Ericsson's main rival Huawei spent about $12 billion on R&D, and it this month promised to invest between $10 billion and $20 billion annually from now on. Ericsson reported net R&D expenses of just $4.1 billion in 2017, and the figure is unlikely to grow in 2018. It will need to make every cent count. (See Huawei Commits Up to $20B for Annual R&D, Fleshes Out AI Pitch and Huawei's $800M 5G Budget Piles Pressure on Ericsson, Nokia.)
— Iain Morris, News Editor, Light Reading
Subscribe and receive the latest news from the industry.
Join 62,000+ members. Yes it's completely free.
You May Also Like
---