4:15 PM -- LONDON -- Open Mobile Summit -- Here's something you don't hear every day: The founder of Rovio, the mobile application gaming sensation that created Angry Birds, is really excited about being the third-most-copied brand in China.

It's not exactly typical to hear an exec happily boasting about the proliferation of counterfeit knock-offs of his company's merchandise. But Rovio isn't just any company.

Rovio, developer of a wildly successful mobile game app, is now making stuffed toys, which the company's founder and "Mighty Eagle" (his official corporate title) Peter Vesterbacka refers to as the "Disney strategy."

"Walk into a shop [in China] and you see Disney, Hello Kitty and Angry Birds," he said proudly in his keynote address here at the Open Mobile Summit. "Next year, our ambition is to be the most copied brand in China. That would mean we're the top entertainment brand in China."

Maybe he gets ahead of himself with that last comment, but it's certainly impressive the characters in his game have gotten that kind of attention in the world's biggest market. After all, "If nobody copied us, it would mean that nobody cared," said the red hooded-sweatshirt-clad Vesterbacka.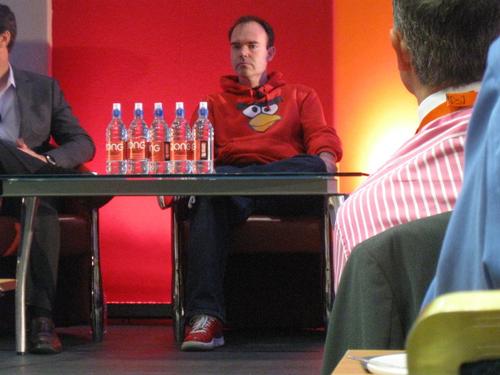 The apps developer is not only making fluffy stuffed toys [Ed note: I want one!] and T-shirts, it also plans to publish a family cookbook of egg recipes. [Ed note: well, why not?] And after the cookbook, the company has plans for making animated movies since it acquired Finnish animation studio Komba last week.

Angry Birds' story is fascinating because it started as a neat mobile app and is on its way to becoming a well-known entertainment brand.

As Vesterbacka put it, "This is what we can expect from mobile." [Ed note: what, more toys and animation? Hooray!]

— Michelle Donegan, European Editor, Light Reading Mobile