A division of Alcatel-Lucent (NYSE: ALU) is pitching cable operators and telcos on an analytics service that will bring some order to the wild and woolly world of over-the-top (OTT) video.

AppGlide Video Analytics, developed by Alcatel-Lucent Ventures, aims to help service providers measure network performance and the quality of the customer experience for OTT video using software that correlates data from disparate sources.

The goal here is to help service providers figure out how they can charge more for certain kinds of OTT video and related services, as well as how they can reduce customer churn, says Buck Peterson, the general manager of AppGlide for Alcatel-Lucent Ventures.

"The loyalty [of customers] is not with the service provider, but with that online piece of content," he suggests.

AppGlide gathers and curates data a couple of different ways.

There's a player-based plug-in that sends data to the service provider, tracking packet loss, measuring buffering lengths, looking at how many times a video has to buffer and calculating the round-trip time delay. That plug-in would reside in streaming players from the likes of Adobe Systems Inc. (Nasdaq: ADBE) and Microsoft Corp. (Nasdaq: MSFT).

AppGlide also supports a network-based agent that doesn't track last-mile data for cases in which the service providers can't or won't use the player plug-in. That solution is housed on a server deep in the network and it downloads video and attempts to measure the video experience from there.

The data from those components are correlated and analyzed using dashboard views and other reports that present network conditions that can help an MSO unclog a node or better groom the streams if the quality appears to be eroding.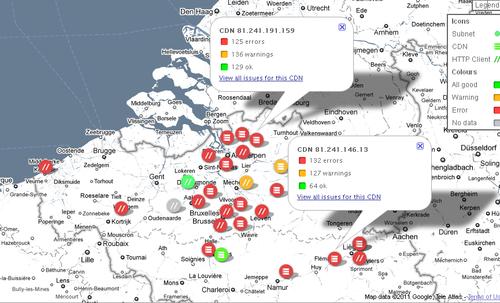 "No one [piece of data] can tell me that people were watching video and why they stopped," Peterson says. "They [service providers] can guess, but they have no hard facts." AlcaLu thinks AppGlide can bring together facts are available and add context to help root out the source of a problem.

But is anyone using it yet? Maybe. "We're actively pursuing trials as we speak," Peterson says.

Why this matters
AlcaLu is debuting AppGlide as service providers, including Comcast Corp. (Nasdaq: CMCSA, CMCSK), start to bring more content in-house and offer it via their own on-net content delivery networks (CDNs). They're hoping to attract content owners with systems that can keep the video experience free of jitter, buffering and other ailments that can affect the consistency of video streams.

And AppGlide could be used as a sales tool. The product could give service providers a way to compare the performance of their CDNs with off-net CDNs from the likes of Akamai Technologies Inc. (Nasdaq: AKAM), Level 3 Communications Inc. (NYSE: LVLT) and Limelight Networks Inc. (Nasdaq: LLNW). In a theoretical scenario, an MSO might try to get Netflix Inc. (Nasdaq: NFLX) to strike a deal to have its content hosted on a service provider-managed CDN if the performance levels were head and shoulders above what Netflix was getting with off-net CDNs.

Also for AlcaLu, a company that's trying to gain ground with its Velocix CDN product, AppGlide may give it another product to help wedge its way into cable, an industry that it's had difficulty penetrating.

For more
For more about cable's CDN ambitions and AlcaLu's renewed interest in cable, check out:



— Jeff Baumgartner, Site Editor, Light Reading Cable