Drunk Brits, Russian Anglers & Telenor's Big Data Gambit
Drunk Brits, Russian Anglers & Telenor's Big Data Gambit
How Norway's biggest operator plans on turning its mobile analytics into a new money-spinner. The frosty landscape of northern Norway typically attracts two types of tourist in the winter, according to Berit Svendsen, the CEO of Telenor Norway. "There are people going ice fishing, who come from Russia, and there are people heading for the closest bar," she joked at the AI Summit in London last week. "They are from Great Britain, of course."
Telenor Group (Nasdaq: TELN) would know this because the smartphone of the tipsy British tourist shows when he arrived, where he came from and even how fast he is traveling to his destination. Such information about usage patterns helps the mobile operator to keep its network in tip-top condition. But it could be just as valuable to other Norwegian companies that are not in the telecom industry, says Svendsen. Selling data on mobile analytics to those firms could be a new money-spinner for Telenor as it tries to offset the slowdown at its mainstream connectivity business.
Figure 1: Big Data Believer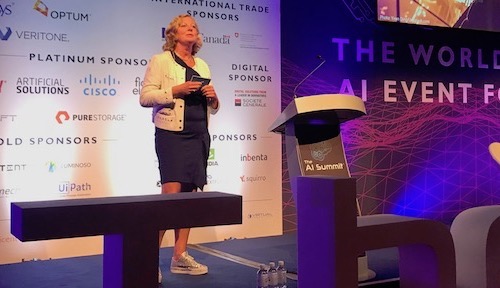 Berit Svendsen, the CEO of Telenor Norway, addresses an audience at last week's AI Summit in London.
Parts of Norway's tourist industry, in Svendsen's example, might put a premium on knowing more about visitors before they actually arrive. Bars in Lofoten could make sure they stock just enough beer for thirsty Brits. Shops selling fishing tackle could also better match supply with levels of Russian demand. The application of artificial intelligence (AI), in which Telenor is now investing, should make that data even more useful. Clever systems might be able to make predictions about tourist numbers and behavior next year.
Telenor is currently working on 16 pilots with different industries in Norway, Svendsen said during a presentation at the AI Summit. Much of its research into AI and data analytics has been carried out with the University of Trondheim, which has been encouraging Norwegian businesses to participate in trials.
But turning these efforts into a commercial opportunity for Telenor and its partners will not be easy. Facilitating access to data is one challenge. "We need to clean the data and combine it in data pools that people can access, but there are internal silos in the telco organization that need taking down," said Svendsen. Another difficulty for telcos getting into AI is finding the right talent. "We need the best people to do what we are doing," she says.
Security is both a worry and a potential business opportunity. As Norway's biggest operator, Telenor carries about 80% of all data traffic in the country, according to Svendsen, and serves many of its largest companies. That has made it a target for unscrupulous hackers. "One of the concerns we have is that we are being hacked and that hacking is spreading to important business customers," she says. "We need to monitor the network and find out if there is an attack coming before it has happened." By using network data in conjunction with AI, Telenor could more easily detect abnormal traffic patterns and combat these attacks. (See We're losing AI fight to fraudsters, says BICS exec.)
Figure 2: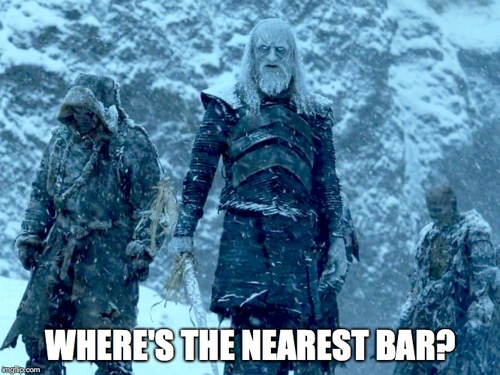 When it comes to the sale of mobile analytics, privacy and data protection are the most obvious barriers. Telenor has been working with Norwegian regulatory authorities to ensure data is fully "anonymized" before it is provided to other companies, Svendsen tells Light Reading. This cleanup is likely to make the data less valuable to certain organizations, but Svendsen insists that what remains is "good enough" for many applications. "We can see where groups are coming from and changes in traffic patterns," she says.
Even so, the business models are still not clear, she concedes. Telenor is currently going through a process of "trying and failing" as it works on developing those models with its business partners.
Zero in on the most attractive 5G NR deployment strategies, and take a look ahead to later-phase technology developments and service innovations. Join us for the Deployment Strategies for 5G NR breakfast workshop in LA at MWCA on September 12. Register now to learn from and network with industry experts -- communications service providers get in free!
In the meantime, perhaps the biggest question for the industry is whether an operator's network data holds anything of value beyond what Google (Nasdaq: GOOG), Facebook or another Internet player could sell on the market. No doubt, much of the data on network performance remains off-limits to those companies, and can be used in network planning to reduce telco spending and improve service quality. But those are internal, efficiency benefits. So-called over-the-top companies have seemed to know as much as telcos about user location and identity. And they have so far done a better job than telcos of turning what they know into a business opportunity.
Where Telenor and other operators may hold the trump card is on trust and relationships. In the wake of Facebook's recent data scandal, during which one of its partners was revealed to have misused customer information, subscribers may be less willing to share personal details with Internet companies. European regulators have been getting tougher, too. And Telenor's local presence and dealings with Norwegian companies may give it a key advantage over Internet rivals. But given operators' track record of squandering non-connectivity opportunities, convincing skeptics that data can pay may be the biggest challenge of all. (See Facebook: The Sick Man of Silicon Valley and Facebook Hearings Were the TIP of the Data Iceberg.)
— Iain Morris, International Editor, Light Reading
Subscribe and receive the latest news from the industry.
Join 62,000+ members. Yes it's completely free.
You May Also Like
---