12:45 PM -- I'll admit it: I don't like Barry Bonds. But to be at AT&T Park last night to see him hit his 756th home run -- tops all time for an American player -- well, fill in your own cliche here. Once in a Lifetime. Really Something Special.

Across the aisle from us was a boy of about nine, replete with glove and cap. Everybody stood up during Bonds's at-bats, so he had to sneak into the aisle to see. When Bonds connected, his father had enough presence of mind to scoop him up, letting him watch the ball hit the bleachers in right-center field. They'll tell that story forever.

You all know by now that Bonds hit No.756 in the fifth inning off Mike Bacsik -- whose father, it turns out, pitched to Hank Aaron when he had 755 home runs, with less dramatic results. Bonds's picture is in all the papers today, and the replays are all over ESPN.

Well, here's some grainy, date-stamped evidence of my own.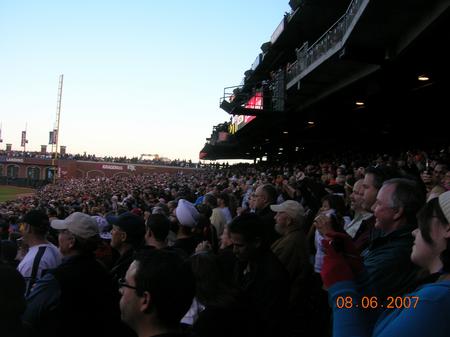 — Craig Matsumoto, West Coast Editor, Light Reading