 The 3GPP will enable the use of unlicensed spectrum in the 5G New Radio spec (Release 16), allowing companies to create their own 5G networks on campuses and warehouses in the near future.
Unlicensed 4G LTE networks are just starting to come into vogue with Licensed Assisted Access (LAA) (5GHz) and 3.5GHz Citizens Broadband Radio Service (CBRS) network equipment. The 3rd Generation Partnership Project (3GPP) has now said use of 5G will now be part of Release 16, arriving in the 2020 timeframe. (See Unlicensed CBRS 4G Service Coming Q4 2018 and US Operators Get Cracking on Unlicensed-LTE.)
Figure 1: 3GPP Revised Rel16 Timeline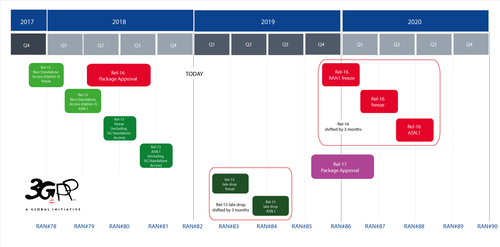 Source:3GPP
Unlike LAA LTE, unlicensed 5G networks should be able to be deployed "without any connection to licensed spectrum," Qualcomm's VP of Technical Standards Lorenzo Casaccia told Light Reading.
This will enable companies to build a standalone 5G radio network with a 5G core in a relatively small area, to use for the company's own, quite possibly specialized, applications on 5G.
Interested parties would "want control of their own devices" too, Casaccia said.
All of this fits with 5G helping to promote new developments in industrial and factory design. 5G could also revitalize the "thin client" market. Edge devices would be able to connect to compute power remotely over low-latency 5G networks, eliminating the need for those devices to have more powerful compute onboard. (See 5G & the Factory of the Future, Nokia Reveals Future X Network Project, Ericsson's CTO Talks Up 5G Opportunities and Could 5G Revitalize the Thin Client Market?)
The 60GHz band is already established as a possibility for future 5G uses, while the FCC is examining 6GHz and above 95GHz for 5G.
— Dan Jones, Mobile Editor, Light Reading
Subscribe and receive the latest news from the industry.
Join 62,000+ members. Yes it's completely free.
You May Also Like
---