NEW YORK CITY -- Ericsson Capital Markets Day -- 5G was the key topic at Ericsson AB (Nasdaq: ERIC)'s capital markets day in midtown New York Thursday, as initial deployemnts go live and use cases for the new networks begin to firm up. (See Emboldened Ericsson Lifts Sales Target.)
The vendor's CTO, Erik Ekudden, even went as far as to declare during a morning session that the Swedish vendor has 5G leadership "in technology terms."
Figure 1: Ericsson CTO Erik Ekudden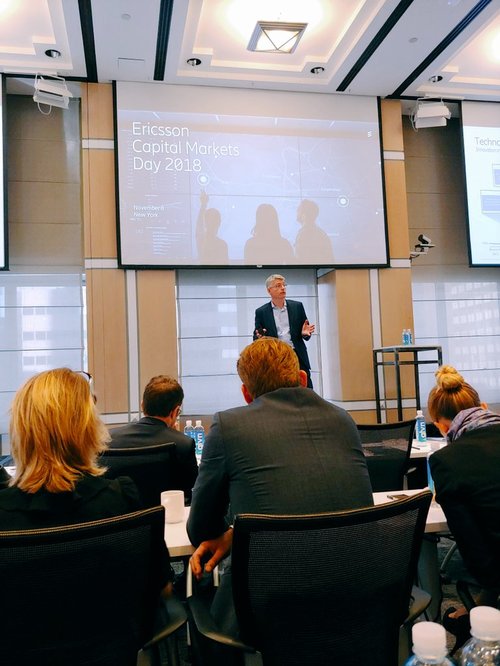 The CTO talks 5G. Ericsson is an infrastructure provider for Verizon Communications Inc. (NYSE: VZ)'s pre-standards 5G launch, which went live in the US last month. It is also supplying technology for Swisscom AG (NYSE: SCM)'s current live 5G tests, among others. (See Verizon to Launch Fixed 5G Service on Oct. 1.) The Ericsson CTO identified enhanced mobile broadband and fixed wireless as amongst the first 5G bright spots for Ericsson. "The beauty of fixed wireless," he told Light Reading Thursday, is that it lessens the need for fiber. With wide carriers (radio channels) and narrow beams (i.e., beamforming) -- "spotlight beams" as Ekudden calls them -- able to deliver multi-megabit to gigabit speeds, high-speed and efficient fixed wireless is now possible, where it wasn't before, Ekudden said. Want to know more about 5G? Check out our dedicated 5G content channel here on
Light Reading. "It's now financially and technically viable," the CTO said, particularly as the 3rd Generation Partnership Project (3GPP) 5G New Radio (5G NR) specs make it possible to use the same infrastructure for both fixed and mobile 5G services. According to the CTO, high-band 5G equipment could deliver a high-speed data connection from a small cell sited 200-300 feet from antennas installed at customers' homes. In this scenario, an operator such as Verizon would save money by serving multiple premises without having to dig up the customers' front yards for a cable run. "I'm not advocating universal build-out of fixed [wireless 5G]," Ekudden hastens to add. "There are fewer operators that are planning for fixed wireless." But in the US, both Verizon and T-Mobile US Inc. have launched -- or are planning to launch -- 5G home broadband services (using fixed wireless capabilities) along with mobile 5G services. Mobile services are expected in the first of 2019 for T-Mobile, and "sometime" in 2019 for Verizon. (See T-Mobile: 6 of Top 10 US Markets Ready for Our 5G in 2019.) Ericsson, like its vendor rivals, is also expecting the Internet of Things to be a massive part of the 5G age: Ericsson is predicting there will be 3.5 billion "cellular IoT" devices in use by 2023. That's a big number, but not as ambitious as many other predictions seen for 5G and IoT. "Most of that number is China," explains the CTO. The low-power, wide-area aspect of 5G can be supported now. Technologies like narrowband IoT (NB-IoT) or Cat M LTE can be used "in-band" in 3GPP-compliant 5G NR deployments. A crucial part of the industry vision for "Critical IoT," however, won't be able to be supported until the end of 2019 with NR/Phase 2 (Release 16), which means the earliest commercial equipment will become available sometime in 2020. This "ultra reliable low latency" upgrade for Release 16 is crucial for the millisecond latency needed for everything from self-driving cars, to automated product lines, to supporting more sophisicated thin client devices. Like rival Nokia Corp. (NYSE: NOK), Ericsson is gearing up for this IoT industrial sector to be a money-spinner for the company in 5G -- just not yet. (See Nokia Reveals Future X Network Project.) — Dan Jones, Mobile Editor, Light Reading
Subscribe and receive the latest news from the industry.
Join 62,000+ members. Yes it's completely free.
You May Also Like
---