Deutsche Telekom claims to have turned on Europe's first 5G connection on a commercial network in Germany in a technology demonstration that hints at the nature of its next-generation mobile broadband plans from 2020 onwards.
Working with Chinese vendor Huawei, the German telecom incumbent said the 5G connection on its network in central Berlin delivered downstream speeds of more than 2 Gbit/s and latency of just three milliseconds over spectrum in the 3.7GHz band.
In terms of both connection speed and latency -- the delay that occurs when sending signals over data networks -- the claimed metrics easily beat what is possible using today's most advanced 4G networks, which are nudging toward gigabit speeds. However, Deutsche Telekom AG (NYSE: DT) is unlikely to be able to promise such mobile broadband speeds on commercial 5G access networks accessible by its full customer base.
Of course, in the current absence of an actual 5G standard, Deutsche Telekom and Huawei have relied on what they call "pre-5G" systems for the Berlin demonstration, but the technology used looks heavily based on the 5G new radio (NR) specifications the 3GPP is due to freeze at the end of 2017.
The standards body earlier this year decided to lock down those 5G NR specifications six months sooner than it had originally planned. (See 3GPP Approves Plans to Fast Track 5G NR.)
The decision means that equipment vendors such as Huawei will be able to start working on standardized 5G equipment sooner than expected and could allow operators to launch standards-based 5G services as early as 2019.
As Deutsche Telekom explains in a statement about its Berlin demonstration, this first standard has been dubbed "non-standalone" (or NSA) 5G and will use the 5G NR in conjunction with an existing 4G network.
That should make it a lot easier for Deutsche Telekom to provide wide-area 5G coverage using sub-6GHz frequencies, over which signals travel much further than they do in higher spectrum bands.
"With this real-world achievement, Deutsche Telekom is making its first important step towards a 5G network launch," said Bruno Jacobfeuerborn, Deutsche Telekom's chief technology officer. "When the standard is defined, we will trial it in 2018 to prepare the ground for a wider deployment of commercial sites and the offering of devices for the mass market as they become available."
Figure 1: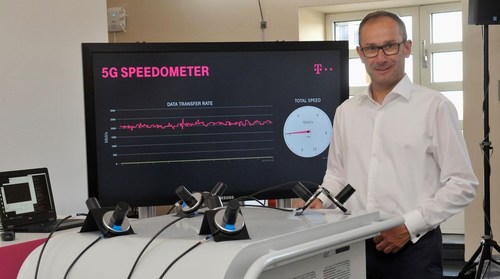 "With this real-world achievement, Deutsche Telekom is making its first important step towards a 5G network launch" -- Bruno Jacobfeuerborn, CTO, Deutsche Telekom.
Huimin Zhu, the vice president of Huawei's 5G division, said it was helping Deutsche Telekom to prepare the way for a commercial NSA launch in 2020.
This all suggests that Deutsche Telekom plans to use 5G initially to support demand for higher-speed mobile broadband connections, taking advantage of the NSA standard and relying on 3.5GHz and other "mid-band" spectrum ranges.
The operator has this year emerged as the most bullish of Europe's major telecom incumbents on 5G technology. During a presentation at the Mobile World Congress (MWC) in February, CEO Timotheus Höttges announced plans to deploy 5G across Deutsche Telekom's entire network footprint starting in 2020. (See DT Plots 5G Across Entire Footprint.)
While Höttges did not disclose details of any firm targets for that rollout, other European operators have been far more circumspect in their statements about 5G.
Want to know more about 5G? Check out our dedicated 5G content channel here on
Light Reading.
Even so, both Höttges and Jacobfeuerborn have flagged concern about the costs of rolling out a 5G network. During his MWC presentation, Höttges pointed to research suggesting that a 5G network covering the entirety of Europe would cost between €300 billion ($357 billion) and €500 billion ($594 billion) to build. (See DT CTO: Costs Must Fall or 5G 'Won't Work'.)
In an interview with Light Reading, Jacobfeuerborn said that operators might need to look at sharing network equipment to make 5G rollouts feasible. He also thinks there could be a role in Europe for a US-style towers company -- such as Crown Castle International Corp. (NYSE: CCI) -- connecting mobile sites to fiber backhaul networks.
David Wright, an independent consultant currently advising one of Europe's national regulatory authorities on 5G issues, similarly believes that operators will have to share networks to make 5G rollout economical. A "neutral host" model, whereby one network is used by a multitude of operators, would be the most sensible approach, he tells Light Reading.
Jacobfeuerborn has also been working through initiatives such as xRAN -- a research program that involves AT&T, Telstra, Verizon, SK Telecom and Stanford University -- on innovative ways of lowering the radio access network (RAN) costs.
By "decoupling" the RAN control plane responsible for signaling decisions from the user plane that carries traffic, the industry could phase out dedicated equipment and make greater use of "standardized" hardware, he says. That could lead to a much lower equipment bill. (See The Growing Pains of 5G.)
But much of the cost could be in rolling out the fiber networks that operators will need to provide "backhaul" for higher-speed mobile services. In a recent 5G strategy paper, Germany's government said it expected the country's operators to increase investments in connecting their base stations to fiber.
While Deutsche Telekom says most of its 4G sites now benefit from fiber backhaul, a nationwide 5G rollout would double the number of mobile sites to between 44,000 and 50,000 towers, said Thomas Dannenfeldt, Deutsche Telekom's chief financial officer, earlier this year.
Investment in fiber-to-the-home (FTTH) networks could support 5G backhaul needs, according to analysts, but Germany currently lacks much FTTH infrastructure.
That could also change, however. Answering questions on FTTH during a recent earnings call with investors, Dannenfeldt said there would be a significant increase in FTTH rollout investments starting in 2019. (See DT to Ramp Up FTTH Capex Starting in 2019.)
Nevertheless, a number of industry watchers do not think Europe will have widespread 5G networks in place for many years.
Bengt Nordström, the CEO of the Northstream market research and consulting group, says operators are unlikely to invest heavily in building 5G networks while their service revenues remain under pressure.
Huawei rival Ericsson thinks most of the interest in Europe will be in using 5G to support new types of service in the enterprise sector, such as connected car applications and remote-control surgery. (See Ericsson: 5G Unlikely to Kickstart Telco Spending.)
And despite Deutsche Telekom's apparent desire to use 5G for mobile broadband purposes, Jacobfeuerborn says the technology is likely to coexist with 4G for many years.
"It is not going to be the big bang with 5G -- we have LTE-Advanced and LTE-Advanced Pro so that [4G] is developing much faster than before," he told Light Reading in February.
— Iain Morris,

, News Editor, Light Reading
Subscribe and receive the latest news from the industry.
Join 62,000+ members. Yes it's completely free.
You May Also Like
---