 As expected, the 3GPP has approved plans to speed up the development of 5G new radio (NR) specifications by six months, a move that could allow some operators to launch standards-based 5G services as early as 2019.
The approval means that NR specifications will be frozen at the end of this year instead of in mid-2018, as originally planned, and should allow vendors to begin working on standardized 5G equipment sooner than expected.
It means that a version of 5G technology called "non-standalone," which uses the 5G NR in conjunction with an existing 4G network, could appear in the market in 2019.
"A major decision was taken this week in RAN [radio access networks] on the 5G new radio (NR) workplan," said Dino Flore, the 3rd Generation Partnership Project (3GPP) 's chairman, in an official statement. "In particular, the group agreed to have an intermediate milestone for the early completion of the non-standalone (NSA) 5G NR mode."
Figure 1: Detail of 5G NR eMBB Workplan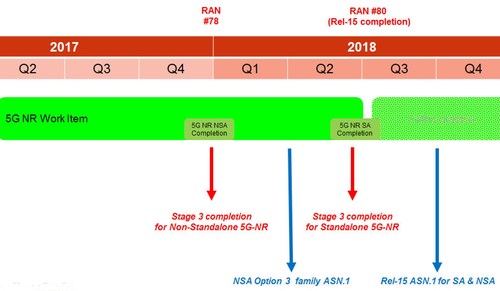 This portion of the 3GPP's 5G NR timetable shows that the non-standalone 5G NR specifications are now set to be completed by the end of 2017, six months ahead of the standalone specs. The full workplan diagram can be seen here.
The NR timetable acceleration proposal had been criticized by a few leading service providers, including Spain's Telefónica and France's Orange (NYSE: FTE), which expressed concern during the Mobile World Congress trade show last week that prioritizing "non-standalone" 5G could upset work on the "standalone" variant of the technology. (See Telefónica's Blanco: 5G NR 'Acceleration' Is 'Big Mistake'.)
Finnish vendor Nokia Corp. (NYSE: NOK) appeared to have similar worries. (See Nokia Pitches Full 5G Suite but Shies Away From 5G Acceleration Push.)
That standalone variant is set to include a next-generation core network as well as the 5G NR specifications and is viewed as more important than non-standalone in some corners of the industry.
However, some of the original opponents of the NR acceleration plan look to have swung behind it this week. Telefónica's name appears in a 3GPP presentation issued this week about the new timetable, as does that of US operator Verizon Communications Inc. (NYSE: VZ), which had also harbored reservations about the scheme.
Want to know more about 5G? Check out our dedicated 5G content channel here on
Light Reading.
Heavy Reading principal analyst Gabriel Brown, who earlier this week predicted the NR acceleration plan would secure approval, says the 3GPP has also given a clear commitment to finalize work on standalone 5G technology by mid-2018. (See 3GPP Likely to Fast Track 5G NR Specs This Week.)
That is likely to have mollified service providers and vendors worried about the ramifications of NR acceleration for the development of standalone specifications.
"There is a clear commitment to maintain progress on standalone mode," says Brown. "That is still a key requirement and one of the things that vendors have had to commit to."
From a European perspective, perhaps the most notable absentee from the list of companies that have put their names to the new workplan is French incumbent Orange.
During Mobile World Congress, Yves Bellego, Orange's director of technical strategy, told Light Reading that: "5G is not and should not be limited to NR." (See Orange Also Objects to 5G NR Acceleration.)
"We really believe we need a full 5G system… and there is a risk that defining a new radio and not addressing other portions does not in the end deliver the best solution," said Bellego.
Other service providers may have not wanted to risk appearing at odds with the weight of industry opinion, but the concerns seem unlikely to have entirely disappeared.
— Iain Morris,

, News Editor, Light Reading
Subscribe and receive the latest news from the industry.
Join 62,000+ members. Yes it's completely free.
You May Also Like
---