China's biggest operator has warned investors that its costs are about to rise at "relatively high rates" after its frenzied rollout of 340,000 5G basestations last year.
China Mobile said it was under pressure to make other cutbacks to cope with the increase in electricity fees and depreciation charges in 2020.
The state-controlled operator provided no further details after reporting a 9.5% year-on-year increase in sales, to 198.4 billion Chinese yuan ($30.6 billion), for its first quarter of 2021. Its net profit rose 2.3% to about RMB24.1 billion ($3.7 billion).
China Mobile ranks as the world's biggest operator by customers, serving as many as 940 million subscribers in the first quarter.
Figure 1: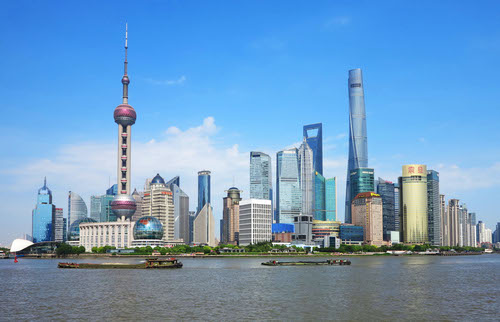 5G rollout in Shanghai (pictured) and other big cities will burnish China's hi-tech credentials.
It has also embarked on one of the most aggressive rollouts of 5G networks anywhere on the planet, boasting 189 million 5G customers in March, an increase of 24 million since December.
The figure is misleading, critics have pointed out, because it includes customers who are not actually using 5G services.
In what seems like a response to the criticism, China Mobile has now started to break out the number of active subscribers and says almost 93 million had experienced 5G connectivity in March.
But its cost warning is likely to fuel doubts about the profitability of 5G services and worry staff.
As a major employer in China, the company had more than 450,000 employees on its books last year and the numbers have changed little in recent years.
That stands in contrast to developments in North America and Europe, where the biggest service providers have taken advantage of automation and a customer preference for online shopping to cut tens of thousands of jobs.
China Mobile also faces a huge capital expenditure bill this year as it extends 5G services outside the big cities and into less densely populated communities.
Want to know more about 5G? Check out our dedicated 5G content channel here on Light Reading.
It plans to spend RMB183.6 billion ($28.3 billion) in total, up from RMB180.6 billion ($27.8 billion) last year. In its last annual report, it said that as much as RMB110 billion ($17 billion) would go toward 5G rollout.
Earl Lum, a semiconductor expert with EJL Wireless Research, said the "Phase 2" rollout by China Mobile and China Broadcasting Network (CBN), its joint venture partner, would probably focus on wide-area coverage using lower frequencies.
"CBN is the sole owner of 700MHz spectrum in China and so they are probably going to roll out 300,000 or 400,000 basestations at 700MHz," he told Light Reading.
Winners and losers
Details of the contract awards could serve as a barometer of geopolitical tension.
Ericsson, which landed about 11% or 12% of last year's contracts, fears it could lose out in Phase 2 as China retaliates against a Swedish government decision to ban Huawei.
Finnish rival Nokia, which emerged from last year's tender without any work, is hopeful of a different outcome in the future after its recent turnaround efforts.
"We have increased significantly our product competitiveness and there will be new rounds and we continue to see China as an important market," said Pekka Lundmark, Nokia's CEO, in a recent discussion with reporters.
Homegrown vendors Huawei and ZTE are usually assured the bulk of any work in China, but US sanctions mean Huawei no longer has access to high-end semiconductors.
A larger share of work for ZTE might indicate that Huawei's stockpiles are starting to run low, with analysts warning it will run out of important chips in the coming months.
Related posts:
— Iain Morris, International Editor, Light Reading
Subscribe and receive the latest news from the industry.
Join 62,000+ members. Yes it's completely free.
You May Also Like
---