 SAN DIEGO -- LTE-U isn't just compatible with WiFi. It's a better neighbor for WiFi devices than other WiFi devices are, say Qualcomm executives and engineers.
Qualcomm Inc. (Nasdaq: QCOM) developed the technology along with Ericsson AB (Nasdaq: ERIC), and they have been waging a political and PR war with WiFi advocates, who say the emerging technology needs further proof, including Federal Communications Commission (FCC) intervention, to ensure that LTE-U doesn't interfere with the vast existing WiFi infrastructure.
Qualcomm brought about a dozen tech journalists to its headquarters here this week, to feed us breakfast and lunch and try to convince us about several points:
LTE-U has already been extensively tested, and not only does it not interfere with WiFi, WiFi performance actually improves slightly in some cases if you replace a single WiFi access point with LTE-U on a wireless network containing multiple access points.

LTE-U is a better neighbor to WiFi access points than WiFi access points are to themselves. WiFi access points often interfere with one another, but LTE-U is designed to go out of its way to be polite.

The testing process has been open, with the wireless community as a whole encouraged to participate and find flaws.

Qualcomm has horses in both races, with an extensive existing business selling WiFi chips -- that it doesn't want to jeopardize -- and an emerging business in LTE-U.
Figure 1: What Could Go Wrong?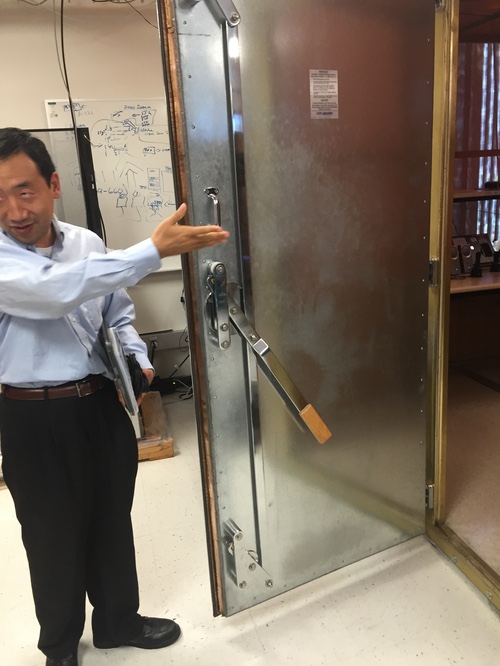 Mingxi Fan, Qualcomm VP of engineering and corporate R&D, beckons us to enter his torture chamber. Click on the photo for a brief slideshow of our visit to Qualcomm.
LTE-U is a variant of LTE that runs in the unlicensed spectrum, sharing that spectrum with WiFi. Qualcomm and LTE-U advocates claim LTE-U provides greater bandwidth, along with more manageability and security, than WiFi. However, WiFi advocates are urging caution and want the FCC to step in to require more testing and certification before deploying LTE-U.
Get the latest mobile news, analysis, and opinion on Light Reading's Mobile content channel.
The conflict pits Alcatel-Lucent (NYSE: ALU), Ericsson, Qualcomm, Samsung Corp. , Verizon Communications Inc. (NYSE: VZ) and others against organizations including the Wi-Fi Alliance, Google (Nasdaq: GOOG) and CableLabs . (See Why Some Operators Think LTE-U Is Rude.)
Lobbying the FCC
LTE-U advocates submitted a letter to the FCC Wednesday urging the commission to reject an "unprecedented" request by the Wi-Fi Alliance to withhold certification of LTE-U equipment until the Wi-Fi Alliance develops a coexistence test plan and completes its own evaluation of LTE-U's impact on WiFi. (See Operators, Vendors Advise FCC on LTE-U and Qualcomm Wants FCC to Stay Out of LTE-U Fray.)
The Wi-Fi Alliance's requested delay "would have far reaching, negative consequences for the public, the industry, and Commission policy," says the letter, signed by representatives of Alcatel-Lucent, Ericsson, Qualcomm, T-Mobile and Verizon. "Allowing an organization that certifies interoperability for one particular technology to become the gatekeeper for another technology to use unlicensed spectrum would jeopardize the Commission's entire framework that has made unlicensed spectrum so successful as an open platform for permission-less innovation." The companies signing the letter say they're members of the Wi-Fi Alliance, with strong commercial interest in WiFi success, but were not approached by the Wi-Fi Alliance about that organization's position on LTE-U.
The Wi-Fi Alliance responded Thursday that it stands by its initial request: "There are billions of Wi-Fi users worldwide, so it is of critical importance for FCC and other regulatory bodies to be satisfied that LTE-U deployments will coexist fairly before approving such devices for use in unlicensed spectrum," the organization said in a statement signed by Ed Figueroa, Wi-Fi Alliance president and CEO.
Next Page: Hungry for Bandwidth
The statement continues: "The current LTE-U specification does not require products to include adequate fair sharing etiquette protocols. The extent to which LTE-U shares spectrum with other technologies can vary widely from one vendor to the next, as was discussed at an LTE-U Forum workshop in May.  Furthermore, there is already a growing amount of research, such as that published by Google and CableLabs (here and here) indicating that Wi-Fi networks will be negatively impacted by the current version of LTE-U technology. The risk to users who depend on Wi-Fi every day for their connectivity needs is too great."
Strong defense
In Wednesday's press briefing, Qualcomm executives mounted a strong defense of LTE-U, backed up by Verizon executives who flew in for the occasion.
In addition to its technical merits, LTE-U adheres to the spirit of why the FCC set aside unlicensed spectrum, said Dean Brenner, Qualcomm senior vice president of government affairs.
"The watchword for unlicensed spectrum is permission-less innovation," Brenner said. "The whole point is you don't have to go to a government regulator and ask to be able to use it."
He added, "The FCC is doing its job. They're asking questions. They're finding out about the technology. We have no problem with that. What we're doing here is 100% in keeping with the FCC's model."
Qualcomm has a vested interest in ensuring LTE-U and WiFi work together well, Brenner noted. It has its own WiFi business it needs to protect. "Every year there are hundreds of millions of WiFi chips sold around the world with our WiFi solution in them," he said. "The absolute last thing Qualcomm will do is anything that will impair or make an adverse future for WiFi. There is a long, bright future ahead for WiFi."
Hungry users
Users are hungry to exceed the existing limits of WiFi, Brenner said. These users include stadium owners whose customers have difficulty getting sufficient wireless access, and colleges where students are facing online traffic jams on campus.
Qualcomm supports three different flavors of LTE-U: One version targets mobile deployments in the US, Korea, India and other areas. The second option, with Licensed Assistance Access (LAA), targets Europe, Japan and beyond.
Both of those options require "anchoring licensed spectrum" -- meaning they operate initially in licensed spectrum and then move on to unlicensed for an additional bandwidth boost.
A third option developed by Qualcomm, MuLTEfire, requires no licensed spectrum; it's designed for indoor use and deployments by enterprises, cable companies and other service providers without ownership of expensive bandwidth licenses. (See Qualcomm Aims MuLTEfire at Unlicensed Bands.)
Qualcomm anticipates LTE-U, LAA, MuLTEfire and WiFi will all coexist, sharing bandwidth for a long time. Together, they'll help service providers achieve 1,000 times the bandwidth available today, to meet the demands of video and other emerging technologies, said Rasmus Hellberg, Qualcomm senior director of technical marketing.
Exceeding regulatory requirements
Qualcomm executives also argued that LTE-U provides double the capacity and range of WiFi, and common management with conventional LTE.
Engineers have worked to exceed regulatory requirements for LTE-U. "From our perspective as design engineers, the regulation is the absolute minimum. No regulation is sufficient to ensure WiFi and LTE-U coexist well together," Mingxi Fan, Qualcomm VP of engineering and corporate R&D, said.
Next Page: Another Tool in the Box
"The current regulatory regime lets you deploy regular WiFi in the unregulated band," said Patrick Welsh, assistant vice president of wireless policy development at Verizon, who participated in the briefing. "It would be as rude as critics fear. [Engineers developing LTE-U] have done computer simulation and lab tests, and will do live field tests, and will report results back to the FCC and unlicensed community."
LTE-U advocates wanted to be open as possible, publishing their work to the web and inviting the community to peer review it, Welsh said. "Tell us if we got it right. If we got it wrong, tell us."
To develop technology to ensure compatibility, Alcatel-Lucent, Ericsson, Qualcomm, Samsung Corp. and Verizon formed the LTE-U Forum.
LTE-U looks for a clear channel to transmit and if it doesn't find one, it counts the number of WiFi transmitters in range and takes only its fair share of time, Fan said. By comparison, WiFi starts by listening on a channel and, if that channel is in use, it backs off and looks for another channel, repeating until it finds a clear channel. Moreover, some WiFi transmitters from some vendors are more aggressive than they should be -- which is why, when replacing a WiFi access point on a network with an LTE-U access point, performance of other WiFi access points remaining on that network sometimes go up slightly, Fan said. (See T-Mobile Expects LTE-U to Feature Listen-Before-Talk.)
Also, LTE-U is designed to accommodate delay-sensitive traffic, such as VoIP, Fan said.
"Only if you are able to listen to WiFi and understand the WiFi language -- the language of the unlicensed band -- are you able to coexist fairly with others," Fan said.
One tool of many
"LTE is just one tool in the toolbox," Welsh says. "There will be different solutions for different problems." Verizon is targeting LTE-U for indoor enterprise customers. "The enterprise customers want the quality of service, so they're willing to forego the inexpensive WiFi access point to see how it works."
Mobility is another advantage to LTE-U; it invisibly hands off calls with conventional LTE, Welsh said.
Advocates claim LTE-U is also more secure than WiFi. Anybody can set up a spoof WiFi access point and trick end users into connecting in a public place. In contrast, LTE-U is managed by the carriers, and end users connect easily as they do with conventional LTE or other wireless data networks, Welsh said.
However, Verizon remains committed to providing WiFi. "The idea is to give them another choice," Welsh says.
— Mitch Wagner,

, West Coast Bureau Chief, Light Reading. Got a tip about SDN or NFV? Send it to [email protected].
Subscribe and receive the latest news from the industry.
Join 62,000+ members. Yes it's completely free.
You May Also Like
---