You don't have to study Light Reading's photo coverage very long to realize we are not visual artists. Our artistic skills are so lacking we can barely draw a conclusion.

But we try. Oh, how we try.

And that's about the best thing we can say about this year's Top Ten Photos. We tried. Not all the photos are good. Not all the captions are witty. But we think this little collection best sums up the year that was 2004 -- a year of industry firsts, spirited competitors, high-calorie foods, and industry optimism (best represented by nubile show girls).

Our story begins in Chicago, where the first annual Light Reading Non-Celebrity Pool Tournament ended in a predictable way. The incredibly sozzled duo of Dave "Wet Whistle" Williams and Ray "The Master" Le Maistre, representing Light Reading, defeated the team of Dave Boland and Chris Komatas from Juniper Networks Inc. (Nasdaq: JNPR) in a match that was remarkable only in that no one fell down during play.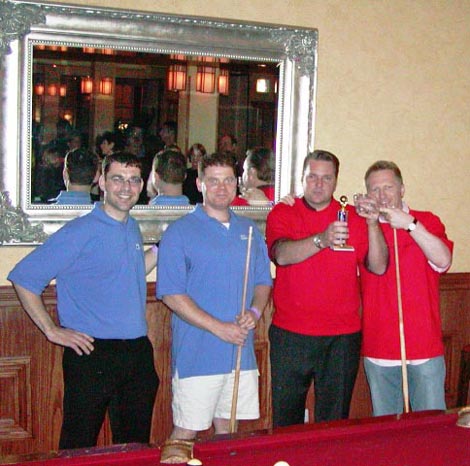 Some advanced the theory that Light Reading had some inherent advantage, since it picked the venue -- The Rock Bottom Brewery -- and organized the eight-team tournament. But it was simply the Light Reading team's pure, alcohol-fueled skill that won the day. That, and the fact that Light Reading supplied the referees. And the beer.

And, amazingly, some of the ref's calls were disputed.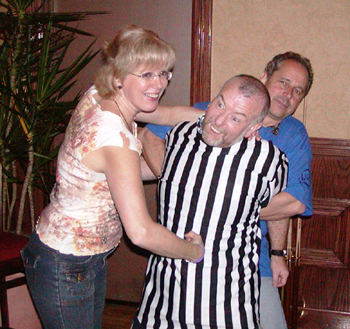 Another first came in September, when Light Reading's first annual Links 2004 Executive Summit was held at the luxuriant Ritz Carlton Half Moon Bay, near San Francisco. The show brought together some of the industry's best minds to mull over the challenges and opportunities in the regrouping telecom market.

Attendees came for the informative panels, keynotes, and insightful commentary.


But they stayed for the gala dinner, cigars, and dancing. Oh, yes, the dancing.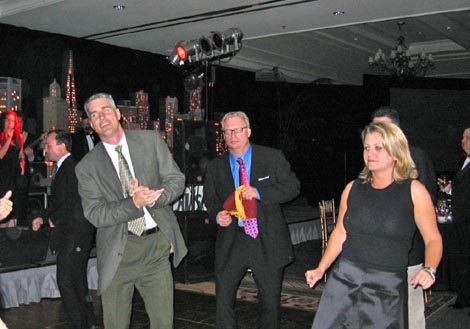 Looking back on all these industry firsts and festive celebrations makes our CEO Steve Saunders hungry for his daily lunch ration: four beers, a roast beef and peanut butter sandwich, a veggie platter, a loaf of bread, and a novelty-sized shrimp cocktail.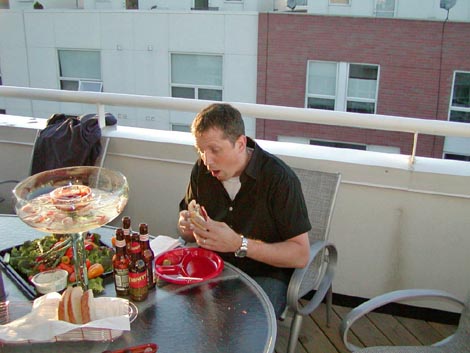 And don't forget dessert!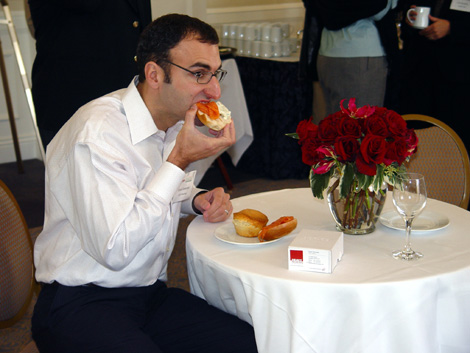 And don't forget drinks!

Seriously, marketeers take note: Having an opinionated CEO and handing him a megaphone is not always a bad thing. Of course, you should do this before he sits down with a beer.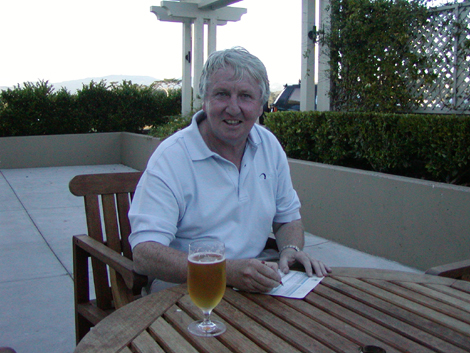 Okay, enough photos of people chowing down and drinking up. Let's move on to something sexy... something like a broadband conference in Las Vegas.

Yes, the annual United States Telecom Association (USTA)'s Telecom '04 show was quite a spectacle, from what we heard in between our trips back and forth between the Treasure Island bar and the Venetian Hotel blackjack tables (see RBOCs Clear (Another) Regulatory Hurdle and Dude, Where's My DSL?).


Why aren't these ladies working in a tradeshow booth? Has our industry forgotten what it takes to keep people indoors during a tradeshow?

What the Hell. One more:


We know what holds the industry's attention: awards and monkeys (see Lights, Camera, Monkey!). Awards are prestigious and gratifying. Monkeys are funny and unpredictable.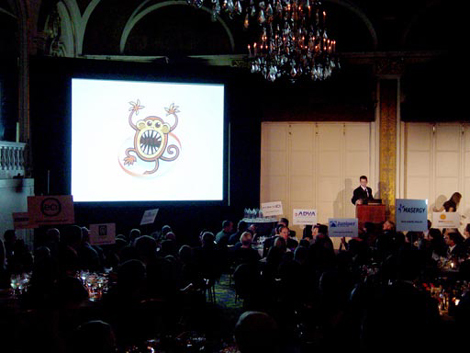 Thanks to our new awards program, both monkeys and awards will continue to be hot discussion topics around Light Reading throughout 2005 (see LR Reveals Leading Lights Winners). Photography lessons should come up as well, but somehow, we feel that would be letting the reader down.

Have a safe and happy New Year. And remember: Friends don't let friends photograph drunk.

— The Staff, Light Reading