At the "Huawei VoLTE Pro Summit" that took place alongside the recent Mobile World Congress Shanghai, telecoms professionals delivered a strong message that calls for stakeholders in the mobile industry to embrace voice-over-LTE (VoLTE) as quickly and as broadly as they can, to reap the rewards of the advances in mobile telecoms technologies.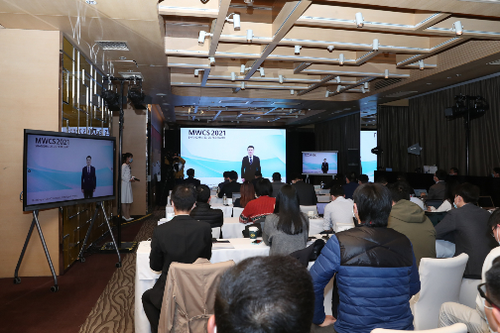 VoLTE has made great strides in supporting mobile operators throughout the world to migrate users from 2G and 3G to 4G and 5G, not the least thanks to the technology's advantages in higher voice quality and voice-data concurrence capability. As a result, operators are able to gradually sunset their 2G and 3G networks, and to re-farm the frequencies and cell sites used by 2G and 3G for new mobile generations.
Globally nearly 30% LTE networks have launched commercial VoLTE service. When it comes to VoLTE's role in handling voice traffic, it varies from market to market. While over 70% of voice minutes in China are carried over VoLTE, in some countries this number is lower than 10%.
In his opening speech, Liu Kang, president of CCN at Huawei, also highlighted the uneven development of VoLTE across markets, but he believed the key advantages of VoLTE would be able to drive broader adoption of VoLTE in the near future. These include its capability to deliver voice as data packets over LTE's data bearer, therefore enabling operators to simplify network operations by switch off 2G and 3G. VoLTE's voice-data concurrence capability enables more innovative and richer voice services, therefore creating new value for operators. However, probably the most critical role VoLTE can play and its biggest opportunity in the coming years is its future-proof role for 5G voice.
VoLTE is the foundation for 5G voice service
Based on the IP Multimedia Subsystem (IMS) framework, VoLTE's features and specifications were locked already in 2010. Despite its maturity and success in many markets, however, the adoption of VoLTE by LTE operations can still be vastly improved. According to data shared by Emanuel Kolta from GSMA Intelligence, who also spoke at the VoLTE Pro Summit, only 219 VoLTE networks had been switched on by February 2021. That represents 28% of a total of 785 LTE networks worldwide.
The penetration of VoLTE is expected to accelerate in the near future, primarily driven by operators migrating from circuit-switch-based infrastructure (2G and 3G) to IP-centric networks (4G and 5G). This is critical for 5G operators. As 5G no longer supports circuit-switched fallback (CSFB) for voice, they rely on VoLTE to provide voice service to their customers. When 5G (NR) coverage is still limited and devices supporting voice over NR are not widely available at mass market price points, VoLTE will become the foundation for voice service in 5G in the coming years.
VoLTE's other advantages will also make the technology more appealing for operators, including high quality voice as VoLTE uses a wider range of frequency, especially with the adoption of enhanced voice services (EVS) codec. VoLTE's call set-up time is shortened by two-thirds of the conventional calls over circuit switches, giving users an experience of almost no delay. VoLTE's voice and data concurrence capability enables richer multimedia communication experience. Last but not least, VoLTE delivers higher energy and network efficiency than voice traffic over 2G and 3G networks.
With VoLTE's advantages, especially with the demand by the fast expansion of 5G networks worldwide, the penetration of VoLTE is expected to accelerate. Emanuel Kolta forecast that there will be 400 commercial VoLTE networks across the world by 2025, reaching 50% penetration among LTE operators. Meanwhile, the speed of 2G and 3G sunset is also expected to pick up the pace. Kolta forecast that a total of 94 2G networks and 54 3G networks will be switched off by 2025.
However, a number of building blocks need to be in place before VoLTE's potential can be fully unleashed. These include optimizing LTE coverage, expanding roaming agreements to cover VoLTE, and developing and maturing new services based on VoLTE to make the technology more commercially appealing to operators.
LTE network coverage and voice innovations
Operators should continue with their investment to guarantee proper LTE coverage, including indoor coverage. Otherwise, either voice traffic will continue to be routed through circuit-switched networks therefore delaying the re-farming of the spectrum used by 2G and 3G networks, or, if 2G and 3G networks are switched off prematurely, the less than optimal LTE coverage will create new dead zones.
Telecom Argentina, which plans to sunset its 2G network in 2022, has found VoLTE an ideal solution. Carlos Bardon, director of network planning, shared with the audience the operator's measures to get the best out of VoLTE. By deploying 4T4R dual-band RRU (remote radio units) on low bands (700MHz and 850MHz), the operator aims to build a ubiquitous coverage layer of the network, which will be the main voice bearer. The Super Blade sites with all-in-one-box configuration (2/3/4/5G) has helped reduce opex by 43% and time-to-market by 52%. When it comes to user experience improvement thanks to the network modernization, Bardon shared with the audience some key performance indicators, for example on 700MHz, 4T4R cell capacity went up by 41%, while downlink speed improved by +123%. Bardon believed VoLTE is the best voice solution that can help the operator maximize their spectrum values. According to data shared by Bardon, measured by the number of voice users served by every 5MHz spectrum, VoLTE is 2.2 times as efficient as 3G and 3.4 times as 2G.
Operators should also upgrade their roaming agreements with one another to include VoLTE, as most of the standing agreements do not. KT from South Korea and China Mobile reached the world's first VoLTE roaming agreement already in 2014. However, more operators need to join the camp to offer VoLTE users similar and even better experience than they roam across networks now.
In addition to guaranteeing that customers can make voice calls without 2G or 3G networks to fall back on, on home network and on the road, VoLTE also has much more to offer to operators and their partners to deliver new values, riding on the technology advantages. New opportunities are opened by the new audio technologies, for example, the Immersive Voice and Audio Service (IVAS) that is an extension of EVS codec. According to Markus Maltrus, standard expert at 3GPP, IVAS will enable full spatial conversation and full VR/XR experience. Maltrus estimated the finalised standardization of IVAS will be included in 3GPP's Release 17, scheduled for 2022.
This doesn't mean that the industry has to wait for the standardization to be ready before rolling out new services. As a matter of fact, many experiments and trials have been made by operators in different markets to test out both the viability of the new technologies and their business and user experience implications. China Mobile, the operator with by far the world's biggest VoLTE users, is one of the more active ones. According to Zhang Hao, deputy director of network and IT technology research at China Mobile Research Institute, 75% of China Mobile's voice traffic goes through VoLTE network, and over 100 Million 5G subscribers are using VoLTE for voice service.
In addition to continuing to grow user volume, China Mobile is clearly eyeing new services it can provide using VoLTE to create more values.
The operator shared with the audience a roadmap of the new 5G services it plans to roll out while riding on the technology capability and potential of VoLTE and in the future, 5G New Calling. China Mobile is already trialing Call Center Interactive Menu, relying on VoLTE. In the near future, the operator plans to test HD immersive interaction calling using 5G New Calling. In the longer term, it foresees more intensive data communication and interaction on top of call sessions.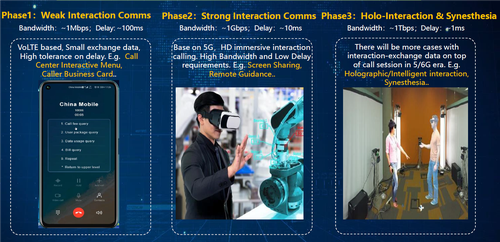 A single core for all calls
To help operators overcome the challenges they encounter when migrating from circuit-switch-based voice calls to VoLTE, and to open new business opportunities for mobile operators, Huawei introduced its Single Voice Core (SVC) to handle all voice traffic going through all active mobile generations (2G to 5G) as well as voice calls going through the fixed network, a so-called 5-in-1 solution. It will not only simplify network operation and maintenance and optimize cost, but also provide improved user experience.
Huawei hopes to lead the industry into a "VoLTE Pro" era, which will make VoLTE the foundation for 5G voice call with richer and more innovative experience, help optimize LTE coverage, and deliver IMS-based service over 2G and 3G networks.
According to Vincent Zhao, president of CS & IMS Domain at Huawei, the company expects to see VoLTE penetration among LTE operators, with the help of VoLTE Pro, to grow from less than 30% now to 60% globally in the next five years.
This content is sponsored by Huawei.