Vidéotron Telecom Ltd. is the latest MSO to bridge its voice and video services using a TV-based caller ID application.

Videotron, which is powering the service with Integra5 Communications Inc. 's i5 Converged Services Platform, apparently believes the app will be popular and sticky enough to charge for it -- in this case an extra $2 (Canadian) per month. (See Videotron Deploys Integra5.)

Videotron estimates that more than half of its customers subscribe to two or more services, "so offering new ways to blend those services into new experiences across devices highlights our focus on convergence and leadership in service innovation," MSO VP of technology Michel Allard said in a release.




The deployment with Canada's Videotron (1.7 million cable subs, with more than 830,000 taking digital), marks the largest publicly announced deal for closely held Integra5. In all, Integra5 claims to have deployments with 30 service operators in North, Central, and South America. Cablevision Systems Corp. (NYSE: CVC) and Time Warner Cable Inc. (NYSE: TWC) have also introduced TV-based caller ID applications, but aren't using Integra5.

Even if operators go largely in-house for such apps, those decisions don't necessarily prohibit Integra5 from winning future business, particularly if they decide to use Integra5's platform as the launching pad for other, converged messaging applications, says company CEO Meredith Flynn-Ripley, who took the reins of the company in 2006.

"TV caller ID is just the beginning," she says. Some operators, including Comporium Communications , are also purchasing PC-based caller ID systems and are launching them simultaneously with the TV-side app. Integra5 already has deployments in most cable and IPTV environments, including those based on Motorola Inc. (NYSE: MOT) and Cisco Systems Inc. (Nasdaq: CSCO) technology. One exception remains Microsoft Corp. (Nasdaq: MSFT) Mediaroom, but Integra5 is already on board as a developer, so it likely won't be an exception for long.

Operators are also interested in adding wireless messaging to the mix and adding the ability to use the platform to handle customer care applications, allowing the telco or cable provider to communicate directly using a wide range of "screens."

And Integra5 isn't ignoring the social networking craze. Earlier this week, it introduced MediaFriends. The first implication for MediaFriends is a TV chat app that allows users to build and manage buddy lists using the PC and discuss shows via SMS text messages. (See Integra5 Bows 'MediaFriends'.) Integra5 is also looking into the idea of a "virtual keyboard" and creating more management functions that can be incorporated into the TV environment.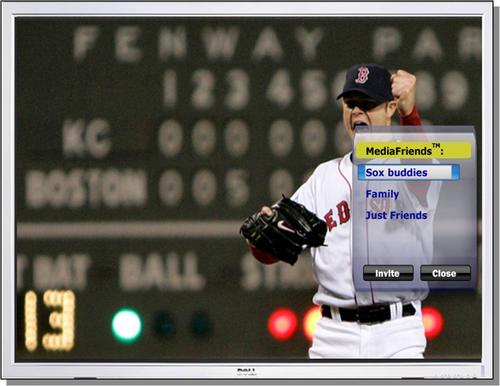 Integra5 expects to launch MediaFriends TV Chat in early 2009 and has a couple of beta trials being teed up, according to Flynn-Ripley, who believes some operators, as they already do with the TV-based caller ID app, may offer MediaFriends for an incremental fee in the neighborhood of $2 per month.

Integra5, which is showing off the new app at next week's CableLabs Summer Conference in Keystone, Colo., also plans to integrate MediaFriends with sites like Facebook and MySpace .

Integra5 is the only vendor trying to tap into the social networking trend and apply it to cable's TV environment. For example, SeaChange International Inc. (Nasdaq: SEAC), a top supplier of video-on-demand gear and software, is trying to personalize the viewer experience with "Affinity," a new addition to the supplier's 5.0 platform. (See SeaChange to Restart & Personalize VOD .)

— Jeff Baumgartner, Site Editor, Cable Digital News