Why Amazon May Be Cable's Biggest Threat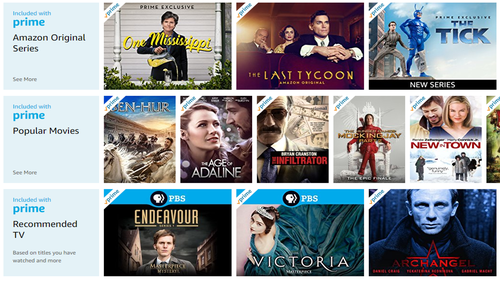 (14) |





Re: Apple TV and Amazon..

Because Apple does not currently offer a subscription video on demand or pay-TV product, it can only use control of the content engine to boost purchases and rentals via iTunes on the Apple TV. That is somewhat different from Amazon, which can use its Prime program to more than double customer purchases on the website and which therefore considers Prime integral to its business model.

KBode

9/26/2017 | 4:03:37 PM
Re: Soccer rights

That's a little more difficult in telecom and cable, where many of its competitors literally write state law. For example you'd be hard pressed to find the current FCC stand up to AT&T on any issue of substance, but it's fashionable among these same telcos to demonize edge providers leaving them open to anti-competitive abuses by incumbents (see net neutrality).


Re: Soccer rights

If Amazon wants it bad enough, it has the financial wherewithal to crush competitors by undercutting the market, as it has in other businesses.

Re: Soccer rights

@psorksy,



Where I was headed was that Amazon - being available globally - would mean that any exclisive deal would essentially kill every one else globally. So not only your terrible twosome but also anyone else who has rights.



seven





Re: Soccer rights

heh, I saw that meme on twitter too.

Did you happen to read about Amazon's path and the rise of Sears?

https://www.theatlantic.com/business/archive/2017/09/sears-predicts-amazon/540888/

Re: Soccer rights

Sorry...guilty of expressing a view from the country in which I reside - UK - where the Premier League rights are only held by two bidders, Sky and BT. Amazon et al will break that cosy twosome.

Re: Soccer rights

@psorsky,

But see its not a duopoly. It might be a duopoly in the UK, but in the US the Premier League is shown on NBC (and various sports channels of NBC). That is why an exclusive can not work. By the way Fox Sports shows the Bundesliga and (sigh) MLS.

seven









Re: Soccer rights

Agree - but they will break the duoploy of Sky and BT in the UK market.

Re: Soccer rights

In a perfect comunist world - you buy everything you need from the state. In a perfect capatalist world - you buy everything you need from Amazon!



Re: Soccer rights

I don't think they will get exclusive. Means that the league can not give it to anyone else in the world essentially. That is extraordinarily bad for revenue.

seven