Boom! Hulu Just Blew Up the TV Bundle
Boom! Hulu Just Blew Up the TV Bundle
Maybe TV doesn't have to be just TV anymore. In an unexpected move, Hulu and Spotify have teamed up to offer college students a new TV-plus-music bundle for only $4.99 per month. That includes Spotify Premium with no ads and unlimited song skips, and Hulu's Limited Commercials plan.
And it's a big deal. Not because of the cost, which isn't remotely sustainable across the broader market, but because the companies are changing the concept of what an entertainment service could and should look like. (See Hulu & Spotify Bundle Up for Students.)
In some ways what Hulu LLC and Spotify have done is similar to other industry deals in recent months. AT&T Inc. (NYSE: T) is selling DirecTV Now on the cheap to customers that buy unlimited data. Comcast Corp. (Nasdaq: CMCSA, CMCSK) is in the process of integrating YouTube and Sling TV access alongside Netflix on its X1 video platform (while repeating ad nauseam how it wants to be an "aggregator of aggregators"). And T-Mobile US Inc. just announced that it will offer Netflix for free to customers with an unlimited family data plan.
But I would argue that the pairing of Hulu and Spotify is in a class by itself. The deal shows how it's possible not just to add new stuff to the old TV bundle, or to make video cheaper and easier to access, but to reimagine what a TV bundle looks like altogether. Pay-TV executives often talk about how they're competing with mobile apps for consumer time and attention.
Well, if you can't beat 'em, join 'em.
Figure 1: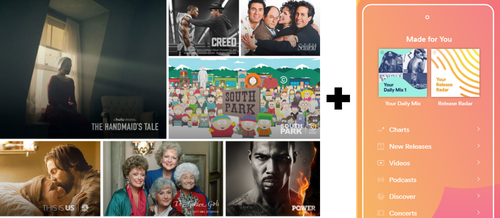 Hulu TV plus Spotify music makes a pretty picture.
If the business relationships can be worked out, why not create new types of bundles? How about packaging TV with a subscription for ad-free podcasts (season three of Serial?), pay-walled news content or popular game releases? It's been tried in a variety of ways before, but the difference today is that all of those services are easily available through the same distribution system (the Internet) and on the same devices (anything with an Internet connection).
Hulu and Spotify also have the right idea by bundling content they already know consumers want. This isn't about trying to manufacture demand for a service customers wouldn't otherwise seek out (ahem, Go90). It's about hooking consumers with services they already pine for.
Want to know more about video and TV market trends? Check out our dedicated video services content channel here on Light Reading.
But what about the money? Hulu and Spotify have to be taking a massive loss on their deal, and that's not good in the long run. However, the two companies are explicitly targeting college students, betting that their investment pays off when those students graduate and enter the workforce.
Pricing is also variable. Hulu and Spotify say they'll introduce an offering for the rest of the market in the future, and that bundle will no doubt cost more than the one being rolled out on college campuses. There's nothing to say that the companies have to stick with the $4.99 price tag for students either. Because it's so low, there's room for a price hike later without taking the bundle out of the low-cost category.
If the TV market has taught us anything in the last year, it's that creating new buying options is critical. People may not want to pay for endless TV channels, but they're willing to spread their time and money around for a variety of different types of entertainment. Hulu and Spotify are smart to take advantage of that fact, and I suspect other companies will follow suit.
— Mari Silbey, Senior Editor, Cable/Video, Light Reading
Subscribe and receive the latest news from the industry.
Join 62,000+ members. Yes it's completely free.
You May Also Like
---