Despite the maxim that we're living in an on-demand world, entertainment and social media companies are increasingly turning to live video to boost their feature sets and attract new users. Case in point: News leaked out over the past week from both Hulu and Tumblr about near-term plans for new live-video services.
In Hulu LLC 's case, the company first revealed its intention to launch a live streaming TV service back in May. (See Hulu Eyes Cable-Like Bundle – Report and Hulu: We'll Have Our Cake, Eat It Too.)
Cord Cutters News, however, uncovered more information about potential features available with the live offering from surveys sent by Hulu to select customers. The survey information isn't guaranteed to match the actual product launch, but chances are good that it's highly indicative.
From the customer surveys it appears that the live streaming service will be entirely separate from Hulu's existing subscription video on demand (SVOD) service. A basic package will include broadcast channels (local content dependent on where you live) and a number of cable channels, including AMC, ESPN and FX. It will cost $34.99 per month for access on one streaming device, and $49.99 per month for access on one in-home device and one mobile device. Twenty hours of cloud DVR storage is included, although recordings don't allow fast forwarding through commercials. Premium channels and add-on content packages will be available for additional fees.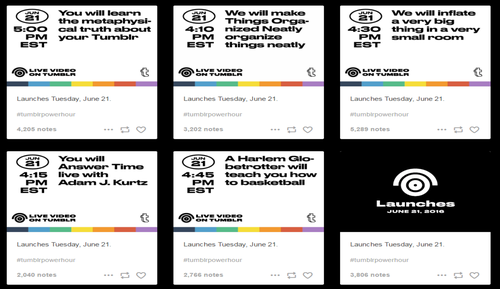 Tumbler Inc. 's news is different. Instead of a traditional linear TV service, the company apparently has plans to offer something more akin to Twitter Inc. 's Periscope or YouTube Inc. 's live streaming.
As reported by Tech Crunch, Tumblr is teasing the new service on its own blog, but also says it will introduce its broader strategy for real-time streaming on July 21. So far, it looks like the live video feature will include produced content like a tutorial from a Harlem Globetrotter, as well as a user-streaming feature for personal broadcasts.
— Mari Silbey, Senior Editor, Cable/Video, Light Reading