Those who have been in the cable industry long enough likely remember when ITV was a four-letter word (okay, initialism, wise guy), underpinned by failure and frustration.
Some 20 years ago, interactive television was as hyped as 5G is today, but the resulting execution never matched the ambition, done in by massive complexities and not-ready-for-prime-time technology. And the business model for ITV was suspect, to say the least.
Those early days saw a long string of ITV tech startups that had great ideas, but were just too early. Some went under while others, if they were lucky, got snapped up by larger companies that could hold on to the goods and improve upon them, and be ready to go when everything had lined up better. Some that fit that mold: Goldpocket Interactive, Wink Communications, RespondTV, WorldGate and ActiveVideo (née ICTV).
Back then, a reporter covering the sector could count on -- like the sun rising in the east and setting in the west -- Microsoft Corp. (Nasdaq: MSFT) and Liberate Technologies to backbite each other on a weekly basis, maligning the other's products while holding that their set-top box software would reign supreme, even if the turf they were fighting over was tantamount to the dusty, weed-riddled, unused corner of an elementary school playground.
And who can forget the highly touted, yet hapless, GI/Motorola DCT-5000, the thick-client set-top box that Tele-Communications Inc. envisioned as its video and ITV workhorse. If the DCT-5000 was a sound, rather than a set-top box, it would be the fail horn from The Price Is Right:
And Gemstar, the interactive television guide company then led by Henry Yuen (now part of the TiVo/Rovi empire through a dizzying array of M&A moves through the years), was trying to sue the pants off of everyone. Okay, some things never change. So, sue me (please don't). (See Stakes Run High for Tivo in Comcast Suit.)
So, where was I? Oh! ITV is not only back, but it's now poised to fulfill its promises and right the wrongs of the past… and there are some credible reasons to believe it this time.
According to Zane Vella, VP of product at Comcast Corp. (Nasdaq: CMCSA, CMCSK), three elements have coalesced to make an engaging interactive TV experience not only possible, but doable -- voice navigation, deep metadata and personalization.
Those three things used to be massively complex unto themselves, but are now tied together in Comcast's X1 platform, he says."What we really now have is an overarching [distribution] platform in X1 that is inherently digital," Vella said.
With those layers now combined and integrated, "we can apply them to any show or any moment in television," he adds. "In the early days, we spent too much time thinking about making one specific show interactive."
With X1, a product that's now in front of about 60% of Comcast's residential video subscribers, Vella says Comcast has the capability to go well beyond the complicated, one-off interactive deployments of yesteryear and instead scale it to handle a multitude of interactive experiences.
Some of that handiwork has already made it to real life on X1 -- interactive voting on NBC's The Voice and E!'s coverage of the People's Choice Awards; accessing Fandango to get local theater info and movie showtimes; using Ticketmaster to pull up tour dates, venues and purchasing tickets to Kelly Clarkson's US tour; enabling viewers of Ryder Cup action to get a free round of golf through GolfNow by saying, "Get GolfNow" into the X1 voice remote. (See Comcast Lets X1 Subs Use Remote to Buy Tickets to Kelly Clarkson Tour .)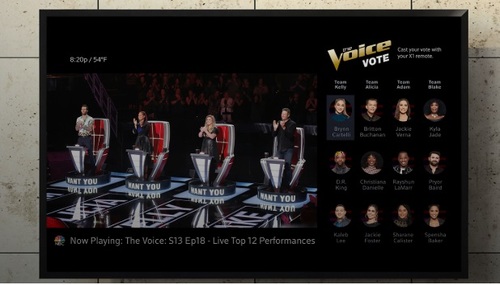 "We're really just scratching the surface on ways people can interact with the shows they love on the best screen in the house," Vella said.
But there's a lot of technology that has been stitched into the X1 stack to enable Comcast to deliver this new wave of interactive experiences that are also relevant to what the viewer happens to be watching on TV.
One of those pieces came way of Comcast's acquisition last year of Watchwith, a company that specialized in deep metadata technology and a system that can determine what's happening inside a movie, TV show or sporting event.
Watchwith has been integrated into the X1 stack and is now part of Comcast's larger ComPASS (Comcast Metadata Products & Search Services) platform, said Vella, who previously was CEO of Watchwith, a company formerly known as Related Content Database (RCDb). (See RCDb Renamed Watchwith.)
"It allows us to now trigger interactive features to any linear, DVR or on-demand program [and] deliver a personalized interactive user experience right on the TV," he said.
Going a layer deeper, X1 is also equipped with a Media Analysis Framework (MAF), a deep metadata technology that also was part of Watchwith. It ties back to earlier development efforts at Motorola and Arris Group Inc. (Nasdaq: ARRS).
MAF is essentially a machine learning platform that performs real-time analysis of the thousands of video streams flowing through the cable plant, enabling a combination of real-time insights with interactivity.
"It allows us to understand a lot of what's happening inside that video content," Vella said, noting that MAF, for example, can tell if a viewer is watching The Voice, and launch the voting app at the appropriate time. If the viewer is watching a clip of a Kelly Clarkson video, that would open up an opportunity to trigger the on-screen Ticketmaster app.
"X1 can now deliver these contextually relevant and personalized experiences tied to any moment in television," Vella said.
MAF can also be used to identify actors who are on-screen, and identify specific products like cars, clothing and furniture, possibly opening the door to other ITV apps that are relevant to what's being watched.
---
Home in on the opportunities and challenges facing European cable operators. Join Light Reading for the Cable Next-Gen Europe event in London on November 6. Admission is free for all!
---
Two decades ago, when Friends was in its heyday and not relegated to the bowels of Netflix, everyone involved in ITV used to talk about how an interactive app, such as a clickable icon, could enable a viewer to purchase Jennifer Aniston's sweater. With today's technology, perhaps that idea isn't as far-fetched as it used to be.
"The audience increasingly expects their entertainment to be interactive," Vella said.
While consumer usage and engagement with interactive TV will be the true test of that assertion, at least the technology required to enable ITV at scale no longer appears to be the big hurdle that must be overcome.
— Jeff Baumgartner, Senior Editor, Light Reading