At a time when other Internet service providers are backing out of the pay-TV business, Rocket Fiber is ready to jump in. The Detroit-based startup made news last month when CEO Marc Hudson said the company was only months away from introducing a television service. Now, COO Edi Demaj shares details on what the TV service includes and why it's so important for Rocket Fiber to expand beyond broadband delivery. As for timing? Demaj adds that the service has rolled out in beta, and Rocket Fiber is aiming for a commercial launch in January.
First, the new TV service isn't an over-the-top application. It's a managed IPTV service powered by Ericsson AB (Nasdaq: ERIC)'s MediaFirst platform. However, Demaj acknowledges that there is an OTT component to the product. That could mean it integrates with other OTT apps like Netflix. It could also mean that Rocket Fiber is dropping in some of its own OTT features much the way Comcast Corp. (Nasdaq: CMCSA, CMCSK) has done with its X1 platform. (Note: Comcast is a Rocket Fiber competitor in the Detroit area.)
The service includes a wireless set-top "slightly bigger than an Apple TV" and offers both video-on-demand and cloud DVR features. It also supports "TV everywhere" viewing, meaning subscribers can watch live shows in their channel lineup outside the home over the Internet.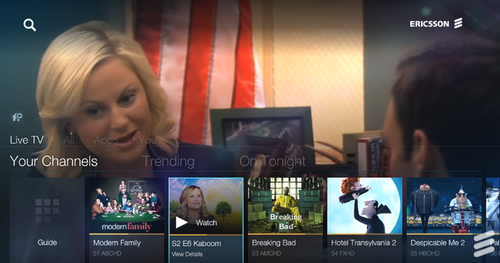 Demaj confirms that Rocket Fiber has already signed the necessary programming agreements for a service launch. He adds that the rollout will begin in Rocket Fiber's home market of Detroit, but will spread to additional regions throughout the US after the first quarter of 2018. Initially, Rocket Fiber will only deliver a pay-TV service to commercial customers outside of Michigan, but Demaj hints at future expansion of the service to more residential subscribers as well.
And here's where it makes sense to step back and provide some context.
Rocket Fiber is only two years old, and while it does have a local residential customer base, its clearer success has been in the commercial market. The ISP has business clients -- including Fortune 500 companies – scattered across the country. The network operator started out not only with a gigabit broadband speed tier, but also a 10-gigabit service thanks to Adtran Inc. (Nasdaq: ADTN)'s XGS passive optical networking (PON) technology. (See Gigabites: 10-Gig Is the New Gigabit and Rocket Fiber Lights Up Detroit With Gigabit.)
Demaj notes that on the residential side, nearly all of Rocket Fiber's subscribers are buying the gigabit service for $70 per month, although some are playing with the 10-gig tier. Things are different in the commercial world, however.
"On the commercial side, we've done everything from the gig [service] to some clients are working on 100-gig loops now. We have a ton of clients that have 10, 20-gig [networks]. We're dealing with some really really large enterprise clients," says Demaj.
---
Want to know more about video and TV market trends? Check out our dedicated video services content channel here on Light Reading.
---
Demaj explains that Rocket Fiber got into the Internet business because it wanted to disrupt the industry, much like Google Fiber Inc. However, Google Fiber is now backing away from IPTV services, so why does Rocket Fiber think it should pick up that mantle? Particularly when the largest pay-TV players are competing viciously in a space marked by low (and sometimes non-existent) profit margins?
"You're absolutely right that the margins are very low on TV, but phase one, we're less concerned about the margin. We're more concerned about take rate," says Demaj. "Today the people that have not taken Rocket Fiber in the footprints we're in, one of the reasons they have not taken Rocket Fiber is because they want TV as well. And we have a long list of clients that are going 'hey, the second you get TV, I'm switching.'"
Demaj also points out that there are things it can do differently from other pay-TV providers in the future. "Phase two, there are some things you can do with TV to get your margins up, but that is phase two for us," says Demaj.
First, Rocket Fiber wants to use TV to build on the success of its super-fast broadband service. Then it can explore where the pay-TV industry is headed next.
— Mari Silbey, Senior Editor, Cable/Video, Light Reading