Roku Rocks in Q2, Sizes Up Global Expansion
Roku kept its lead over rival streaming platforms in Q2 as the company, aided by solid streaming player and advertising revenues, blew out its numbers as consumer adoption of OTT video continued to rise.
Total Q2 revenues surged 59% to $250 million, versus the year-ago period. Revenues from Roku's Platforms business (a mix of advertising, subscription revenue-sharing and license fees for the Roku OS) led the way with $167.7 million (up 86% YoY). Streaming player revenues were surprisingly solid, rising 24% to $82.4 million, representing the highest growth in the category for Roku in the last nine quarters.
Roku shares popped more than 20% in the wake of the Q2 results announced Wednesday. The momentum continued through the week as they were up another $5.32 (4.36%), to $127.35 each, in Friday morning trading.
Roku also eclipsed a milestone in Q2 as active accounts (those tapping into the platform at least once a month) reached 30.5 million, thanks to a net addition of 1.4 million from Q1 2019. Streaming hours rose 0.5 billion vs. Q1, to reach 9.4 billion at the end of Q2.
Those trends also led to a Q2 jump in ARPU -- up $2 to $21.06, versus the year-ago period.
"The industry-wide shift to streaming is accelerating," Roku declared in its Q2 letter to investors.
Roku has used that acceleration to its advantage, enabling it to keep its pole position against platform rivals for standalone TV-connected streaming players and integrated smart TVs, including Amazon (Fire TV), Google (Android TV and Chromecast), Apple (tvOS), Samsung (Tizen) and LG Electronics (webOS).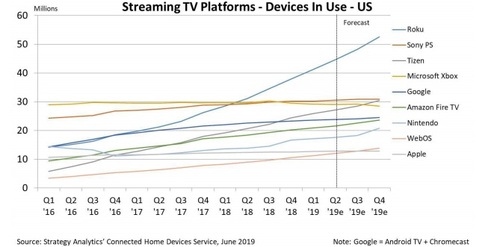 Among individual initiatives, The Roku Channel has become a big one for the streaming specialist. In addition to delivering a curated mix of ad-supported movies and TV shows, Roku is using The Roku Channel and the company's billing relationship with users to make it easier for its base to sign up for subscription video services, rather than requiring them to do so through separate, individual silos.
That subscription-focused part of the business is becoming increasingly important amid similar methods used by the likes of Amazon, Google and Apple, as well as Comcast and its new Xfinity Flex offering. More competition in this area is apparently coming as Facebook reportedly starts testing a subscription aggregation/reseller capability initially with a small batch of services, including BritBox, Dropout from College Humor, MotorTrend and Tastemade Plus.
Roku will continue to support thousands of apps, but believes that The Roku Channel, and its use of machine learning and recommendations engines, help consumers find those needles in the haystack for large mainstream OTT services, as well as narrower, niche-focused streaming channels.
"I think the big picture here is that we believe there are too many apps," Roku CEO Anthony Wood said on this week's earnings call. "There's thousands of apps on Roku and that's hard for customers…It's also one of the reasons we think just in general, there is going to be some content consolidation in the industry."
Looking ahead, Roku is plowing dollars into international expansion of its platform on players and connected TVs, but hasn't detailed those plans.
"On international, it's a big opportunity," Wood said, when asked about Roku's global intentions. "Regarding... other incumbents we have to displace, in general I would say international is still wide open. There is no leader yet in international and license operating systems."
Related posts:

— Jeff Baumgartner, Senior Editor, Light Reading
PARTNER PERSPECTIVES
- content from our sponsors