Content creation, distribution and ownership are having more sway than ever on the world of communications and that influence is likely to accelerate as the next generation of mobile networks is constructed and consumed.
As this is happening, it does help to find out what the people at the major intersection points of technology, communications and content are thinking, and how they're planning to take advantage of the capabilities that are just around the corner.
To that end, Light Reading took a tour of the new Disney's new StudioLAB to see what kinds of projects are in the works and how the company's work with Cisco and other technology partners will help it become a new kind of service provider -- one creating content experiences for mobile devices and public spaces alike.
Check out this interview with Ben Havey, VP of the Technology Innovation Group at The Walt Disney Studios, and just imagine what's ahead. Once you're done reading this interview, please have a look at our quick video recapping the StudioLAB tour and my blog with some additional reporting and analysis.
Phil Harvey: We're in a space called StudioLAB. Is it more of a studio or more of a lab?
Ben Havey: I think it's the best of both worlds, because it's actually a lab on the historic studio lot and so I think both words really have a lot of power, and when you bring them together I think it really describes who we are and what we do.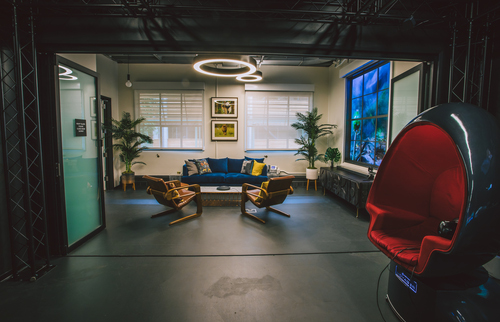 PH: One thing that Disney's talking about a lot lately is the direct-to-consumer relationship and how it can be part of consumers' lives. How does the StudioLAB facilitate that?
BH: I'm super excited about our direct-to-consumer efforts and where we're going with streaming. I think our role here in the lab will be to help our creatives and executives be more efficient in how they create content, so one of the things that we're being asked to do is make more movies, and make different types of content experiences, and we think we can play an important role in helping make that happen.
PH: Inside the StudioLAB there are all kinds of technologies being used... Does any of this hint that you're in a serious content development phase for direct-to-consumer streaming?
BH: I mean I think I wouldn't necessarily focus specifically on streaming. I mean we are thinking about content creation across a bunch of different dimensions, certainly streaming's part of it.
In fact, here at the StudioLAB, because of the fact that we're embedded within our theatrical business, we're actually focusing a lot on exhibition technology. We think that access to content is super important, but there's something about this creation of value and awareness that happens during the release of a film that we think is so important, and so absolutely looking across a bunch of different dimensions.
A lot of what you see here in the lab is about that collective experience of media. When you're going out, seeing a movie, maybe you're doing it a new way. Doing it with friends, doing it in a different context, or perhaps having a different perspective on what you're seeing, so that's a big focus for us.
PH: Okay, in those event-based consumer experiences, like going to a movie, what's the StudioLAB looking at in the short term?
BH: I think there's both short term and medium term technologies that are coming that are going to change a lot of things, so I think in the short-term OLED displays and really vivid projection can really change the way we experience things. Some of the stuff that we show here as a next generation movie poster that's OLED based that I think is really dynamic, or projection mapping, leveraging some of our parks technology to bring new life to ordinary spaces. Imagine theater lobbies that come alive and that are connected to the movie you're about to see.
In the medium term, we think that technologies like augmented reality... in fact, phone-based AR is already here and we think that's very powerful, and then looking forward to when it becomes more immersive. We think that is such an amazing opportunity, especially for us because we are in the business of building worlds. Our movies are worlds, and we think that these technologies are just new ways of bringing users into those worlds.