Comcast Appears to Soft Launch First 4K DVR
Comcast Appears to Soft Launch First 4K DVR
It looks like Comcast is rolling out its first 4K/HDR set-top from Arris. Well look what the Internet turned up. On a Comcast support page, the cable operator is now referencing an Arris XG4 DVR set-top, available in select markets only. The specs on the page don't advertise it, but multiple sources have told Light Reading that the product is a set-top that supports 4K Ultra HD and High Dynamic Range (HDR) video. And it may be Comcast's first 4K box on the market.
The XG4 DVR -- also apparently known as the XG1v4 -- is reportedly going live now or in the near future in limited markets, which would explain why the product is showing up on an X1 support page. It's noteworthy, however, that Comcast doesn't reference 4K support among the specifications. Comcast Corp. (Nasdaq: CMCSA, CMCSK) has already been dinged for falling behind on its 4K roadmap, and the company may be wary of promoting a product launch until the DVR has gained some traction in the field.
Comcast has not yet responded to a request for comment about the DVR.
Among the specs that Comcast does list for the XG4 are six TV tuners, a 25-minute buffer for pausing and rewinding live TV, compatibility with the X1 voice remote, and support for AnyRoom DVR and X1 TV apps.
Figure 1: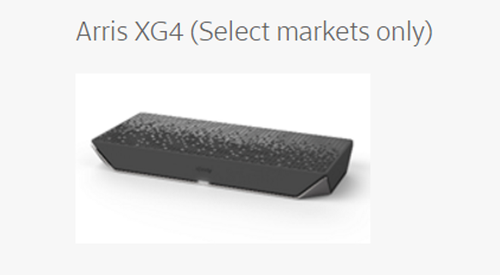 Screen shot from Comcast X1 support page
A similar set-top from Arris Group Inc. (Nasdaq: ARRS) has also shown up in recent Federal Communications Commission (FCC) filings. Referenced as the Arris XG1v4 with 4K support, this set-top is depicted in one document from an angle that makes evident the same beveled corners that are seen with the Arris XG4 set-top listed on the Comcast support site. The FCC filing also includes a mock-up label for the product that suggests it's meant for Cox Communications Inc. deployment. Cox licenses the X1 platform from Comcast.
Figure 2:

Images from an FCC filing for the Arris XG1v4
Comcast initially began touting a 4K UHD set-top two years ago, but various strategic shifts have delayed deployments. For one thing, Comcast decided it needed to include HDR with any 4K product, and for another, it appears that the company moved from a plan to launch 4K video over its legacy QAM network to a new strategy of delivering 4K video only over IP. (See Comcast Has a New Timeline After 4K Delay.)
Those changes don't mean Comcast has been without a 4K offering entirely. The company has delivered some 4K content via an app to select Samsung TV sets since late 2014. And the US market as a whole has moved slowly in the 4K space, meaning there's not much competitive pressure from other pay-TV providers rushing to lead the market. The one major exception is AT&T Inc. (NYSE: T), which has broadcast several high-profile sporting events in 4K. Other than that, most 4K content being delivered domestically is of the OTT variety, with some additional on-demand UHD content available from AT&T, Comcast and Dish Network LLC (Nasdaq: DISH) as well.
Want to know more about video and TV market trends? Check out our dedicated video services content channel here on Light Reading. Aside from set-top strategy, one of the big holdups with 4K in the US is a lack of compelling content. Layer3 TV is a startup cable company that boasts of only offering 4K-capable set-tops. However, even with those set-tops in place, Layer3 TV still has a very limited catalog of content. "We have NASA UHD, a full-time linear channel in 4K, as well as Planet Earth II and a handful of other VOD assets in 4K," remarked Layer3 TV Director of Content Partnerships Monica Revare this week at Light Reading's Big Communications Event. However, Revare also noted that the 4K content Layer3 TV does have is among the most popular. "Within 24 or 48 hours of putting VOD content up in 4K, those assets have surfaced to within the top ten," said Revare, even compared to popular non-4K shows like This is Us from NBC. — Mari Silbey, Senior Editor, Cable/Video, Light Reading
Subscribe and receive the latest news from the industry.
Join 62,000+ members. Yes it's completely free.
You May Also Like
---