Comcast sparks streaming app for LG TVs
Comcast sparks streaming app for LG TVs
Beta of Xfinity Stream app for LG supports Comcast's live TV, VoD and cloud DVR services and works on 4K and HD models from 2017 to 2019.


Signaling another step in the slow demise of the traditional set-top box, Comcast has unleashed a beta of its Xfinity Stream app for a recent smattering of smart TVs from LG Electronics.
The app, which works with LG 4K and HD models from 2017 to 2019, provides access to most of the services and features that Comcast delivers on its own set-top boxes, including its live TV lineup, VoD library and cloud DVR service.
Figure 1: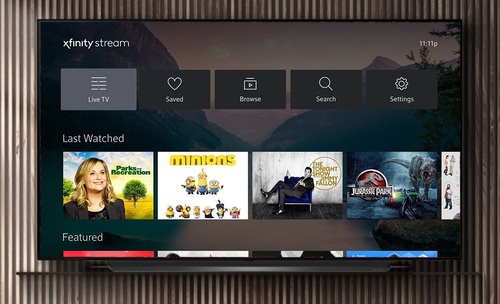 Comcast's Xfinity Stream app for LG-made TVs support many, but not all, of the services and features delivered on the MSO's own X1-class set-top boxes.
The launch of the Xfinity Stream app for LG-made connected TVs is long in the coming. An agreement to bring Comcast's app to LG sets that run the webOS platform was announced in the fall of 2017 and expected to debut sometime the following year. While that original timing was delayed, today's announcement comes soon after Cord Cutters News reported that Comcast was inching toward the launch of an app for LG TVs.
Comcast's work with LG stems from the cable operator's Xfinity TV Partner Program. Launched in 2016, that initiative is focused on bringing core elements of Comcast's pay-TV service to retail products while retaining much of the look and feel of the user interface offered on the X1-class devices that the MSO leases to subs. Features that aren't supported on the Xfinity Stream app include Comcast's X1 voice navigation system, pay-per-view event rentals and native X1 apps (i.e., sports, access to subscriber account information).
Services for those retail/partner devices aren't delivered in the home over-the-top via the Internet but connected through Comcast's managed IP network (via an MSO-supplied gateway or certified retail cable modem). That means, among other things, that in-home streaming of Comcast's pay-TV services through the app does not count against the customer's high-speed Internet data plan.
Comcast also offers the Xfinity Stream app on select Samsung smart TVs and one for Roku players and Roku TVs that has been in beta form since 2017. Of note, movie and TV show rentals through Comcast's VoD service are available via the Xfinity Stream app on the Roku platform, but are not offered on Samsung or LG smart TVs.
Comcast announced in February that Sony is also on board the MSO's TV app program but did not reveal an expected launch timeframe. Those conspicuously absent from that list include Amazon Fire TV, Apple TV (tvOS) and Google (Chromecast and Android TV).
For consumers, the Xfinity Stream app lets consumers access Comcast's pay-TV service without having to rent a set-top box from the MSO or use a CableCARD module for authorization and security such as they do to get Comcast's digital TV service on retail TiVo boxes.
Reduced reliance on operator-supplied set-tops
Comcast's streaming handiwork on retail/partner devices also ties into the US industry's reduced reliance on operator-supplied set-top boxes. Consumers used more than 36 million customer-owned devices such as smart TVs, smartphones, tablets, personal computers and TV-connected streaming devices (Apple TV, Roku, Amazon Fire TV, etc.) to access the providers' video services via apps in 2018, up by 33% from 2017, according to a recent report by independent auditor D+R International.
For now, Comcast is not charging anything extra for the use of the Xfinity Stream app on Roku devices and Samsung and LG smart TVs. During this prolonged beta period, Comcast has been waiving the "additional outlet" service charge, but warns that "pricing may change in the future."
For Comcast customers that use a mix of rented set-top boxes and a partner device, the rental box serves as the customer's "primary outlet," according to Comcast's current policy. Comcast also allows video customers to stream on up to five devices at the same time, though up to 45 devices can be registered on the customer's account.
Related posts:
Comcast's Xfinity Stream app reaches LG TVs Comcast Sunsetting VoD Support on TiVo Retail Boxes Comcast & Prepaid TV – There's an App for That Comcast and Apple don't have a deal (yet) for the Apple TV Comcast streams TV outside the box Comcast answers the app call — Jeff Baumgartner, Senior Editor, Light Reading
Subscribe and receive the latest news from the industry.
Join 62,000+ members. Yes it's completely free.
You May Also Like
---