Comcast streams TV outside the box
Comcast streams TV outside the box
New beta app delivers live TV, VoD and cloud DVR on managed IP network to newer Samsung smart TVs without 'additional outlet' fee… for now. Reducing its reliance on MSO-supplied set-top boxes just a smidge, Comcast this week launched the beta version of its Xfinity Stream app for 2017 and 2018 Samsung smart TVs that supports the service provider's live TV, VoD and cloud DVR services.
The app relays content, which includes local broadcast channels, to the home through a managed IP video connection. That means the video is not streamed "over-the-top" via the public Internet and, therefore, doesn't count against the customer's high-speed Internet data usage policy.
Figure 1: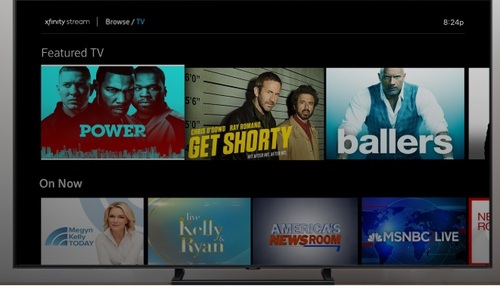 Comcast's Xfinity Stream app for Samsung TVs supports many but not all features and services that customers get on a fully-fledged X1 box supplied by the MSO.
And while this approach does not require a traditional set-top box, consumers who use this option still need to connect the TV to a cable modem or gateway that's used with the home's Comcast Corp. (Nasdaq: CMCSA, CMCSK) Internet service (that includes leased modems as well as retail modems that are certified to work on Comcast's network). Though Comcast's video service enters the home via a separately managed IP stream, "partner devices" like Roku players and Samsung smart TVs still need an Internet connection to run their operating systems, Comcast points out.
One advantage of using a retail device to access Comcast's pay-TV service is avoiding a device lease fee that comes with a Comcast-supplied set-top box. Plus, customers will get a credit if they use one of these retail devices as their "primary outlet" and don't rent out any boxes from Comcast. During the beta phase, Comcast isn't charging an additional outlet fee for these supported retail devices, but notes in the fine print that "[p]ricing may change in the future."
We'll see if, despite this wiggle room, Comcast does the right thing and keeps that fee off the table when the beta tag is removed. If they don't, I think it would be a bad move.
Unlike retail TiVo Inc. (Nasdaq: TIVO) boxes that support Comcast's pay-TV service today (using QAM/MPEG transport, not IP), there's no clunky CableCARD needed for these newer IP-streamed, app-based options. Plus, charging an extra outlet fee kills the spirit why this is being done in the first place -– some consumers don't want operator-supplied boxes and fee avoidance is one big reason why.
And while Comcast's app for Roku devices and Samsung connected TVs share many similarities to the operator's service on X1 boxes, some features on X1 aren't supported on retail devices, such as control through the X1 voice remote, movie and TV shows rentals offered Comcast's on-demand service, pay-per-view events and native X1 apps (sports, My Account, etc.).
Even with these somewhat minor caveats, the beta app launch on Samsung smart TVs does represent an important step forward in Comcast's support for retail devices. (Comcast has supported VoD on Samsung smart TVs, but this is the first time its live TV and cloud DVR services have been supported on that platform.) And more retail streaming platforms are expected to be supported via Comcast's Xfinity TV Partner Program.
Another tidbit tucked away in the FAQ: Comcast lets its pay-TV subs stream on up to five devices simultaneously (including Roku devices, Samsung TVs, tablets, smartphones and laptops), and as many as 45 devices can be registered on a customer's account.
— Jeff Baumgartner, Senior Editor, Light Reading
Subscribe and receive the latest news from the industry.
Join 62,000+ members. Yes it's completely free.
You May Also Like
---