Comcast Is First Major Pay-TV Player to Support 'Movies Anywhere'
Comcast Is First Major Pay-TV Player to Support 'Movies Anywhere'
Move puts Comcast on platform that's also supported by major digital distributors that include Apple iTunes, Microsoft, Vudu, FandangoNOW, Google Play, Amazon Prime Video.


Comcast has become the first major pay-TV provider to allow its video service customers to sync their accounts with Movies Anywhere, a studio-backed digital movie purchasing service that lets users play back titles on a broad range of devices.
The agreement announced Thursday will enable Comcast Corp. (Nasdaq: CMCSA, CMCSK) subscribers that purchase movies from Movies Anywhere digital retailers to view them on X1 set-top boxes, the Xfinity Stream app (for mobile devices and Web browsers) and other Xfinity TV platforms, including the Comcast app, still in beta, for Roku devices.
Movies Anywhere was launched in October 2017, and is backed by a handful of major studios -- Sony Pictures Entertainment, Twentieth Century Fox Film, Comcast-owned Universal Pictures (DreamWorks and Illumination Entertainment), The Walt Disney Studios (including Disney, Pixar, Marvel Studios and Lucasfilm).
Figure 1: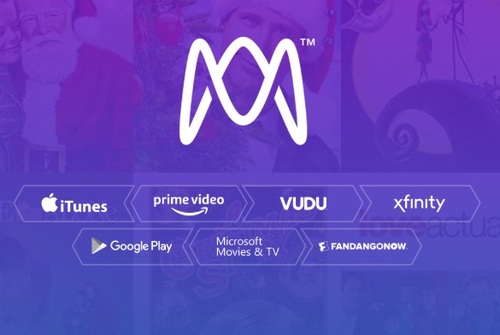 Movies Anywhere is adding Comcast to its growing list of digital distribution partners.
In its first year, Movies Anywhere said it has attracted about 6 million registered users, and estimates that the service has "collected" more than 150 million movies. The studio-backed effort also claims that its users have streamed more than 35 million movies on 100 different devices, equaling about 1 billion minutes of viewing. A subset of titles in the Movies Anywhere's library is available in 4K.
Movies Anywhere "somewhat exceeded our expectations for Year One," Karin Gilford, GM of Movies Anywhere, told Variety last month. Variety noted that Disney sunset a service called Disney Movies Anywhere in February, and directed those users to migrate their content to the new, multi-studio-backed Movies Anywhere offering. Gilford is a former Yahoo and Comcast exec who joined Disney in 2011. (See Disney Snags Comcast Exec and Gilford Joins Comcast Unit.)
In addition to Comcast, the digital movie service is also integrated with six other digital retailers: Apple iTunes, Amazon Prime Video, Vudu, Google Play, Microsoft Movies & TV, and FandangoNOW, the service formerly known as M-GO that is now part of NBCUniversal LLC .
Comcast breaks out of its EST silo
The integration with Movies Anywhere essentially breaks Comcast out of its own electronic sell-through (EST) silo. Comcast launched its own EST service, called the Xfinity Digital Store, in 2013. The deal also gets another major content distributor behind KeyChest, a cloud-based, digital locker/authentication system original developed by Disney.
Movies Anywhere and its KeyChest technology share some similarities with UltraViolet, a rival cloud-powered digital locker service that debuted in 2010. Supporters of UltraViolet include Sony Pictures, Verizon Fios, Paramount Pictures, FandangoNOW and Vudu. A set of major studios -- 20th Century Fox, Lionsgate and Universal Pictures -- dropped support for UltraViolet with new releases, with Universal pulling catalog titles as of September 18, according to Variety. (See Consortium Labels Its TV Everywhere Locker.)
For Movies Anywhere, the tie-in with Comcast adds an important playback platform from the pay-TV world to its mix. The service also supports several retail streaming platforms, including Amazon Fire devices, iOS and Android smartphones and tablets, Android TV, Apple TV, Google Chromecast, Roku players and Roku TVs, Windows 10 and Xbox consoles, web browsers. Some movies purchased on Blu-ray and DVD disc also come with codes that allow digital playback via Movies Anywhere.
To join in, Comcast subs will need to create a Movies Anywhere account, and then connect their Xfinity TV account as well as others from digital retailers that are linked into Movies Anywhere.
To help prime the pump, Xfinity TV customers that sync their account to Movies Anywhere will get access to a digital copy of Happy Feet, and those who sync up with two digital retailers will also get The Martian and The Fate of the Furious.
Let's get (less) physical
The popularity of EST options ties into a larger trend that has seen consumers migrate to digital purchases and rentals and away from physical media (Blu-ray and DVDs). In October, The Digital Entertainment Group said EST spending rose 18% in Q3 2018.
DEG estimated that the US EST market generated spending of about $624.01 million, up 17.95%, while rentals at brick and mortar outlets dropped 18.24%, to $71.52 million, and rentals at kiosks dipped almost 10%, to $272.82 million. DEG said total digital spending (EST, VoD and SVoD) surged 26.01%, to $4.41 billion.
— Jeff Baumgartner, Senior Editor, Light Reading
Subscribe and receive the latest news from the industry.
Join 62,000+ members. Yes it's completely free.
You May Also Like
---