Cablevision Launches iPad App With 280+ Channels
Cablevision Launches iPad App With 280+ Channels
Cablevision's app may send programmer lawyers flying into action as MSO starts off with almost 300 TV channels and 2,000-plus VoD titles In a move that's sure to raise the hackles of several major programmers, Cablevision Systems Corp. (NYSE: CVC) unleashed its iPad app on Saturday, kicking off with support for almost 300 linear TV channels, access to 2,000-plus video-on-demand (VoD) titles, and a DVR control feature to boot. (See Cablevision Launches iPad TV App.)

The free app, which also features a new searchable guide and is accessible only within reach of a customer's home Wi-Fi connection, "allows the iPad to function as a television," said the MSO, which views the tablets as another outlet in the home.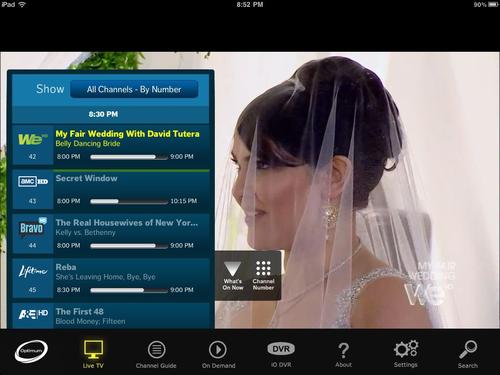 That kind of distinction will become increasingly important amid a brewing battle between cable operators and programmers over IP-based apps that can deliver linear programming to tablets such as the iPad. Several programmers, including Scripps Networks , Discovery Communications Inc. (Nasdaq: DISCA, DISCB, DISCK) and Fox Broadcasting Co. , have already made clear their position that an iPad app launched by Time Warner Cable Inc. (NYSE: TWC) in mid-March isn't covered by existing distribution agreements.

Tapping the SDV platform
Cablevision, like TW Cable, believes its technical approach and configuration for the iPad fall well within the guidelines of its existing distribution agreements with programmers. In the case of the iPad, Cablevision is leveraging its five-year-old switched digital video (SDV) infrastructure to deliver video to the tablets. Its "Advanced Digital Cable" platform relies on SDV techniques, but also is now capable of piping content in multiple formats, including MPEG-2, MPEG-4 and IP. (See SDV: Cable's Stepping Stone to IP Video? )

As the delivery goes, programming is piped over Cablevision's secure network from the headend to the home's MSO-supplied cable modem. From there, it's handed off to the customer's wireless router. However, those routers must be secured under the MSO's Optimum App terms of service.

Among ToS conditions, customers must agree to use the Live TV App "on an iPad only within the boundaries of his/her residence" and to keep their home networks secure by password-protecting their wireless routers.

Internet access not required
In an interesting twist, Cablevision does not require customers to have Internet access (from Cablevision or any other ISP) to use the new app. In those rare cases, Cablevision will provide a free Web-disabled modem that's still capable of connecting to the MSO's proprietary network and relaying programming solely for the iPad app.

"This is the future of Advanced Digital Cable televisions served with virtual set-top boxes, and just one of many digital displays we are going to be serving through a variety of applications," Cablevision COO Tom Rutledge said, in a statement.

Cablevision said it expects to encode its full VoD library for the iPad by "early summer." It plans to add remote control functionality to the app also by the summer. At the start, customers can register up to three iPads to one account, and use up to two iPads in the home at one time.

And the iPad is apparently only the beginning, as Cablevision notes it plans to deploy apps that "deliver the same experience to other tablets and display devices, functioning as televisions."

Why this matters
The delivery of live, linear programming to iPads and other mobile devices has quickly boiled into a heated battle between cable operators and programmers. While MSOs such as TW Cable and Cablevision hold that their existing contracts cover devices such as the iPads, several programmers have balked at the idea, claiming that cable operators must negotiate for those rights -- and possibly pay a premium for that extended access.

Although TW Cable thinks it's on legal solid footing, it did drop a dozen channels from its iPad lineup last week amid a cease-and-desist letter and the threat of programmer-led lawsuits. Since then, it has added 23 more, extending its total of 42.

Both TW Cable and Cablevision are limiting access to live programming on the iPad to within the confines of customer homes, but the outcome of this battle will certainly play a big factor as operators put together grander TV Everywhere strategies that will allow customers to watch live TV on the go.

For more
For a glance at the twists and turns of this scrum so far, please check out:
Subscribe and receive the latest news from the industry.
Join 62,000+ members. Yes it's completely free.
You May Also Like
---