Cable Execs Are Minting Money
Cable Execs Are Minting Money
Cable operators and media companies paid their executives well in 2014, up to $156 million in the case of one lucky CEO.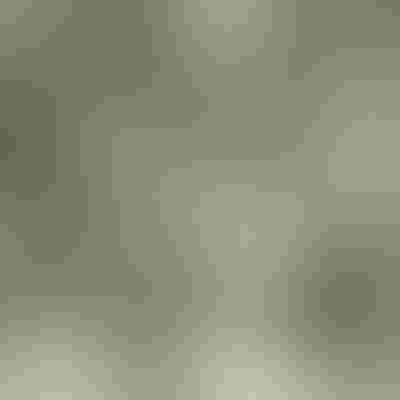 It's good to be in cable. Really, really good. With total compensation packages often far outstripping their telecom counterpoints, cable providers and cable media executives brought home the bacon in 2014… and apparently it was dipped in gold and crusted in jewels.
Figure 5: Executive Compensation - Cable and Media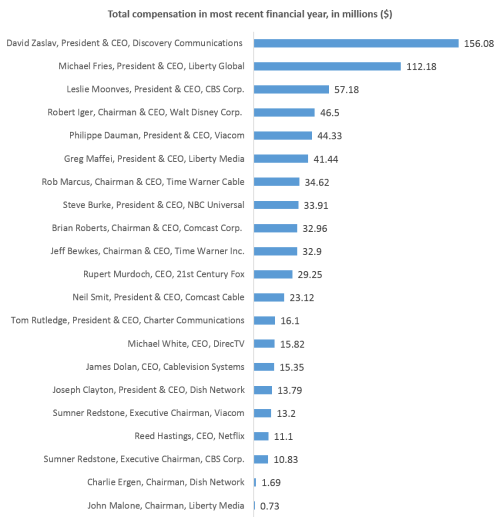 Source: Securities and Exchange Commission
Topping the list of best-paid executives in the business, Discovery Communications Inc. (Nasdaq: DISCA, DISCB, DISCK) CEO David Zaslav earned a whopping $156 million last year, reflecting a new contract signed in January of 2014 that ties Zaslav to the company through the end of the decade. According to filing with the SEC, the astounding compensation number "shows a large one-time equity award to drive immediate shareholder alignment and encourage long-term ownership of stock."
Zaslav's continuing compensation is heavily based on how well the company performs, which may not bode well for 2015's payout. Discovery's stock dropped precipitously a year ago as the company repeatedly revised its earnings estimates downward, and it hasn't recovered since. The stock price is now at levels last seen in late 2009, and cable networks as a whole are facing an uncertain future thanks to increased cord-cutting. (See What DirecTV's Big Sub Loss Means .)
Meanwhile, Discovery wasn't the only company giving generously to its top executive last year. Liberty Global Inc. (Nasdaq: LBTY), the largest cable operator in Europe, handed out $112 million to CEO Michael Fries in 2014. The company believed the payout was deserved, citing a year of strong performance including overall subscriber growth, and the smallest video subscriber losses since 2006.
Zaslav and Fries were the only two executives on the cable list to earn more than $100 million last year, with the rest of the executives earning more modest annual sums averaging roughly between $30 million and $40 million. Subtracting the board chairmen on the list and focusing only on those gentlemen with CEO in their titles -- and yes, all of the CEOs are men -- the average compensation total for 2014 was $39.81 million. Further subtracting the two outliers, Zaslav and Fries, from that list, the average dropped to $29.81 million.
Among other notable payouts, Time Warner Cable Inc. (NYSE: TWC) CEO Rob Marcus earned $34.62 million in 2014. That sounds pretty good, but it's well under half of what he would have netted if the deal with Comcast had been approved. Marcus' golden parachute package in the case of Comcast Corp. (Nasdaq: CMCSA, CMCSK) acquiring TWC amounted to nearly $80 million. Rotten luck, right? Not to worry, though -- if Charter Communications Inc. can succeed in a buyout where Comcast failed, Marcus may have an even bigger payday ahead. (See TWC Execs' Prize? A Cool $135M.)
One other pair of salaries worth noting -- Dish Network LLC (Nasdaq: DISH)'s Charlie Ergen earned only $1.69 million last year, a paltry amount compared to many of his contemporaries. However, Ergen was only acting as Chairman of the Board in 2014, while Dish CEO Joseph Clayton earned $13.29 million. Now that Ergen has resumed his role as CEO, he's sure to be due for a fatter check in 2015.
We've included some additional details on executive compensation below, separating out cable operator executives from media executives. We also included Netflix Inc. (Nasdaq: NFLX) on the list just to show where the leading OTT upstart nets out. All figures are sourced from corporate SEC filings.
Sumner Redstone, Executive Chairman

Sumner Redstone, Executive Chairman

Jeff Bewkes, Chairman & CEO

Steve Burke, President & CEO

Greg Maffei, President & CEO

Philippe Dauman, President & CEO

Robert Iger, Chairman & CEO

Leslie Moonves, President & CEO

David Zaslav, President & CEO
Joseph Clayton, President & CEO

Tom Rutledge, President & CEO

Neil Smit, President & CEO

Brian Roberts, Chairman & CEO

Rob Marcus, Chairman & CEO

Michael Fries, President & CEO
— The Staff, Light Reading
Subscribe and receive the latest news from the industry.
Join 62,000+ members. Yes it's completely free.
You May Also Like
---