Altice USA Loves What Locast Does, CEO Says
Altice USA Loves What Locast Does, CEO Says
A formal relationship has yet to materialize, but Altice USA's Dexter Goei confirms company has held talks with the embattled provider of OTT-delivered local broadcast TV.

As retransmission negotiations with local broadcasters remain a sticky area for pay-TV providers, Altice USA confirmed it has talked turkey with Locast, a relatively new service that provides free streaming access to local broadcast TV channels in several major markets and has drawn fire from ABC, CBS, NBC and Fox.
"We love what they do," Altice CEO Dexter Goei said of Locast during a talk Wednesday afternoon at the Bank of America Merrill Lynch 2019 Media, Communications & Entertainment Conference in Beverly Hills, Calif. Altice USA, he added, is curious about Locast "because we don't think, obviously, that the retrans dynamics make a lot of sense not only from an economic standpoint but the fact that this is a free-to-air broadcasting signal."
Altice USA has held "a lot of discussions with David Goodfriend (Locast's founder and a former Dish exec) and his team on Locast," Goei said, but gave no hint whether anything more formal might materialize between the two companies. The operator's new all-services box, Altice One, can integrate OTT services so there should be no technical barriers to prevent Altice USA from supporting a Locast app on its devices.
Figure 1: Dishing Up Some Locast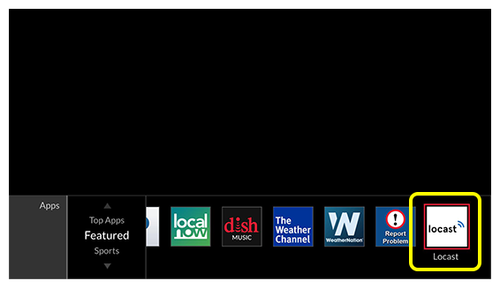 Dish offers Locast as a free app on its Internet-connected Hopper and Wally receivers that enable users to stream local channels in US markets in which Locast offers its service. AT&T has a similar integration with Locast on its DirecTV and U-verse boxes.
Altice USA isn't alone amongst pay-TV providers in showing some Locast love. Others also seem to view Locast as leverage and a possible bargaining chit in retrans negotiations. Dish Network, for example, integrated the Locast app on its receivers. AT&T took things a step further by coupling the app integration with a $500,000 investment in Locast.
The US Big 4 broadcasters (ABC, NBC, CBS and Fox) aren't nearly as enamored with Locast. Last month, they sued Locast on allegations the startup is retransmitting their local TV station signals without authorization and is, therefore, violating copyright law. Locast believes it's on solid legal ground, arguing it operates as a non-profit with a copyright exemption.
Goei's discussion at the investor conference also touched on Altice USA's other activities in video, mobile and broadband.
Video still a core, profitable business
Though some US cable operators are de-emphasizing pay-TV, Altice USA still views video as a core business -- it's still profitable and Altice USA's subscriber metrics have actually improved over the past six quarters. Ongoing deployment of Altice One has aided this growth.
So long as those pay-TV numbers continue to climb, Altice USA will continue to invest in its video product, Goei said. The company is moving aggressively across its footprint with an IP video conversion to empower Altice USA to more easily deliver video over its fixed and wireless networks.
Captivated by FTTP
That IP video conversion also plays into Altice USA's ongoing fiber-to-the-premises (FTTP) network upgrade that is moving toward the operator closer to a triple-play (voice, video and data) offering that will run on a new "headless" gateway.
Goei said plans are underway for Altice USA to ramp up marketing of its FTTP-based offerings in 2020. These services also will feature the debut of a symmetrical 10 Gbit/s broadband service.
Even as other cable operators look to enhance their HFC networks with new technologies like DOCSIS 3.1 and, later, DOCSIS 4.0, Altice USA still believes that the opex and capex benefits and the ability to future-proof its networks all justify its decision to give FTTP the vote.
Goei also pointed out recent news that Cisco Systems has suspended investment in Full Duplex DOCSIS due to uncertainty in the market. DOCSIS 4.0 should help to bring more unification to HFC tech roadmaps, but it's clear the cable access market has been mired in a phase of chaos and disruption as MSOs mull their next moves.
Altice USA hasn't announced pricing on its forthcoming, top-end 10-Gig service, but don't expect the company to move away from its flat-rate pricing toward data-usage policies.
"I don't like data caps," Goei said. "We want to be simple and we don't want clients to sit there and feel… let's call it cheated, or don't understand what they are paying for."
Mobilizing Altice Mobile
There's no plan to alter Altice Mobile's initial offer, which includes a $20 per month per line "price-for-life" guarantee for the company's existing cable subs, and $30 per line per month for all others, Goei said.
"We're going to keep this [offer] open for quite a bit of time," he added, noting the company next week will start more aggressively marketing Altice Mobile. "We're incentivized to drive volume. We think volume economics are very attractive."
Altice Mobile is expected to reach profitability on a standalone basis within a year or earlier, but declined to say how many customers it will need to reach that inflection point, Goei said. New Street analysts believe Altice Mobile is poised to break-even at about 1.1 million subs.
Bracing for the next M&A wave
Goei was non-committal when asked what role, if any, Altice USA might play in cable's next wave of consolidation.
"There's not that many waves left," he said. "There are not that many players of meaningful size for ourselves or for other operators to team up with, but there are some sizable transactions… Size does matter here, and we'd like to be part of it."
Cox Communications has been rumored as a possible M&A candidate in recent years, but that company repeatedly has stated it is not for sale.
Goei added that he would not be adverse to sharing operations control from a capital structure standpoint. "We have pretty much a blank, open piece of paper here as long as we're maximizing shareholder value," he said.
Related posts:

— Jeff Baumgartner, Senior Editor, Light Reading
Subscribe and receive the latest news from the industry.
Join 62,000+ members. Yes it's completely free.
You May Also Like
---