Altice Mobile Expects to Be in the Black Within 12 Months
Altice Mobile Expects to Be in the Black Within 12 Months
'We wouldn't be in this business if we didn't think it would become a profitable standalone business,' Altice USA CEO Dexter Goei says. Altice Mobile's aggressive pricing starting at $20 per month raised some eyebrows this morning, but execs there believe that the new mobile offering is set up to reach profitability within a year on a standalone basis.
"We've guided the market that within 12 months we should reach profitability" with Altice Mobile, Dexter Goei, Altice USA's CEO, said today as the company provided more detail about the new offering. "We wouldn't be going into this business if we didn't think it would become a standalone business."
That confidence comes as Altice Mobile launched Thursday with a $20 per line per month "price for life" offer for its existing Optimum and Suddenlink cable customers, and $30 per line per month for all others whether they reside inside or outside Altice USA's wireline footprint.
Figure 1: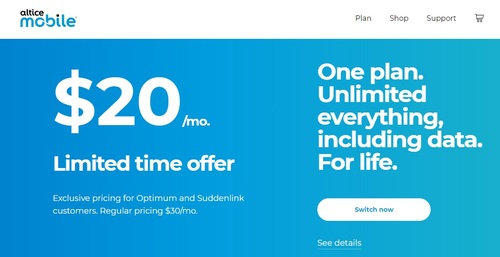 Altice Mobile was launched as a standalone service, but Altice USA is giving a sizable price break to its existing Optimum and Suddenlink cable service customers.
Goei allowed that Altice USA will see some "light losses" in the first year driven by launch costs and marketing dollars, "but we're not pricing this offer, at all, as a negative gross profit to us."
Altice USA, he added, is "pricing this as a standalone product that we think we can make very attractive economics on… Today, pricing in the market, we feel, is probably not as attractive as it can be."
Goei noted that Altice Mobile's facilities-based approach and the buildout of the service's own core mobile network enable the unit to better manage its costs and offload traffic at a more attractive level than some of its MSO peers that have also launched mobile services under MVNO arrangements.
By way of example, Comcast and Charter Communications have mobile services based on MVNO deals with Verizon, but both of their respective services are taking on losses during this phase. Comcast and Charter are also different in that they are targeting their respective mobile services -- Xfinity Mobile and Spectrum Mobile -- to consumers in their traditional cable footprint and trying to bundle those services with their high-margin home broadband offerings.
Goei also noted that Altice USA benefits from the help and experience it gleans from its sister company across the pond that operates as an MNO in Portugal, France and Israel.
Connecting to Sprint and AT&T
Altice USA also shed more light on how its new mobile service will operate on the Sprint and AT&T networks. Altice USA's primary MVNO deal is with Sprint, complemented by a national roaming deal with AT&T.
In addition to operating its own core mobile infrastructure, Altice Mobile owns the SIM cards used in its customers' smartphones. That allows those devices to access both the Sprint and AT&T networks and tap into the network delivering the best quality in any given location.
"There's a logic that we've built into the core network and it's driven by providing the best coverage and best capacity at any time," Hakim Boubazine, Altice USA's co-president and COO, explained.
Though Altice Mobile is built as a standalone service rather than part of a bundle, the company did allow for the potential to attach OTT video services to the new mobile offering for phones that support "unlimited" video in standard-def format.
"Whether it's a soft or hard bundle, we will evolve our marketing strategy as time passes," Boubazine said when asked if Altice Mobile might look to bundle in OTT-delivered SVoD or virtual MVPD services.
Ultimately, it makes "great sense" for Altice USA to serve as a "one-stop shop and one point of contact," he added.
On the data side, Altice Mobile does provide unlimited hotspot data, though those speeds are limited to 700 Kbit/s.
Related posts:
Altice Mobile debuts $20 per month 'price for life' to Optimum and Suddenlink subs Altice USA Signs AT&T to Nationwide Roaming Deal Did Altice Change Its Tune on Buying Spectrum? Cable MVNOs Are Beginning to Hurt U.S. Cellular Altice USA's Mobile Service to Be 'BYOD-Heavy' — Jeff Baumgartner, Senior Editor, Light Reading
Subscribe and receive the latest news from the industry.
Join 62,000+ members. Yes it's completely free.
You May Also Like
---