Trump is losing the European war against Huawei
Trump's European campaign against Huawei is starting to look futile. Since US authorities began arguing that its products could include "backdoors" for Chinese spies, telecom operators in all of Europe's biggest economies bar France have launched commercial 5G services using the Chinese vendor's gear. If the US charges are right -- something Huawei has always denied -- then Chinese spooks could already be eavesdropping on European communications.
Germany was the latest to switch on Huawei-powered 5G services last week, when Deutsche Telekom, its partly state-owned national incumbent, launched commercial services in five cities. Although Deutsche Telekom has not been trumpeting the names of its 5G suppliers, it works with Huawei and Sweden's Ericsson on radio access networks, after dumping Finland's Nokia in late 2017. Last year, when Huawei appeared a less controversial choice, it publicized its deployment of Huawei's 5G antennas in Berlin.
Before Deutsche Telekom's 5G launch, Three, Vodafone and BT-owned EE had all turned on Huawei-built 5G networks in the UK, despite government indecision on the future role of Chinese suppliers. Vodafone is also using Huawei's equipment to support 5G services in Italy, Romania and Spain, explaining why it has been Europe's most vociferous opponent of the anti-Huawei campaign. Elsewhere, Huawei is "live" in Switzerland and Finland, where it equips Sunrise and Elisa respectively.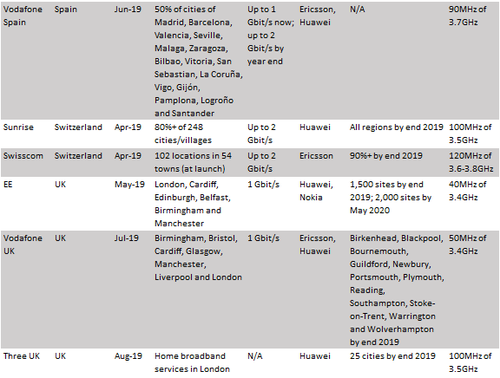 The US has scored some wins. Last week, it was reported to have signed a 5G security agreement with Poland that bodes ill for Chinese vendors. French operators have soured on Huawei since the Trump administration started grumbling about Chinese 5G fare: Orange, the partly state-owned French incumbent, has ruled out the use of Huawei's 5G products in France; rival Iliad last week announced Nokia as its main 5G vendor.
But most operators and authorities have either resisted US pressure or simply carried on regardless. In some countries, including Germany and the UK, there has been a renewed focus on network security that could lead to more scrutiny of operators' activities in future. One possibility is that service providers are forced by regulators to use a multitude of vendors in their networks. Yet Germany has declined to ban Chinese companies, and the UK's recent supply chain review failed to arrive at a decision.
As the months unfold, and 5G networks are extended further, excluding Huawei will grow harder and become less likely. Substituting one 5G vendor for another already sounds difficult and costly. That is largely because operators say they would have to replace more widely deployed 4G networks with equipment from the new 5G vendor to guarantee interoperability between 4G and 5G technologies. Moreover, there is little sign of interest in a workaround proposed by Nokia that would, in theory, allow an operator to retain its old 4G supplier as it introduces a new 5G one. As 5G coverage improves, often at the behest of regulators, operators face having to rip out extensive 4G and 5G networks in the event of a Huawei ban.
Network sharing is a further complication. There was a time when operators were loth to share even the towers that host basestation equipment. Hit by mounting costs, and with no great sales opportunity in sight, a few are now sharing the basestations themselves. This makes operators in some countries reliant on the same vendor equipment, meaning a ban could be even more disruptive for mobile customers.
---
Want to know more about 5G? Check out our dedicated 5G content channel here on
Light Reading.
---
Setbacks in Europe will spur Huawei's fiercest US opponents to double their efforts elsewhere. Notwithstanding the recent extension to a reprieve that lets US companies sell goods to Huawei, there is little indication the Chinese vendor's name is about to be dropped from the US trade blacklist. Nor has the US abandoned its request for the extradition of Meng Wanzhou, Huawei's chief financial officer, who remains under effective house arrest in Canada, charged with fraud by US prosecutors. Her alleged main crime -- covering up Huawei's involvement in the sale of telecom equipment to Iran -- could lead to a jail sentence and even tougher sanctions against Huawei. As for Trump, the US president's anti-Huawei rhetoric was unrestrained as recently as last week, according to reports. "Huawei is a big concern of our military, of our intelligence agencies, and we are not doing business with Huawei," he is quoted as saying by Reuters.
Those remarks will unnerve European authorities. If Trump does not get his way he could lash out like a playground bully, threatening additional tariffs on European goods. All eyes are on the UK, which risks missing out on a favorable post-Brexit trade deal with the US if its government refuses to ban Huawei. Operators may be just as nervous. Last year's trade blacklisting of ZTE nearly finished off the smaller Chinese vendor and caused major disruption for European customers such as Italy's Wind Tre.
Europe's operators will take some comfort from knowing that Huawei is already less dependent than ZTE on US components. It has also been investing in alternatives, including HiSilicon, its own in-house semiconductor business. If service providers are unsettled, there is no visible panic: Not a single operator has ditched Huawei as a radio supplier in the way Deutsche Telekom dumped Nokia back in 2017. And while BT is stripping Huawei out of its mobile core, that process is intended to align EE, the mobile operator it acquired in 2016, with long-standing company rules that limit the role of Chinese vendors. Plans for it were drawn up when a Trump presidency was still hard to imagine.
Market watchers fear the clash between China and the US could lead to a fragmentation of the 5G industry and telecom supply chains. In this scenario, other countries would be sucked into the orbit of the telecom superpowers, with Huawei and ZTE dominating Africa and some Asian economies just as Ericsson and Nokia go unchallenged across much of the West. As the main battleground in that conflict, Europe does not look destined to become a Huawei-free zone.
Related posts:
— Iain Morris, International Editor, Light Reading