Cloudflare Takes On AWS Lamdba at the Edge
Amazon isn't the only one playing with programming at the network edge. Content delivery network operator Cloudflare is introducing a platform today that lets developers execute code closer to their end users.
The solution, dubbed Cloudflare Workers, offers an alternative to both centralized cloud processing and local code execution on a consumer device. Customers benefit from avoiding the latency challenges of communicating back to a data center and also from sidestepping any power and bandwidth limitations that may be present in consumer hardware.
Cloudflare Workers is based on JavaScript, which Cloudflare Inc. notes is the most popular programming language on the Internet. The company started running a beta of its technology last September and says that since then customers in the trial have run "billions of edge computing tasks" with Cloudflare Workers. Prior to Cloudflare's release of the platform, only employees could implement code at the edge of the company's network. With the launch of general availability today, any developer can do the same.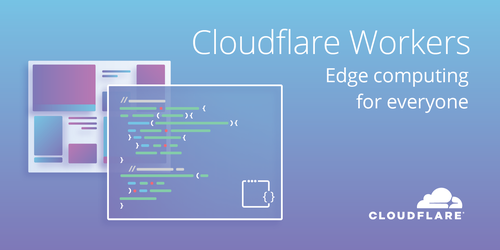 If Cloudflare Workers brings to mind Amazon.com Inc. (Nasdaq: AMZN)'s Lambda operating environment, it's meant to. Cloudflare specifically emphasizes that pricing for the solution is competitive with AWS Lambda. And don't forget that Amazon also brought Lambda to the network edge when it launched AWS Greengrass in late 2016. The Greengrass software runs on Amazon's own edge storage products to make the Lambda environment available there, but it can also be implemented on other connected devices. For example, Technicolor (Euronext Paris: TCH; NYSE: TCH) has deployed the software on its home gateway products. (See Technicolor Brings AWS Home to Gateways.)
In Cloudflare's case, the company isn't operating at the device level, but it is using its global network footprint to ensure that its software platform is accessible "within milliseconds of virtually every Internet user." According to the company, "Cloudflare Workers runs across Cloudflare's 127+ data centers and dynamically scales to meet the demands of any load."
---
You're invited to attend Light Reading's Big Communications Event -- the ONE event that delivers fresh perspective on the rapid transformation of the telecom industry and the road ahead. We'll see you May 14-16 in Austin -- communications service providers get in free!
---
As a CDN provider, Cloudflare isn't as large as Amazon with that company's CloudFront CDN, and it's nowhere near as big as CDN market leader Akamai Technologies Inc. (Nasdaq: AKAM). However, Cloudflare isn't a bit player either. The company continues to expand its network presence rapidly and says it plans to be in 200 cities and 100 countries by the end of this year. Cloudflare is also well funded and growing as a business with plans to file an initial public offering likely sometime later this year.
Cloudflare's idea of pairing CDNs and edge computing isn't unique either. However, rather than being a negative, that fact should be reassuring since the CDN industry as a whole appears to be coming to the logical conclusion that content caches can and should be expanded to include new processing capabilities. CDNs have in many ways represented an early form of large-scale edge computing over the last decade and more. Now, that CDN framework can be extended, re-envisioned to enable new applications and experiences not possible with today's Internet architecture. (See Qwilt Marries Caching, Computing at the Edge.)
— Mari Silbey, Senior Editor, Cable/Video, Light Reading
EDUCATIONAL RESOURCES

PARTNER PERSPECTIVES
- content from our sponsors