Ericsson Goes Dotty for 5G Small Cells
Ericsson Goes Dotty for 5G Small Cells
Swedish vendor gives its small cell offering a 5G makeover.

Ericsson is dusting off its small cell gear and slapping a big 5G label on the front of it, promising a version of its Radio Dot system that supports mid-band 5G spectrum and other features of the emerging mobile technology.
The Swedish equipment vendor, which this week announced impairment charges of $1.8 billion, is calling the upgraded technology the "5G Radio Dot" to distinguish it from the 5G-incompatible "Radio Dot" it currently provides. (See Ericsson Lurches to $1.8B Write-Down.)
The new system, it claims, will operate over spectrum in the 3-6GHz bands and support connection speeds of up to 2 Gbit/s when it becomes available in 2019, following trials this year. "Developing a 5G version is an obvious thing to do, especially as operators move indoors and to higher band spectrum," says Gabriel Brown, a principal analyst with the Heavy Reading market research business.
Figure 1: Small Cells, Big Sales?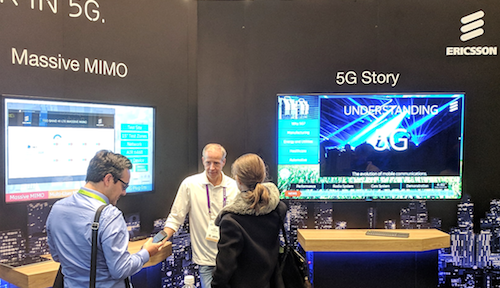 Ericsson staff show off the company's range of 5G technologies. Small cells have attracted their fair share of hype in the last few years but are expected to figure prominently in the 5G marketplace, satisfying demand "hotspots" and very specific service requirements. With a small cell, as opposed to an outdoor macro cell, an operator could provide a boost to signal strength and bandwidth over a localized area, such as a factory floor or part of a shopping mall. An Ericsson AB (Nasdaq: ERIC) survey indicates that 60% of mobile customers are currently unhappy with their indoor cellular connectivity. Because it represents a relatively straightforward upgrade to the older Radio Dot system, the 5G version will function with the same cabling infrastructure and network architecture, says Ericsson. The announcement forms part of a wave of 5G updates triggered by the progress on 5G standardization last year. In December, the 3GPP, the mobile sector's key industry body, gave its seal of approval to the 5G new radio specifications, allowing vendors and operators to start planning in earnest for the introduction of 5G technology. (See 5G Is Official: First 3GPP Specs Approved.) Several operators have said they will start providing standardized 5G services in 2019 or 2020, while US giant AT&T is targeting some kind of "mobile" 5G service launch later this year. (See AT&T Joins 5G Marketing War, Promising 'Mobile' Launch in 2018.) While standard mobile services are likely to rely heavily on the use of macro cells, small cells could help to support new types of 5G service addressing enterprise customers, in particular. Ericsson, for example, has been looking into the use of 5G small cells in mines to support the remote control of machines and smart ventilation systems. Some of the remote control applications would require the very low latency and ultra-high-speed connections that 5G is designed to support. For that reason, small cells may often go hand in glove with edge computing, whereby IT resources are taken out of central data facilities and located at aggregation points much closer to end users. By reducing the distance over which a data signal must travel, operators using 5G technology can also cut latency to millisecond levels. "For the vertical industries expected to benefit most from advanced 5G capabilities, performance in locations such as mines, factories, venues and so on is critical," says Brown. "Ericsson repeatedly emphasizes the importance of industrial use cases for 5G and to deliver the localized performance for, say, a URLLC [ultra-reliable low latency communications] service -- robotic motion control, for example -- you need localized network deployment." For all the latest news from the wireless networking and services sector, check out our dedicated Mobile content channel here on Light Reading. Like other small cell vendors, Ericsson will be hoping that such applications give a boost to the technology, which has failed to catch on in some parts of the world. Finland's Nokia Corp. (NYSE: NOK), one of Ericsson's main small cell rivals, complained last May about the relatively weak appetite for small cells in the European marketplace, noting that China and North America were responsible for much of the demand at that time. (See Nokia Sees Small Cells Make Big Impact – Outside Europe.) Ericsson's own press release on the 5G Radio Dot contains endorsements from both China Mobile Communications Corp. and China Unicom Ltd. (NYSE: CHU), two of the country's three national telcos, but not from any of the vendor's customers outside Asia. Heavy Reading's Brown thinks China's national infrastructure investment strategy may be fueling some of the small cells interest. "They have lots of new buildings and venues that need coverage," he says. "And they have less low-band spectrum for outdoor-in coverage on 4G." "The Radio Dot was perhaps a slow burn product in the early years, but Ericsson has stuck with it, invested in it, and now has large-scale deployments, especially in China," adds Brown. — Iain Morris, News Editor, Light Reading
Subscribe and receive the latest news from the industry.
Join 62,000+ members. Yes it's completely free.
You May Also Like
---