Radcom might be a relative minnow in the communications networking technology market but the impact this company will likely have in 2018 is immense.
A swift glance at the financials of the Tel Aviv, Israel-based network probe specialist wouldn't suggest it's a company that could rock the foundations of the telecoms industry: Revenues for its most recently reported quarter (July-Sept. 2017) were just under $10 million.
But Radcom's technical expertise has helped it to attract some of the biggest names in the operator community as customers, including AT&T, while its new strategy, and in particular its pricing model, has turned heads and helped it secure new long-term customers, such as Globe Telecom in the Phillipines. (See Radcom Snags AT&T in VNF Win and Radcom Secures a Multi-Year Contract Extension with Globe Telecom.)
So what's the big deal?
Radcom Ltd. is a software company: Its network probe technology is delivered as cloud-native, hardware-agnostic virtual network functions (VNFs) and can run on whichever IT platform a network operator chooses to deploy. That is not only attractive to operators but has also enabled the vendor to develop what is, for the telecoms sector at least, a radical, flat rate pricing model and structure.
That proposition is part of the company's new strategy that also involves branching out beyond its existing network probe products.
An end to linear pricing
Essentially, Radcom's customers pay a constant, recurring and regular fee to use the vendor's software, no matter how many instances they deploy and how many customers they are supporting with the software. So whether an operator is deploying Radcom's probes in one market or ten, and supporting 50,000 customers or 5 million, the fee remains the same -- the cost to the operator does not scale as it uses the software more. The traditional model of linking technology payments to boxes or instances or customer metrics doesn't apply with Radcom.
"This was a risky move for us but it's a gamble that has paid off," Radcom's Chief Business Officer Harel Givon tells Light Reading. "We started with certain companies and it has now been adopted by many customers and is offered to all new ones. We offer a full software system on a multi-year subscription model, with a set price irrespective of traffic, network capacity or number of subscribers. Models based on capacity are not sustainable," he believes.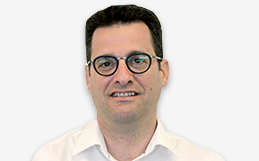 This model is applied per VNF and encourages use, feedback and loyalty as long, of course, as the technology works. That doesn't appear to be an issue with Radcom's 50-plus customers.
"Radcom is a special company," says independent strategic advisor David Amzallag, whose most recent role was as head of NFV and SDN at Vodafone, where he evaluated the technology and business models of many vendors.
"Radcom is selling direct to networking and engineering teams, so if it wasn't needed in the network it wouldn't get deployed. And its deployment is directly related to the need for assurance and linked to NFV plans," notes Amzallag, who became a Special Strategic Advisor to the company in September 2017 and who floated the concept of constant pricing at Light Reading's recent Executive Summit event in Prague. (See Amzallag's Four Horsemen of the Telepocalypse.)
The plan now is to develop further VNFs and sign up additional customers to grow the company, says Givon. "We are hoping customers will add functionality [VNFs] in the years to come -- revenue growth for us comes from the development of new functions, as enhancements to existing VNFs do not incur an additional cost to customers. Our message to network operators is that they can grow and not worry about the cost of using our software."
Radcom's sweet spot is with operators that are introducing NFV functionality but struggling to monitor and manage their VNFs and their new hybrid network architectures (a mix of legacy technology and virtualized functions).
"We believe we are pre-empting the market on how to enable service assurance for NFV," states Givon. "We have a recent significant win in the US with a Tier 1 operator, which we cannot name, where our technology is dealing with an immediate challenge that operator had with NFV -- it is very focused on virtualized assurance for NFV." (See Radcom Boasts Another Tier 1 Win.)
While the Radcom team won't confirm anything, or divulge details, Light Reading believes that operator to be Verizon Communications, which is starting to show faith in emerging specialist vendors with strategies tailored to SDN and NFV roadmaps. (See Verizon Turns to Sedona for Transport SDN Management & Automation Smarts.)
That Tier 1 had an NFV itch it needed to scratch, though.
"The problem that operator had was that it was deploying virtual network functions, but it had not deployed a virtualized probe for monitoring the network, so it was getting lost as it added more VNFs," states Radcom CTO Rami Amit.
"In addition, the operator wanted probes that enabled ad hoc monitoring and analytics, so that each person using the system could personalize the view of the network -- the engineers wanted the ability to select the KPIs they wanted at any instant and that's something that can't be achieved with physical probes. This is true on-demand probing -- it doesn't involve monitoring the entire network all of the time, but enables engineers to monitor what they want, when they want," adds the CTO.
Now that capability is being deployed by the Tier 1 vendor and at the constant and predictable pricing model. This can only upset the status quo in the networking technology sector and get operators excited while scaring the pants off the traditional vendor community. That Tier 1 is now, without doubt, going to thrust that pricing model in front of its other suppliers to see which ones are ready to play ball.
The problem is that Radcom, as a small and lean software vendor, can afford to operate with that model -- many vendors can't, at least in their current states. The constant pricing model seems certain to light a fire under the telecoms industry procurement process and shake things up in a very big way.
For this to work for Radcom in the long term, though, it needs more VNFs. And that's the other part of its new strategy.
Busting into new markets
The Radcom team has been busy developing new propositions. These include:
Service assurance as a VNF: The Radcom team says it has learned a lot from its recent experience with AT&T and other operators and has evolved its probe technology to become fully virtualized and cloud-native and extended the capabilities to include on-demand probing (as described above). Radcom has also developed its own VNF manager and has also brokered a partnership with OpenStack specialist Red Hat to offer its VNFs as part of a ready-made cloud infrastructure. But the team is keen to stress that it is not limited to any deployment scenario -- it also works in container environments such as VMware.
Enhanced visibility and insights: Virtualization is blurring the lines between different elements and functions, the Radcom team notes, so as an extension of its probe capabilities it's now expanding into adjacent and associated functionality, including network packet brokers (which aggregate and filter network data and send it to appropriate tools) and network test access ports (or TAPs), which perform diagnostics on certain parts of a network. Radcom is developing virtual version of these functions that would, like its probes, be cloud-native and is also expanding its existing deep packet inspection (DPI) capabilities. The other key development in terms of network insights comes from enabling network operators to build their own network views based on ready-made cases built around their own customer experience requirements.
Enterprise assurance: Radcom has spied an opportunity to develop a hosted network assurance platform that network operators could use to monitor and assure enterprise networks and services, such as SD-WAN. The Radcom team is looking to address layers 2-7 with this development (so including the applications level to address OTT applications).
Radcom has its next earnings announcement on February 13. The expectation is that its full year 2017 revenues will hit the $37 million mark, while analysts currently expect 2018 sales to grow to nearer $46 million. Even if that 2018 estimate is raised, Radcom won't be moving the needle on the telecoms network technology chart this year, but the impact of its pricing model and the support it's certain to get seems certain to have a much greater impact.
— Ray Le Maistre, Editor-in-Chief, Light Reading