Vodafone & China Mobile Lead New Charge Towards Automated, Cross-Domain VPNs
Vodafone & China Mobile Lead New Charge Towards Automated, Cross-Domain VPNs
With a contribution into ONAP that also involved Huawei, Vodafone and China Mobile take the lead on defining service orchestration and automation across carrier network borders. But they're not the first to do so. AMSTERDAM -- Vodafone, China Mobile and Huawei have teamed up to develop code that would enable service providers to automate and orchestrate cloud-enabled, software-defined VPN services across network operator borders and are contributing that code to the next release of open source networking project Open Network Automation Platform (ONAP) , part of the Linux Foundation's Networking Fund.
Network operators have been very focused in recent years on "orchestration and automation, but only within our own domains," notes Fran Heeran, Group Head of Network Virtualisation, Cloud and Automation at Vodafone Group plc (NYSE: VOD). "We have all spent a lot of time on our own stacks, on the north-south connections. Now we need to look at how this all works cross-domain. We need automated bridges to provision services. And this hasn't been looked at closely enough," states the Vodafone executive, who joined the operator just over a year ago. (See Who's Steering Vodafone's NFV Ship? and Vodafone: Virtualization Vendors Must Put Up or Shut Up.)
Heeran notes that, as a group comprising 26 operating companies "and a significant enterprise customer base, our needs are somewhat different from many others. What is common amongst operators, though, is the need for harmonization and orchestration, especially across network borders," he adds. "After all, this is what this industry is all about–cross-network services… east-west links into other regions and other networks."
Figure 1: Heeran's Compass Points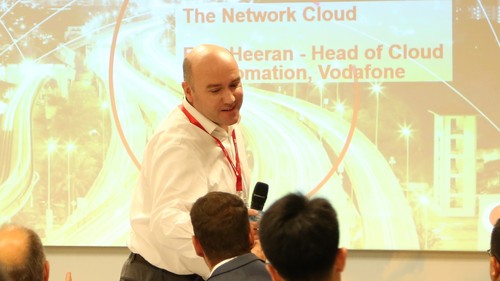 Vodafone's Fran Heeran at Huawei's recent Operations Transformation Forum event in Munich: It's time to focus on east-west orchestration and not just north-south APIs, he says.
The need for industry-agreed specifications to enable automated, cross-domain service provisioning was also a major focus for China Mobile Ltd. (NYSE: CHL), Heeran found: That led to talks and resulted in a joint effort between the two operators and Huawei Technologies Co. Ltd , as well as input from VMware Inc. (NYSE: VMW), to develop code that could be fed back into the open source ONAP development and become part of the next release, which has been dubbed Casablanca.
"Vodafone is not traditionally associated with open source contributions but we have to be more involved!" notes Heeran in an exclusive interview with Light Reading.
The Vodafone man says the partners have "collaborated on developing APIs, extensions and data models to feed into Casablanca," adding that Vodafone's approach to 'open source' does not involve having a "legion of developers" who try and write, check and upload something carrier-grade from some shared software. "We have a few developers, sure, and they are contributing back to the next version of ONAP... it's an important element of being able to drive 'standards' in APIs and elements, and then feed those back in."
How will service providers enable automated and efficient network operations to support NFV & SDN? Find the answers at Light Reading's Software-Defined Operations & the Autonomous Network event in London, November 7-8. Take advantage of this opportunity to learn from and network with industry experts – communications service providers get in free!
What Vodafone and its ONAP pals have come up with, then, is a set of APIs, extensions and data models focused on cross-domain, cloud-based, automated service provisioning that will feed into Casablanca, ONAP's third release that is due in November. The code has been developed from linking a Vodafone ONAP 'instance' to one in China Mobile's network: In trials, each operator has been able to provision a cross-boundary VPN service by accessing and orchestrating optical and SD-WAN resources on each others' networks.
The 'use case' associated with the contributed code will be called CCVPN (cross-domain, cross-layer VPN) and has been announced here today ahead of the Open Networking Summit, which is being held in the Dutch capital.
Heeran, who was the driving force behind Vodafone's decision to join ONAP in September last year, says the development has been recognized by the broader ONAP membership as being "a real value-add, a real-world challenge, especially for enterprise services." (See Vodafone Pushes ONAP Over Key Threshold.)
What's critical, notes Heeran, is what happens as a result of these initial efforts. This isn't a green light for vendors to develop proprietary interfaces that then need integration work and interoperability testing. "I can't stress enough how important 'out-of-the-box' is. We don't want to be assembling everything… we don't want anything that we then have to spend a lot of time working on, piecing together."
But although the Vodafone executive says there hasn't been enough focus on east-west, cross-border service automation, there have been some notable developments: Verizon and Colt, for example, have already demonstrated "cross-carrier automation" using specifications developed with the MEF (Sonata and Interlude), and AT&T and Orange have also been involved in related developments in the past 18 months. (See Colt, Verizon Take Giant Leap for Cross-Carrier Automation and Carriers Demo MEF's Sonata SDK for LSO .)
Heeran concedes that there are other developments, and namechecks MEF's Sonata and work done by the TM Forum, but adds: "This will have support and traction."
And Heeran is confident that, while expectations have slipped a little, the months following the Casablanca ONAP release, and before the fourth release (Dublin) in June 2019, "ONAP will be ready for prime time."
What that means for Vodafone and other major ONAP community carriers with international operations, and what it will mean for smaller operators without the significant human and financial resources of their larger peers, may be somewhat different, but if ONAP can enable a de facto standard for automated enterprise VPNs that should be positive news for most. (See LF Networking Fund Boasts New Carrier Members.)
— Ray Le Maistre, Editor-in-Chief, Light Reading
Subscribe and receive the latest news from the industry.
Join 62,000+ members. Yes it's completely free.
You May Also Like
---