Orange to Bring Virtual LiveBox to France in 2018
Orange to Bring Virtual LiveBox to France in 2018
Shifting intelligence deeper into the network and using dumber boxes will lead to service benefits for customers, says Orange CEO. PARIS -- Orange Hello -- Orange is working on the virtualization of its LiveBox home gateway and says it will start rolling out products for some customers in France next year.
The move essentially means the device will become dumber, as computing power and processing capabilities are moved deeper into the Orange network.
That should lead to a range of benefits for Orange, allowing it to perform critical updates without dispatching technicians to customer premises.
"This is a big breakthrough," said Stephane Richard, Orange's CEO, during the operator's annual Hello show in Paris this week. "There will be a single box serving the single and essential purpose of delivering the best connection throughout the home, and you will be able to harness the full computing power of the network, giving you unlimited software and storage."
Figure 1: LiveBox in the Home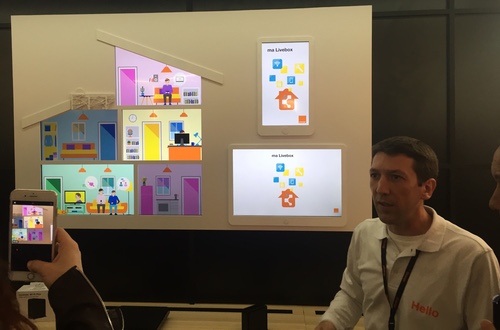 An Orange technician shows off the operator's latest LiveBox innovations during the annual Hello conference. Richard told attendees that customers of the new virtual LiveBox would be able to choose from a larger service catalog and avoid the need to download any software. The virtualization of customer premises equipment (CPE) could speed up the development and deployment of new offerings, and allow operators to launch services across different markets more easily. It would also help to address the problems caused by customers with ageing or obsolete equipment that cannot support new features. By avoiding the need for "truck rolls," Orange (NYSE: FTE) can expect to reduce operating costs through CPE virtualization, although the operator is not disclosing any details of expected savings at this stage. The LiveBox virtualization appears to be one of several moves that Orange is making on the CPE front. Last December, the operator indicated that its ECOMP trials in Poland were focusing on virtual CPEs in the residential sector as a first use case. (See Orange to Focus Polish ECOMP Trials on Residential vCPE .) A network management and orchestration platform developed by AT&T, ECOMP was in February merged with OPEN-O, a separate "MANO" initiative, to form what is now called the Open Network Automation Platform (ONAP). Besides AT&T Inc. (NYSE: T) and Orange, service provider members of that club include BCE Inc. (Bell Canada) (NYSE/Toronto: BCE) as well as China's three national carriers (China Mobile, China Telecom and China Unicom). According to an Orange spokesperson, the work on LiveBox virtualization is not related to the ECOMP trials. In the enterprise sector, meanwhile, the Orange Business Services division flagged trials of a "universal CPE" -- a next-generation CPE incorporating virtualization capabilities -- in March. (See Orange Kicks Off 'Universal CPE' Trials.) For more NFV-related coverage and insights, check out our dedicated NFV content channel here on Light Reading. Bertrand Rojat, the deputy vice president of Orange's Technocentre, says Orange is working with "traditional network partners including Ericsson, Huawei and Nokia" on network virtualization. But the latest project could have some troubling implications for the makers of LiveBox equipment. While Rojat insists that in-house teams are largely responsible for the latest LiveBox, Orange has previously relied on device vendors including Inventel , Sagem Télécommunications SA and ZTE Corp. (Shenzhen: 000063; Hong Kong: 0763) for LiveBox hardware. During last year's Hello show, when it unveiled the latest device, Orange called out Broadcom Corp. (Nasdaq: BRCM) as the manufacturer of the high-performance processor used to bolster the LiveBox's computing power. (See Orange Launches Livebox at Louvre With Luc.) "Each of the big operators is using internal development plus the support of suppliers," says Gervais Pellissier, Orange's deputy CEO, in commenting on set-top box (STB) and home gateway trends. Dumber STBs may not be appropriate in all of Orange's markets, however. "It's dangerous to have virtualization if you don't have the right connectivity," says Rojat. That means a virtual LiveBox launch is not in Orange's short-term plans for Poland, where its current focus is on making improvements to what it describes as "relatively poor" broadband connectivity. In France, by contrast, Orange has been investing in much higher-speed broadband technologies, based on fiber-to-the-home configurations, amid strong competition from other network operators. Nevertheless, a widespread deployment of virtual LiveBoxes could entail considerable upfront costs for Orange, even if it promises savings in the long run. Persuading customers that a less sophisticated box carries benefits could also prove challenging. — Iain Morris,

, News Editor, Light Reading
Subscribe and receive the latest news from the industry.
Join 62,000+ members. Yes it's completely free.
You May Also Like
---