Orange Launches Livebox at Louvre With Luc
Orange Launches Livebox at Louvre With Luc
French incumbent takes wraps off a forthcoming home gateway that will only add to the pressure on its broadband rivals. Orange plans to release a more sophisticated version of its Livebox home gateway device later this year, the French incumbent revealed during a press conference in Paris earlier today.
The new device will feature more advanced WiFi functionality, greater storage capacity and support for Ultra HD (UHD) content.
Due to fierce competition in France's broadband and TV markets, Orange (NYSE: FTE) arguably attaches more importance than other European incumbents to innovation in the home gateway area, where it is being challenged by rivals including Numericable-SFR , Bouygues Telecom and Iliad (Euronext: ILD).
The smallest of France's four network operators, Iliad last year introduced a entry-level version of its popular Freebox that included a 4K player and support for WiFi at speeds of up to 450 Mbit/s.
But despite such innovations, Orange has managed to fend off the broadband challenge from rivals, picking up another 380,000 customers in France last year to finish 2015 with 10.7 million in total.
Iliad managed just 270,000 net adds, giving it 6.1 million broadband customers in total, while Altice -owned Numericable-SFR added only 20,000 to end the year with around 6.2 million subscribers overall. (See No-Growth Altice Results Send Shares Falling.)
Meanwhile, Bouygues Telecom -- an operator that Orange is trying to acquire -- gained an impressive 360,000 broadband customers but lags other players with just 2.8 million subscribers altogether. (See Orange CEO Sees 50:50 Chance of Bouygues Deal.)
Having already found themselves trailing Orange on customer growth, Numericable-SFR and Iliad are likely to be troubled by the latest news from Orange, which held a glitzy conference at the Carrousel du Louvre, near the world-famous art museum, to show off its new kit.
Perhaps hoping to persuade analysts and reporters of the significance of the Livebox upgrade, CEO Stéphane Richard also invited legendary French filmmaker Luc Besson -- rather than one of Orange's technicians -- to carry out a virtual-reality tour of the gateway's nuts and bolts at today's event.
Figure 1: Enfant Terrible of French Cinema or Orange Gadget Boy?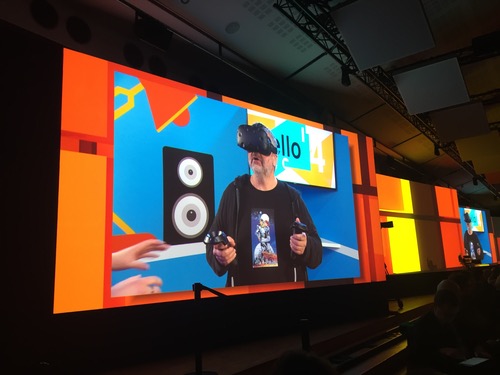 Luc Besson, the director of movie classics including Nikita and Leon, takes a virtual tour round the guts of the Livebox.
Discussing the new Livebox features, Richard said the forthcoming device represented the culmination of tests going back one year and took into account feedback from customers as well as technicians and customer service employees.
The Livebox is also being heralded as the product of new and more open working practices at Orange, which assembled a team of experts drawn from many different parts of the business to develop the new device.
"We got rid of the silos to gather a team of experts to work on the same project, using agile methods," Richard told reporters and analysts. "This team is a network of technical expertise, experience and design talent."
Speaking to journalists after Richard's presentation, Mari-Noëlle Jégo-Laveissière, Orange's senior executive vice president of innovation, marketing and technologies, said that Orange would be able to reuse some of the technologies in the new Livebox when developing other services, including products aimed at other European markets.
Next page: Tearing down the walls
Tearing down the walls
The service provider has yet to firm up details regarding the launch of its latest home gateway device, including whether existing customers will be entitled to an upgrade, but unveiled a number of more advanced technical features.
Among other things, the new Livebox incorporates a small optical network terminal (ONT), which means Orange will not have to install ONTs separately in homes.
Orange typically installs ONTs next to optical fiber inlets at customer premises in order to provide its GPON-based services to customers.
The operator claims the new Livebox will also remove bandwidth bottlenecks in the home by taking advantage of new 11n and 11ac WiFi systems, which use spectrum in the 2.4GHz and 5GHz bands to boost connection speeds to as much as 1.9 Gbit/s.
The Livebox further includes a new 4G-compatible "Airbox" that will provide a link between the gateway and other devices when a user is outside the home.
Orange is using a high-performance processor from Broadcom Corp. (Nasdaq: BRCM) to improve computing power.
"In practical terms, compared with the previous generations, this chipset handles 20% to 30% more bandwidth, and manages very fast data exchanges with more devices simultaneously," said Orange executive Anne Le Beuz.
Broadcom chip technology is also being used to support UHD services, with Orange planning to ramp up its UHD content offerings later this year. "This box literally tears down walls," said Richard in summing up the various new features of the latest Livebox.
Figure 2: Don't Ask Me About Bouygues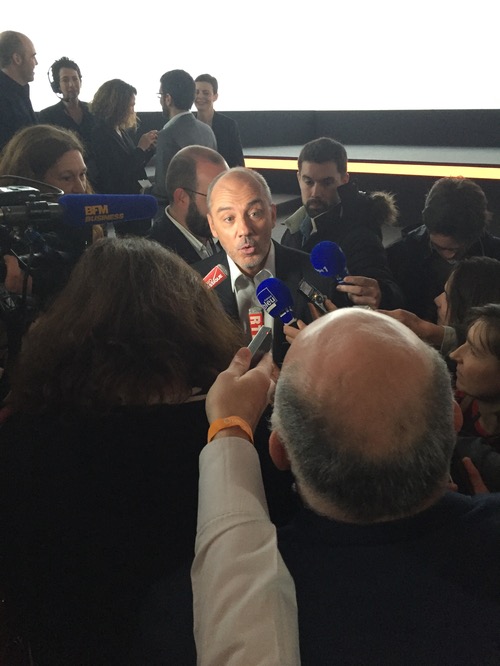 Orange CEO Stéphane Richard being mobbed by reporters.
Besides making gateway improvements, Orange has also added new functionalities to its Orange TV application.
From June, customers will be able to make use of a voice-activated "personal assistant" that has been developed in partnership with voice-recognition software developer Nuance Communications Inc. (Nasdaq: NUAN).
"This is the first time an operator has ever built such a sophisticated smart assistant into a multiscreen TV system," said Richard.
For more fixed broadband market coverage and insights, check out our dedicated Broadband content channel here on Light Reading.
Orange's support for and collaboration with startups is likely to have a growing influence on the future development of the app, among other services.
Working with a French startup called Reminiz, it has been developing a facial-recognition technology that will let customers obtain information about movie actors through a simple request.
Another startup, called Wildmoka, has been designing technology that will let customers share TV clips from favorite shows on social-media websites.
Richard promised the facial-recognition technology would become available on Orange's video-on-demand service this summer.
The Wildmoka feature is to be tested on a selection of popular shows on Orange TV, he added.
— Iain Morris,

, News Editor, Light Reading
Subscribe and receive the latest news from the industry.
Join 62,000+ members. Yes it's completely free.
You May Also Like
---