'Community First' Drives Open Source Success
'Community First' Drives Open Source Success
Successful open source communities cultivate people. BURLINGAME, Calif. -- OPNFV Summit -- Focus on community and technology will follow. That's a fundamental principle for successful open source projects, according to the Apache Software Foundation's Jim Jagleski, a self-described and self-evident "graybeard" of open source communities.
Apache is one of the great open source success stories. First released 20 years ago, Apache serves 56% of websites worldwide. Jagleski serves on the board of the Apache Software Foundation, which incorporated in 1999, and is its most senior still active contributor.
And yet despite Apache's success, and the success of other open source projects, there's still skepticism. "It really is strange that there are some concerns about open source," Jagleski said. Some businesses are still worried about the viability of open source platforms, despite the long success of Apache, Linux and other open source projects. This success shows that open source provides advantages including access to source code, avoiding vendor lock-in, improved software quality and security due to many eyes inspecting code and more nimble development with frequent releases.
Figure 1: Yup, That's a Gray Beard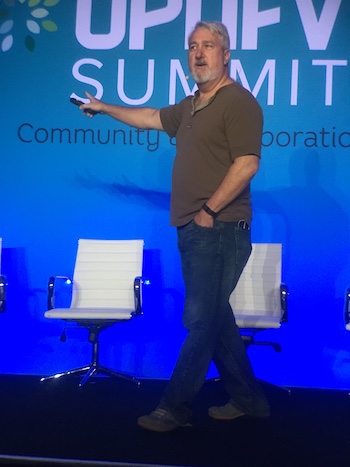 The Apache Foundation's Jim Jagleski
Also, because in most cases with open source projects the people contributing the code are also its users, open source projects have a "fast feedback loop between the end user community and the developer community," Jagleski said.
Jagleski was previously employed by Red Hat Inc. (NYSE: RHT), and now works for Capital One. That a financial services firm hired Jagleski demonstrates how open source is transforming all business. "If you're not in open source, you will be left behind," Jagleski declared.
Learning to navigate open source technology and communities are essential to comms companies, as open source is critical to New IP networks.
Find out more about network functions virtualization on Light Reading's NFV Channel.
The Apache Foundation is driven by a community-first guiding principle. "We focus on the community first, with the underlying assumption that has been borne out over 20 years, that if you focus on the community, the code that results will be exceptional and will do what you need it to do," Jagleski said.
Other basic principles for the Apache Foundation:
The community is based on a meritocracy. Those with more merit get more responsibility, rather than authority being decided by who your employer is or how long you've been in the industry.

Members represent themselves as individuals, rather than their employers, and treat each other with mutual trust and respect.

All votes have the same weight, no matter how long a participant has been active in the community. This keeps the project innovative.

Decision making is by consensus, and the group votes frequently. "You need to be aware of what other people are thinking," Jagleski said. "Don't work in a silo. Don't work separately. Make sure that whatever it is you're doing, you're creating an environment where every voice has power and every voice has a vote."

Use mailing lists as the central discussion hub. While the community also uses IRC, wikis and face-to-face communication, discussions always come back to the list. That makes the discussion accessible to people who aren't in proximity to each other, who might be in other time zones, and it creates an automatic log of discussion and decisions.
Related posts:
— Mitch Wagner,

, West Coast Bureau Chief, Light Reading. Got a tip about SDN or NFV? Send it to [email protected].
Subscribe and receive the latest news from the industry.
Join 62,000+ members. Yes it's completely free.
You May Also Like
---