Colt has extended its international network into the US, launching connectivity services up to 100G (and a range of wholesale services) to cement relationships with existing global enterprise customers and add some new accounts into the bargain.
The operator, which has an extensive European and Asian network, has added 13 North American cities to its international topology and will be pitching its extended network to large companies that have locations in the key markets across those three major regions. (See Colt Launches US Operations.)
The recently connected cities are Boston, Toronto, New York, Newark, Ashburn, Miami, Atlanta, Chicago, Dallas, Phoenix, Los Angeles, San Jose and Seattle.
Adding those cities will, Colt Technology Services Group Ltd hopes, make it more attractive as the one-stop shop for large companies wanting a single supplier to connect their international sites and manage the services they use through an online portal.
The market is significant: For US "global enterprise" users alone, the market for international services in 2017 was worth $24 billion. (See Analyst: Cable Gaining in Enterprise, but CenturyLink, Windstream Also Strong.)
But, of course, that means it's already populated with big hitters in each region: In the US that includes AT&T and Verizon, for example, which are big domestic brands with strong ties to the enterprise community.
By extending the reach of its network into key US cities, the operator believes it can entice large enterprises to sign up with Colt to be the single throat to choke.
According to Colt CEO Carl Grivner, many of the major enterprises that need international connectivity are already Colt customers (somewhere in the world), so in many cases this is a case of expanding an existing relationship, though there's also an element of attracting new customers too, though Grivner seemed coy about that particular opportunity.
---
Deep dive into real-world issues and virtualization deployment challenges with industry leaders. Join Light Reading at the NFV & Carrier SDN event in Denver, September 24-26. Register now for this exclusive opportunity to learn from and network with industry experts – communications service providers get in free!
---
Colt's pitch is that it is the only operator with its own network stretching across the world and that, as companies migrate more towards the cloud, it is in a unique position to provision services faster and more flexibly than its rivals. At least, it will do once it has all its bells and whistles in place: Colt's SDN-enabled On Demand bandwidth service, which is often front and center in its marketing efforts, will not be available until the final quarter of this year, while its SD-WAN service is also not ready to provision in the US market.
Why are these enticing capabilities not on offer in the US right now? That's "just a technical thing," Grivner tells Light Reading. "It's nothing more than us having to put the back office capabilities in place… that takes time." (See How Colt Built Its On Demand Platform, Colt Extends On Demand SDN Service Across APAC and Colt Connects Microsoft Azure to Its On Demand Platform.)
So why launch now and not when everything's hot to trot? "There's pent-up demand for high-bandwidth services, especially for US-Asia, as well as US-Europe -- customers have been asking us to do this," he claims, adding that Colt has about 40 sales staff in the US that have been tapping up the market for some time already.
Grivner says now is a good time to be putting a fresh, alternative offer in front of large enterprise users. "Many companies are going through a transition right now, migrating to the cloud, and they are looking for an alternative" communications service provider. Others will fight hard to hold the prime customer relationship, he admits, but "none of the others have the network reach and quality that we have," boasts the CEO, who says Colt's next move in the US is to connect to more data centers across the country (it's hooked up to about 30 at the moment).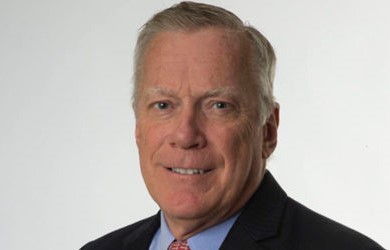 Confidence obviously isn't in short supply at Colt, but whether it service availability and management capabilities superior to its rivals or not, it still has to win over budget-holders and unseat existing account holders if it wants to boost its market share by 10% to 15%, as Grivner hopes (though he wouldn't share any revenue targets).
Medium and large-size enterprises in the financial services (already a strong market for Colt), healthcare and media sectors are primary targets for new business as the operator tries to wrestle business away from the likes of Telstra in Asia, Orange Business Services and BT Global Services in Europe and AT&T and Verizon in the US. "And some of those players are withdrawing in this market," making this an even better time to expand, says the CEO. Anyone in mind? "Well, BT Global Services for one," responds a bullish Grivner.
Colt has spent a lot of time and resources in recent years developing more agile, responsive and customer-friendly services and expanding its network -- its Asia presence comes from the acquisition of KVH in 2014 and subsequent network expansion investments -- and having capabilities such as on-demand bandwidth will undoubtedly play in the operator's favor. (See Colt-KVH: A Hook-Up Bound to Happen and Colt Aims to Ramp Up Asian Investments.)
But Colt is likely going to need a lot more than those positive attributes to ramp up double-digit market share gains -- incumbent account holders are not going to lie down easily.
— Ray Le Maistre, Editor-in-Chief, Light Reading