No one's yet cracked the code on a mass-adoption TV operating system, but in lieu of that, Google is pressing ahead with virtual reality software that it hopes will act as an OS for future mobile VR applications.
After announcing in May its intention to launch a platform for mobile VR called Daydream, Google (Nasdaq: GOOG) is now reportedly within weeks of Daydream's debut. (See also Google Doubles Down on Machine Learning, AI.)
According to a report by Bloomberg, the Internet search giant is currently wooing VR content creators including YouTube Inc. stars and programmers developing projects for Hulu LLC . These moves, along with partnerships signed with video game producers and sports leagues are intended to set the stage for a rollout of Daydream which will act as both a mobile VR OS and an app store, à la the Google Play Store.
Although Google is also apparently working on its own VR headset, the company's goal is to support hardware -- including both Android VR phones and supplementary VR gear -- from many other manufacturers. That end game fits with the way Google has done business in the past. Google isn't aiming to be a hard-core hardware player. It typically only dabbles in hardware as a means of furthering its software ambitions.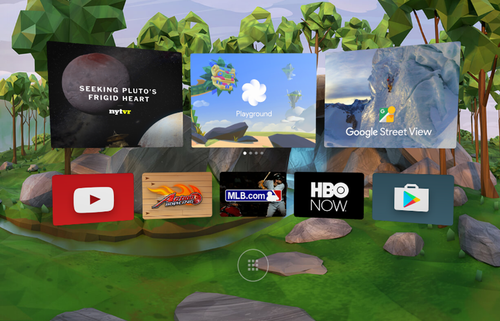 Among the many ways in which Google's VR dreams are interesting from a business perspective, is the fact that if Google's operating system -- or in fact any VR operating system -- really takes off, it will have profound effects on both device and network operations. Downloading VR experiences could take up significant storage space on a mobile device, as already evidenced by the VR apps available for use with Google's low-end Cardboard viewing platform.
Streaming a VR experience, however, would be worse. Imagine the amount of traffic Netflix Inc. (Nasdaq: NFLX) is responsible for today, and then imagine if people started regularly streaming 360-degree VR videos instead of the 2D TV shows and movies that are popular now.
Google and its parent company Alphabet Inc. aren't the only ones pursuing a virtual reality future. Many other large companies including Facebook and Microsoft Corp. (Nasdaq: MSFT) are investing huge sums of money in VR software, hardware and content. (See Why Gigabit Broadband? Facebook Answers and Intel, Microsoft Set to Make Virtual Reality Real.)
Of note with Google, while the company is perceived as being behind its competitors in the VR race, it has put money in virtual reality beyond Google Cardboard and the upcoming Daydream release. Google was the lead investor in a funding round back in 2014 that raised $542 million for VR stealth company Magic Leap. Magic Leap recently announced a partnership with LucasFilm to develop new Star Wars content for virtual reality fans. (See Magic Leap Enters a Galaxy Far, Far Away.)
— Mari Silbey, Senior Editor, Cable/Video, Light Reading