Why Gigabit Broadband? Facebook Answers
Why Gigabit Broadband? Facebook Answers
Augmented and virtual reality demos at Facebook's F8 conference prove the importance of gigabit broadband. There's no shortage of mind-blowing technology on display at this year's Facebook F8 developer conference. From open source telecom infrastructure solutions to the solar-powered airplane the company built to beam Internet connectivity from the sky, Facebook has proven its right to operate at the leading and bleeding edge of technology development.
But Facebook has also done something else. It's proven why gigabit and 10-Gig and 100-Gig broadband service is critical, and why it's important for operators to be developing these higher-speed networks now.
Today, streaming media makes up more than 70% of downstream Internet traffic during peak hours in North America. Those bits are largely from unicast, single-feed camera streams, e.g., online video.
Facebook, however, announced this week that it's created a reference design for virtual reality gear that includes 17 cameras, 14 in a horizontal ring, with one more camera pointed up and two more pointed down. That kind of hardware will create a lot more video data than a single Netflix stream. Even a 4K one.
Learn more about network transformation at our upcoming Big Communications Event in Austin., TX, May 24-25. You can register now.
Plus, Facebook has committed to using its VR technology to help enable "social presence" where multiple people in different locations can experience the same environment together at the same time. Why? To play a virtual ping pong game or to use a virtual selfie stick together in a 360-degree image of a famous landmark.
That's a massive latency challenge in addition to a capacity one. And those types of experiences will require seriously high-powered networks.
Figure 1: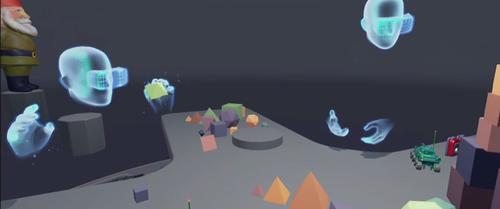 Virtual presence demo at Facebook's F8 developer conference
Figure 2: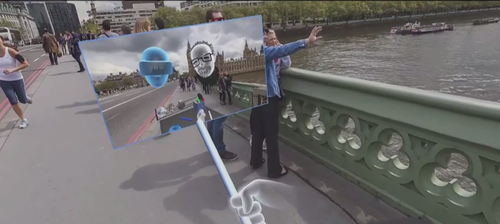 Facebook debuts the virtual selfie stick at F8
In 2016, people are already using gigabit networks to stream 4K content, mitigate latency issues in an electric utility system and enable remote manipulation of image-intensive scientific equipment. (See Gigabites: EPB Plans for 100-Gig and Chattanooga Charts Killer Gigabit Apps.)
With ventures like Facebook's new Surround 360 platform (as well as the Microsoft Corp. (Nasdaq: MSFT) HoloLens and Google (Nasdaq: GOOG)'s Project Tango -- all of which are tackling augmented and virtual reality) gigabit and multi-gigabit networks will soon be necessary for a whole lot more.
— Mari Silbey, Senior Editor, Cable/Video, Light Reading
Subscribe and receive the latest news from the industry.
Join 62,000+ members. Yes it's completely free.
You May Also Like
---